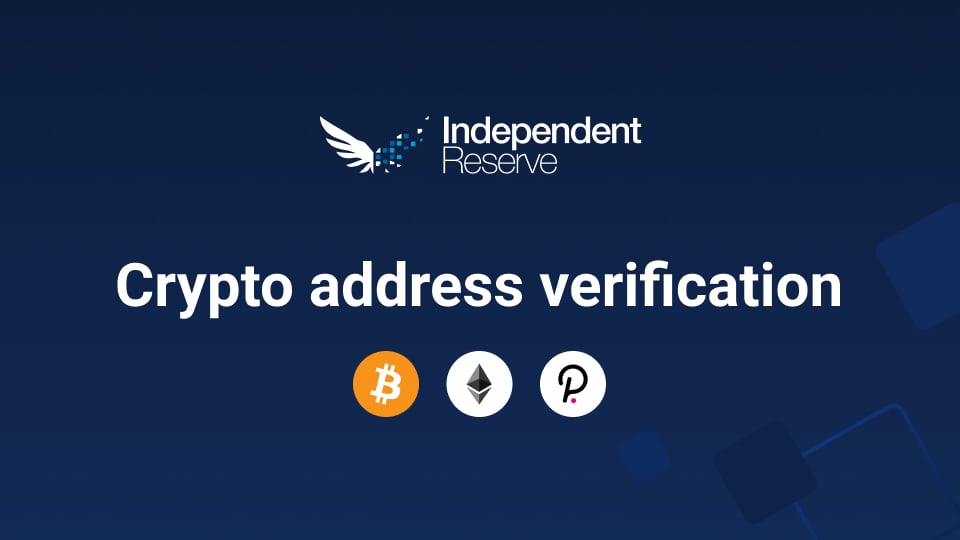 In some jurisdictions, we may have to ensure you have control of your external wallet addresses.
We do this by verifying every address you deposit crypto from or withdraw crypto to.
If you're just buying and holding your crypto on Independent Reserve, this page won't apply to you.
NOTE: if you do not see the Verified addresses section on the Accounts screen, this guide does not apply to you.
---
* Recommended for wallets using a static address. This method is fast as it will be automatically verified by our system.
* Can only be used with addresses where you control the private keys. It will not work for exchanges or other custodial services.
* Recommended for wallets that are custodial or send from differing addresses:
– Exchanges or other custodial services: You cannot control which address your deposits are sent from.
– New address generating wallets: Some wallets automatically generate a new source address for each transaction.

---
Option 1:
Send a specified amount
1. Login and click through to your Accounts page and then click the add link next to the Verified addresses heading.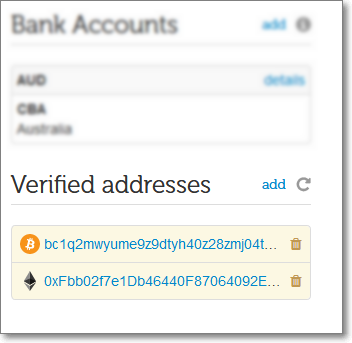 2. Select your currency and enter the address you'll be depositing from or withdrawing to (note: do not try to add your Independent Reserve deposit wallet address, you should be adding the external address you will be sending to or receiving from).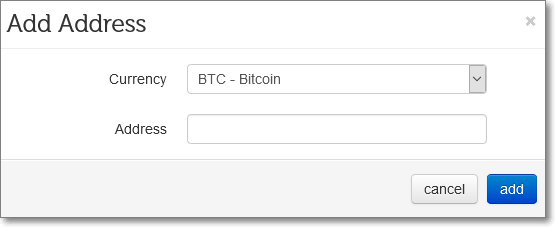 3. Click add.
4. On the resulting pop-up window, you will see instructions on how much crypto you need to deposit to verify the address.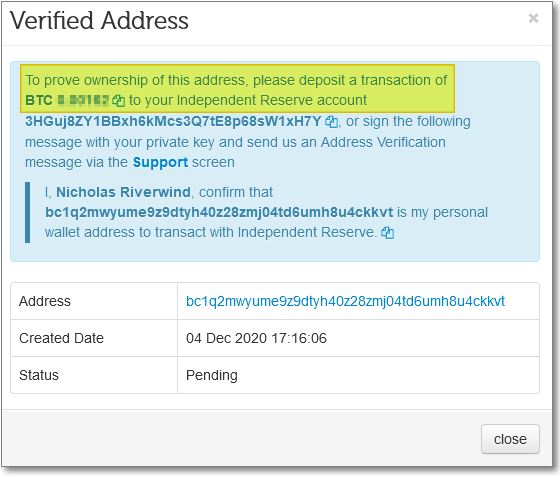 5. Once your deposit has been credited by the system, your wallet should automatically be verified and visible under your Verified addresses section.
---
Option 2:
Sign a message using private keys

To sign a message, please choose from the below articles depending on which crypto you're verifying:
Bitcoin, Bitcoin Cash or Litecoin (BTC, BCH or LTC) 
Ethereum (ETH) or ERC-20 tokens
Signing a message using private keys is fairly technical, if you aren't comfortable with this, are using a custodial service (where you do not have access to the private keys), or trying to verify an address for a cryptocurrency not listed above, please choose Option 3: Screenshot, below.
---
Option 3:
Screenshot
1. Go to your Accounts page and click the add link next to the Verified addresses heading: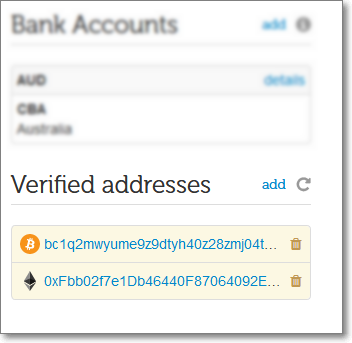 2. Select your Currency and enter the Address you'll be depositing from: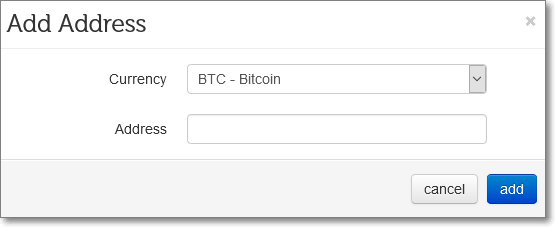 3. Click add.
4. Now for the screenshot. Open up your external wallet.
Choose from a) or b) below, depending on whether you have already made a deposit to Independent Reserve from this address, or you plan on withdrawn from Independent Reserve to this address:
a) Screenshot transaction – Sending from another wallet/exchange to Independent Reserve
If you have already sent the transaction, find the withdrawal receipt from your wallet or platform and take a screenshot.
Please ensure it includes the amount, addresses & transaction ID, date.
If you haven't actually sent the funds to Independent Reserve yet, then you can try option b) below, but beware this will only work if the wallet/platform you are using uses the deposit wallet as the source for your withdrawals.  Most of the time this will be true for wallet software, but for a platform like a custodial exchange, this will likely not be true.  In this case you will either need to use an intermediary wallet as described in the Tip below, or you will need to first make the deposit and then send proof of this.
b) Screenshot wallet – Sending to an external wallet/exchange from Independent Reserve
Open your wallet/crypto platform on the Deposit/Receive page and choose to share your address.
The display method will vary for each wallet but ideally, you'll be able to display your whole deposit address like in this example below: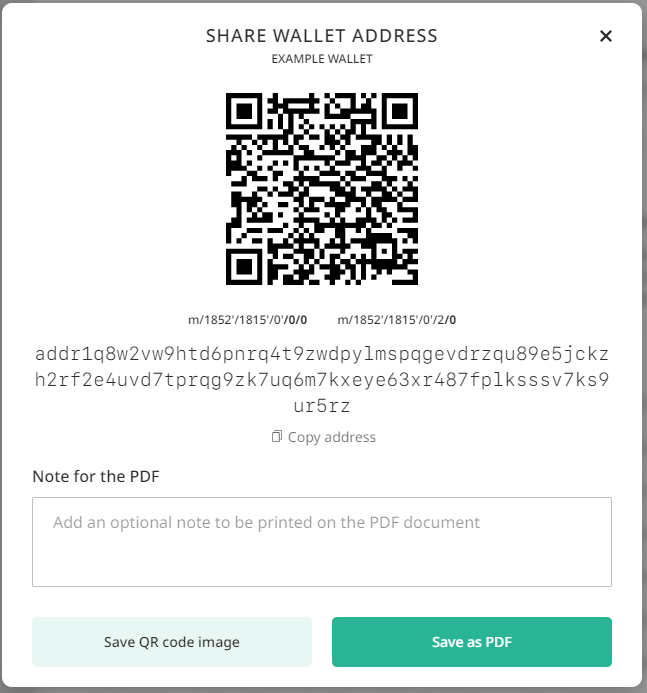 5. Open up a new Support Message and attach this screenshot.
Send Message > Crypto Address Verification > Verify Ownership > New Support Ticket > +Add Files
In your message, please also specify the name of the exchange or wallet you're verifying.
Our team will manually verify this as soon as possible, after which you'll be able to withdraw to and deposit from this address.
Tip: To save from having to do this for every new address, you may wish to set up an intermediary wallet, one that you control the keys to, that uses the same address each time.  You can then verify this wallet, and withdraw to it and deposit from it.

Public data isn't sufficient.
Note: Screenshots of public blockchain explorer data from websites such as Blockchain.com are accessible to all, so they're insufficient for the verification process.  You need to ensure the screenshot comes from your wallet software, or the platform you used to initiate the transfer.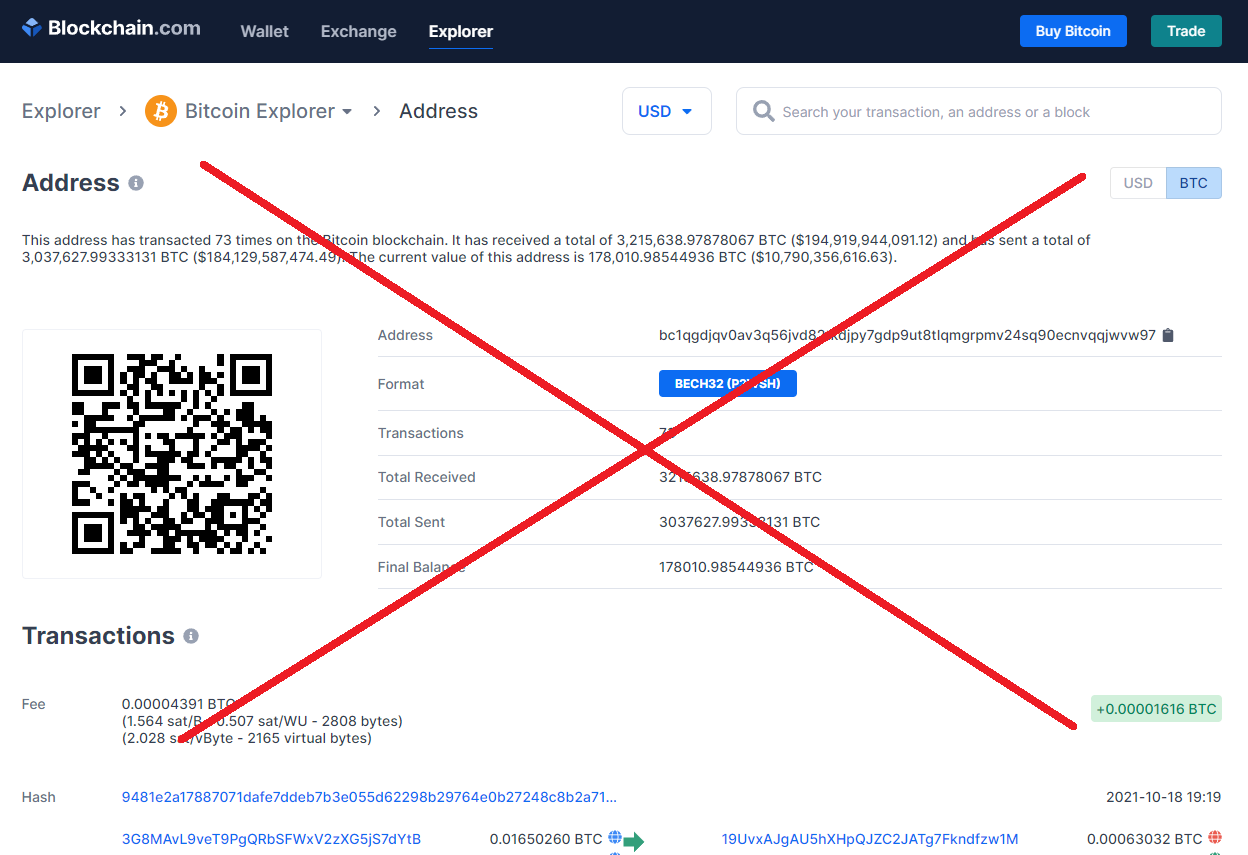 Please note you do not need to provide any screenshots from the Independent Reserve website for address verification.

---