This article will help you create a new Ethereum wallet using the MyEtherWallet (MEW) software and then how to sign a message using the wallet's private keys.
If you already have a MEW wallet created, or can access your wallet via the MEW interface already, you can skip to the Sign a message with your wallet address section.
Creating a MyEtherWallet (MEW) wallet
MEW is an Ethereum wallet that can be accessed via a web browser, or other software.  For this example we will be using the web browser interface.
Go to https://www.myetherwallet.com/
Click the Create a new wallet link.
Click the Software option.
Click the Mnemonic Phrase option.  You will be presented with 12 words.  These are the seed phrase words for your wallet.  Ensure you write them down somewhere safe.
Click the I wrote them down button.
Verify the missing words and click the Verify button
Click the Access Wallet button
In the next page we need to decide how to access the wallet.  Click the Software button

Select Mnemonic Phrase and click Continue.
Enter your 12 word seed phrase as recorded in step 4 and click Next.
On the Select HD Derivation Path screen, leave the default Ethereum derivation path chosen and click Next.
You will be presented with a list of wallet addresses.  Select the one you want to use as your wallet.  If you're unsure just select the top one.  Tick the To access my wallet, I accept Terms tick box, and click the Access Wallet button.
You now have access to this wallet.  The address for this wallet can be seen at the top left of the page.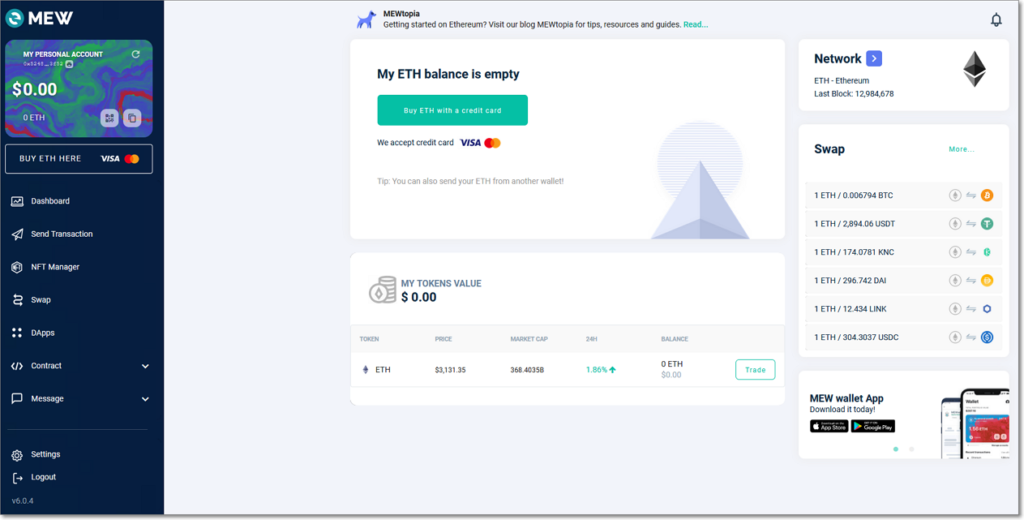 Sign a message with your wallet address
Certain jurisdictions require that customers prove they own a wallet address before we can allow crypto withdrawals to them.  One way to prove ownership is to sign a message of our choosing.  To initiate this, login to your Independent Reserve account, go to the accounts page, and click the add button in the Verified addresses section.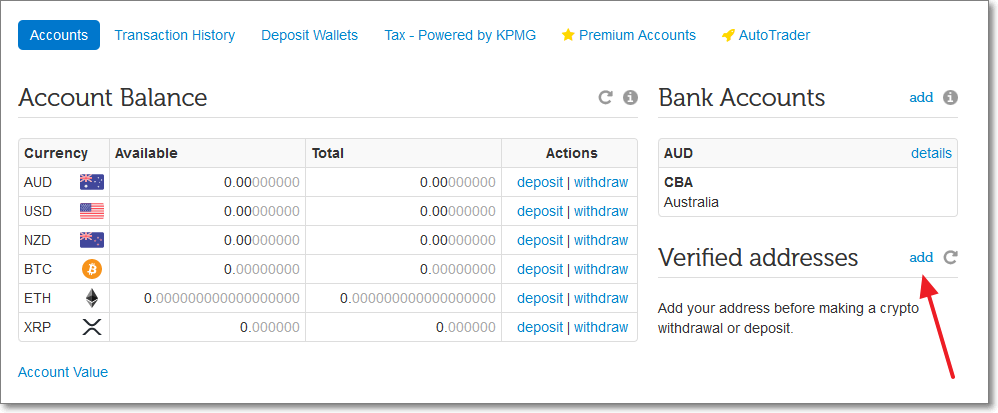 In the following screen enter your personal wallet address and click add button.  Select ETH as the currency, and enter your wallet address in the Address field.
In the next screen you will be presented with a block of text you need to sign.  Click the copy icon to copy the text to your clipboard.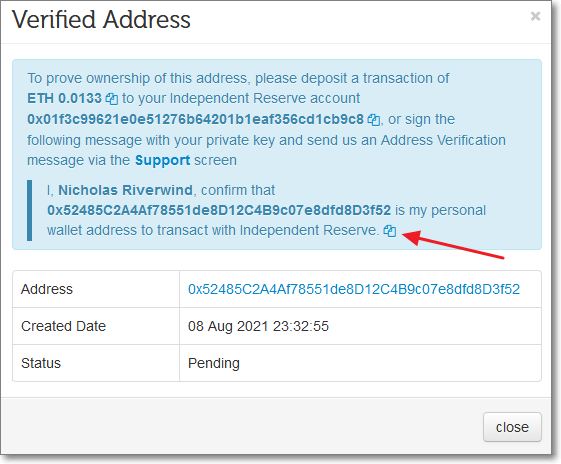 Next we need to sign this message.  Go to your MEW wallet as described above, click the Message menu item in the left navigation panel, and select Sign Message.  In the Sign Message field, paste the message you copied above, and click the Sign button.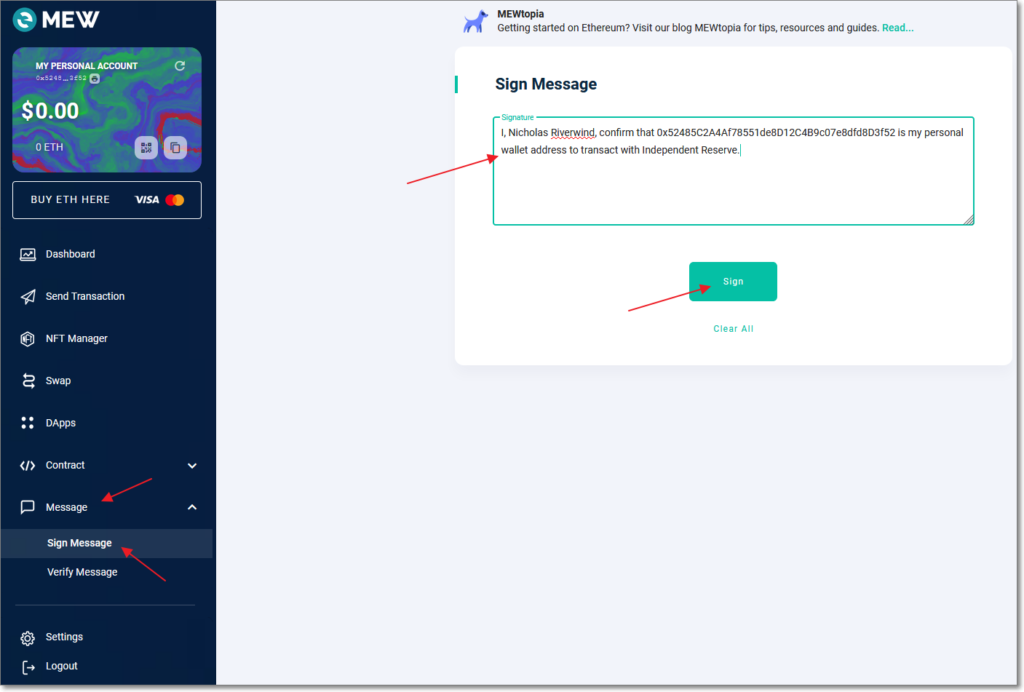 The next screen will show a Message Signed field.  Click the Copy button to copy the message, and send it in a support message on your Independent Reserve account.  If we can verify the signature, then we can verify the address and you will be able to withdraw to it and deposit from it.
Ongoing usage
Please note this process will help you create a wallet by creating a seed phrase for you.  If you plan on continuing to use this wallet we recommend you import the seed phrase into some trusted software – entering the seed phrase into any website on the internet is a very bad practice and getting into this habit is strongly not recommended as if the website is malicious or has been compromised, you can lose all funds stored on this wallet.
A popular wallet to use for this purpose is the MetaMask wallet.  Importing your seed phrase into MetaMask will mean you will not have to enter it into other websites (like MyEtherWallet).  To do this, first download and install the MetaMask browser add-on/extension for the browse you use.  Once installed you should see a MetaMask icon (an orange fox head) at the top of your browser window.  Click it, and then click the blue Get Started button.  Select the Import wallet option, click the I Agree button, type in your seed phrase you wrote down into the Secret Recovery Phrase field (with a space separating each word), enter a password for this MetaMask instance, tick the I have read and agree to the Terms of Use, and then click the Import button.  Your Ethereum wallet should now be accessible via MetaMask.
Now, if you wanted to access your wallet via MyEtherWallet, instead of choosing the Software option on the Access My Wallet page, choose Browser Extension and click the MetaMask icon to bring up a window where you can grant MyEtherWallet access to your MetaMask wallet.  This method is much safer as you're not entering your seed phrase anywhere except once into MetaMask.  MetaMask can be used on many other Ethereum related sites as well, just be sure you trust the page you're granting MetaMask access to.
MyEtherWallet and MetaMask are both completely separate and are not affiliated with Independent Reserve.  If you have any support questions regarding these two platforms please reach out to their support team.
If you have any issues with Independent Reserve's process, please contact our support team.