What is Google Authenticator?
This is an application that assists with verification using dynamic codes that change every 30 seconds.
The code that is displayed on the Google Authenticator app on your phone must be entered every time you login, withdraw or perform other security sensitive actions on your Independent Reserve account.
Someone would need physical access to your mobile phone to get these codes. It is strongly recommended you implement this security feature on your Independent Reserve account.
How to setup 2FA
Download the Google Authenticator app to your mobile phone or tablet. iOS users can get it from the Apple store, while Android users may download it from the Play Store. Simply search for 'Google Authenticator'.
iOS download link:
https://apps.apple.com/us/app/google-authenticator/id388497605
Android download link:
https://play.google.com/store/apps/details?id=com.google.android.apps.authenticator2&hl=en
To enable on your Independent Reserve Account
1. Log into your Independent Reserve account and go to the settings page
2. Go to the Two-Factor Authentication section and click enable in line with "Google Authenticator code".

3. Open the Google Authenticator app on your phone. Press the + button to add an account. Choose Scan a QR code.
4. Scan the QR code on the Independent Reserve window that has popped up after clicking the above enable button.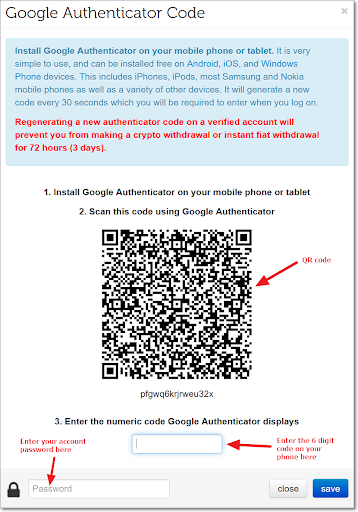 5. Enter the 6 digit code that appears on your app under "Independent Reserve (<your username>)" in the Enter the numeric code Google Authenticator displays box. Also enter your Independent Reserve password in the Password field at the bottom. Press save.
You now have Google Authenticator enabled on your account. Please note that withdrawals are disabled for 72 hours after you disable Google Authenticator. If you need to withdraw sooner than that please send us a support message here.
FAQs
Can I use SMS for 2FA, is this secure?
Google Authenticator is our primary and recommended method of 2FA. We provide SMS 2FA only as a backup to the Google Authenticator method for logging in.

Can I use other apps instead of Google Authenticator?
If you wish to use a different app for your 2FA aside from Google Authenticator, you can use alternative apps such as Authy and Lastpass Authenticator. In our testing these 3rd party apps appear to work, however we still recommend using Google Authenticator as your official 2FA app.
Google Authenticator is not working. What is the problem?
If you are having trouble with Google Authenticator, the most common cause is an incorrectly set clock on your mobile device.
Please confirm that the time is set correctly as it must be within a few seconds of the real time in order for Google Authenticator to work.
Also if you use an Android phone you can synchronise the time in the Google Authenticator app settings.
Please pay special attention to your time zone and make sure your phone has the correct time zone set.
Please make sure that you are using the 2FA code setup specifically for the Independent Reserve website.  When entering the code on our website, the numbers should be written together, without spaces.
If you are still having issues contact us through support here.
I lost my phone/device and no longer have access to 2FA. What can I do?
Please email us at support@independentreserve.com and we will help you out.
Can I use SMS for 2FA to login to the Independent Reserve mobile app?
Google Authenticator (or equivalent 3rd party 2FA app) is the only option when using the Independent Reserve mobile app. You can not use SMS for 2FA codes.