What is a crypto wallet address?
A crypto wallet address is a digital location made up of a combination of numbers and letters that are used for sending and receiving cryptocurrency transactions. Like an email address or bank account number, this functions as a place of receipt for funds as well as an identifier tag when sending funds. "Public key" and "public address" are names that are also used to refer to wallet addresses. Sharing your public wallet address has no security implications – with this information, people can only deposit to the address, they cannot withdraw.
Where can I find my wallet address? (Website)
In this example, we'll look at how to find your Bitcoin address on Independent Reserve.
Log into your account.
Click on Accounts in the navigation menu.
Go to the Account Balance section and click the Deposit link in line with the cryptocurrency you wish to deposit.

You will be navigated to the deposit screen for the respective cryptocurrency
A combination of numbers and letters makes up the address and this is where you would send crypto to.
Below is an example of a Bitcoin address. You can either copy your deposit address or use the QR code.

Different crypto, different addresses
Note: It is important to note that different cryptocurrencies will have different deposit wallet addresses.
For example, your Bitcoin (BTC) wallet address will NOT be the same as your Bitcoin Cash (BCH) or Ripple (XRP) public address, even if you hold it on the same exchange.  We recommend you always double-check the destination address when sending crypto, and if it's your first transfer to this address then send a small test transfer before sending the whole amount.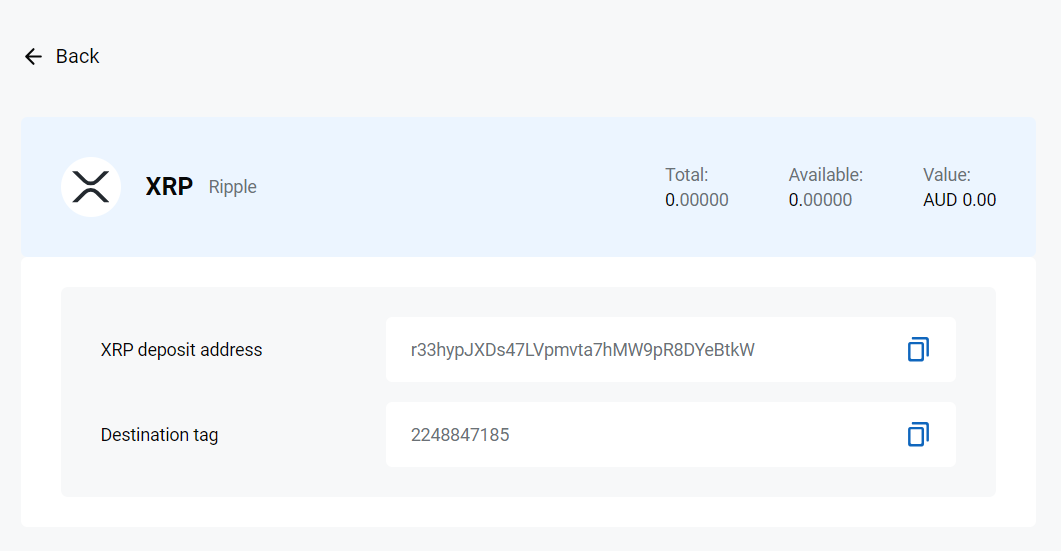 Sometimes you need to provide additional details
For some cryptocurrency transactions i.e XRP, XLM, EOS an additional tag is also required when completing a transaction. This is also usually a combination of numbers.
Signing a message
Certain jurisdictions require that customers prove they are in control of a wallet address before we can allow crypto withdrawals to them or deposits from them.  One way to prove ownership is to sign a message of our choosing using the wallet's private keys.  To initiate this, login to your Independent Reserve account, go to the accounts page, and click the add button in the Verified addresses section.
Learn more:
Where can I find my wallet address? (App)
Login to your Independent Reserve app
Tap on Wallet
Tap on the cryptocurrency you want to deposit
Tap on Deposit
Tap on Copy address or scan the QR code