Market Update 20th – 26th May 2020
In Markets
Bitcoin appears to have the post-halving blues, falling 7.6% this week. It's trading just above $13,600 at the time of writing. Somewhat unusually, Bitcoin experienced a much bigger loss over the past seven days than any of the other coins in the top 10 (apart from BSV) but that's probably because its gains for the month are still 18.4% – three times more than its closest competitor Ethereum (which only rose 5.5% this month). Ether is down 3.3% for the week, Bitcoin Cash (-6%), Bitcoin SV (-8%), Litecoin (-4%), EOS (-3.5%) and Stellar (-5.3%).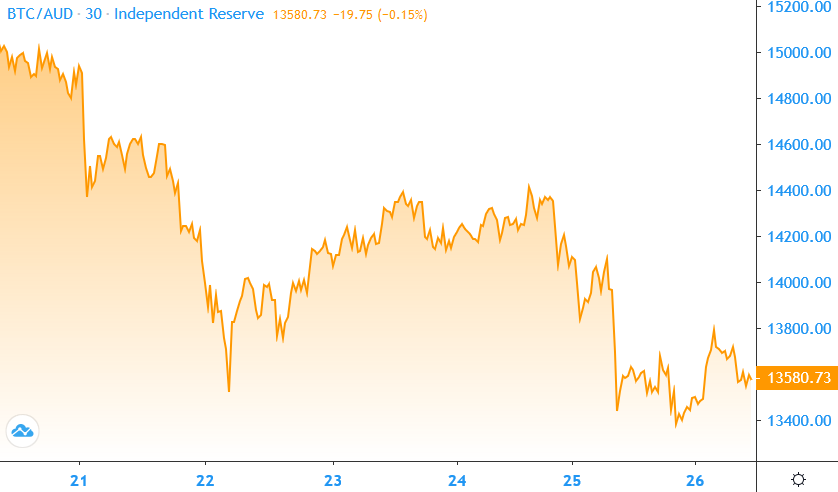 Source: Independent Reserve Bitcoin/AUD chart
In Headlines
Six lower highs
Bitcoin has now recorded six consecutive lower highs since June 2019, which shows the bull market may still be some way off. That said, the last three tops have all been around the US $10K mark (currently A$15.3K) suggesting a holding pattern rather than a race to the bottom. The halving took a blowtorch to miner's profits so part of the downward pressure comes from miners selling more BTC than they mine. This is not unexpected: Bitcoin fell 13.8% after the last halving for (we assume) the same reason.
Deep dive into BTC history
Bitcoin took a dive this week on rumours that Satoshi Nakamoto had returned and was about to sell off his stash, after someone moved 50 BTC from a wallet created one month after Bitcoin was launched in 2009. The address turns out to be on the list Satoshi claimant Craig Wright submitted to a Florida court as evidence of his extensive BTC holdings. Earlier today someone signed a message calling Wright a fraud from 145 other addresses on the list.
Nine years of mocking poor Laszlo
This week marked the tenth anniversary of Bitcoin Pizza Day. It commemorates the anniversary of the first ever commercial purchase – 10,000 BTC for some pizza (here's the original post on Bitcointalk). The day is celebrated with the now annual tradition of Bitcoiners eating pizzas, tweeting and imagining what they could do with 10,000 Bitcoins.
Fees and supply
Bitcoin fees have risen to their highest level since February 2018 – an average of A$10.11 per transaction. On the other hand, Bitcoin is still the cheapest way to move $400 million. In other FUD news, Weiss Crypto Ratings argues the supply of Bitcoin is actually higher than 21 million due to dodgy exchanges selling BTC they don't actually have "in the same way banks leverage the supply of fiat money".
Tethered to reality
Tether has seen an astonishing rate of growth so far in 2020 and is now ranked third by market cap with A$13.56 billion worth. Surprisingly, 2.2 billion USDT is on the TRON network. There are 1850 new USDT addresses with a positive balance being created every hour. That's a new all time high and an increase of almost 10 times since January according to Glassnode.
Ether way, it's looking positive
Total daily gas used for the Ethereum network just hit an all time high of 61 billion. Co-founder Vitalik Buterin noted recently that daily fees of around 2000 ETH already cover staking rewards on ETH 2.0. Glassnode data shows there are 40 million addresses holding Ether (3.5 times as many as during the all time high) and the number of ETH addresses with 100+ coins has reached 47,722 (that said, there is 18 million ETH on exchanges which means they could all be sold off quick smart). Even famed Bitcoin bulls the Winkelvoss twins revealed their ETH holdings are comparable in size to their BTC holdings.
Goldman Sachs embraces Bitcoin
Goldman Sachs is holding a client conference call this week on the: "US Economic Outlook & Implications of Current Policies for Inflation, Gold and Bitcoin." Sharmin Mossavar-Rhami, a Chief Investment Officer at Goldman, will host the call alongside Jason Furman, an economics professor at the Harvard Kennedy Business school and Jan Hatzius, a Chief Economist and Head of Global Research at Goldman Sachs. It'll be interesting to see how Mossavar-Rhami's views have evolved: in 2018 he said that he saw no value in Bitcoin or other cryptocurrencies.
Until next week, happy trading!
Independent Reserve Trading Desk