In Markets
Crypto Spring was lovely while it lasted, but the cold weather has returned once again. Bitcoin tumbled from more than A$45K (US$30K) a week ago down to A$40,600 (US$27.2K) but has since recovered to $42,600 ($28.3K). The price got a bump this morning after Fox Business journalist Charles Gasparino reported sources at First Republic Bank say Government receivership is likely due to a lack of interest from the private sector. Bitcoin is currently down 6.9% on a week ago. Ethereum lost 10.6% and is trading at A$2,810 ($1,860), Ripple was down 11.1%, Cardano lost 11.3%, and Dogecoin was down 14.6%. Confidence took a dive too, with the Crypto Fear and Greed Index falling to 53, or 'neutral.'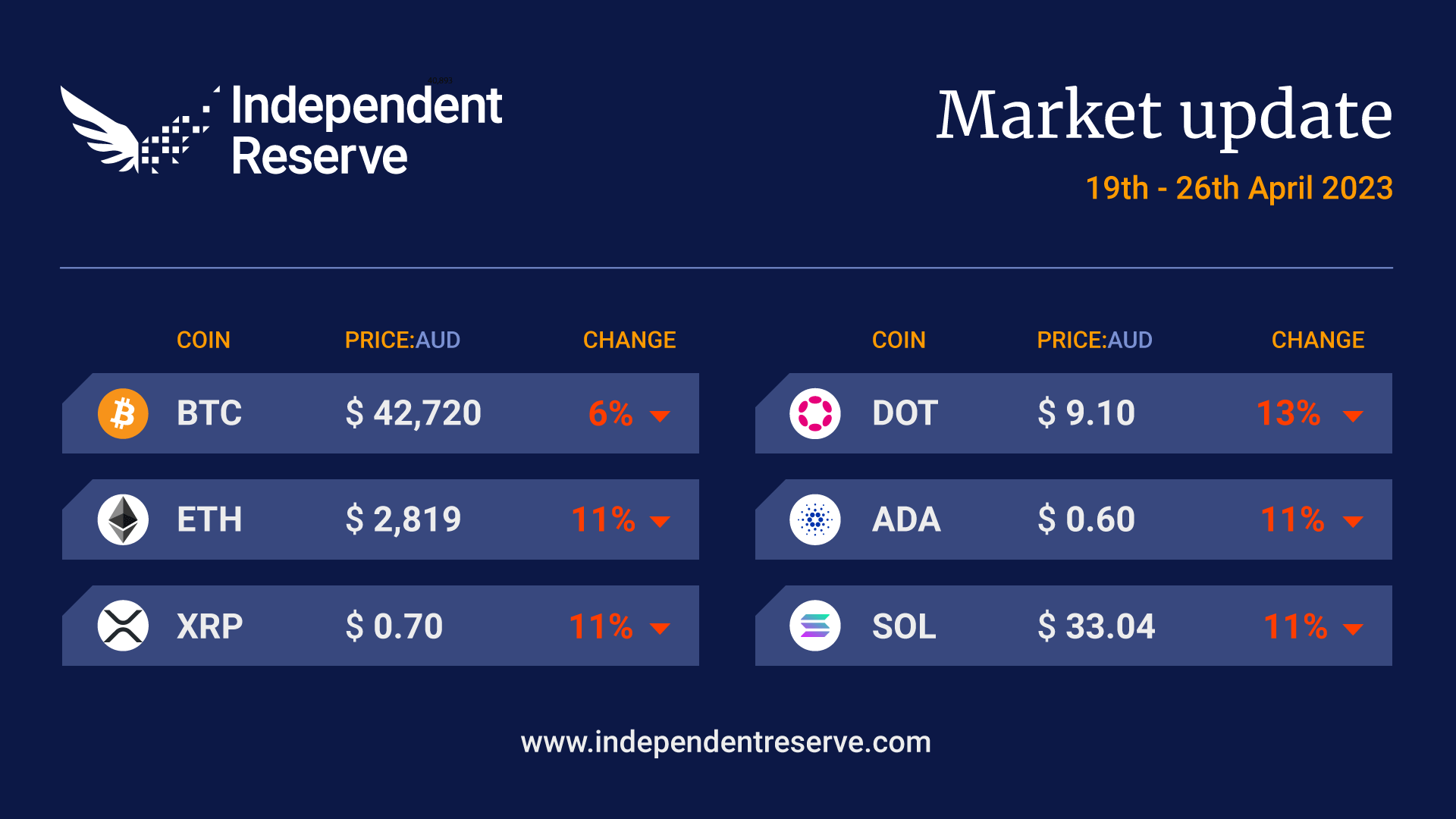 Europe passes comprehensive crypto laws
While the USA is busy chasing crypto businesses out of the country, the European Union has just passed the world's first comprehensive framework for crypto regulation. While it's not all good news, the regulatory clarity has been welcomed by industry players The Markets in Crypto Act, or MiCA, seeks to reduce risks for customers making providers liable if they lose customer assets, it imposes transparency, disclosure and supervision requirement for platforms and token issuers (including energy consumption disclosures), strict backing requirements for stablecoins (which are also limited to US$200M/A$300M) in volume per day. Separate legislation requires exchanges to report transfers above 1,000 euros to self-hosted wallets. Importantly crypto companies with a licence in any European country can offer services across all European countries. Coinbase and Kraken have already got licences in Dublin for this reason, and Ripple is trying to get one. Binance said it will change its business model to comply with MiCA within 18 months.
SEC boss Gary Gensler grilled by Congress
US Securities and Exchange Commission boss Gary Gensler was hauled before the Republican-controlled House Financial Services Committee for a dressing down this week. Chair Patrick McHenry noted the SEC has clearly said Bitcoin isn't a security and asked him repeatedly to state one way or the other if Ethereum was a security or not. Gensler refused to do this on multiple occasions. Rep Warren Davidson, who is introducing legislation to fire Gensler, launched into a tirade about the SEC's many failures, while Rep. Tom Emmer told Gensler he's "been an incompetent cop on the beat," and is pushing local crypto firms into the "hands of the CCP."
Coinbase takes on SEC in court
Coinbase has filed a challenge in US federal court to compel the SEC to respond to its petition from eight months ago imploring it to make some rules for crypto (rather than regulate via enforcement). "We're absolutely convinced the SEC is violating the law, we feel like we have no choice but to take them to court," chief legal officer Paul Grewal told Fortune. Meanwhile, Coinbase is actively looking at relocating from the US and has just got a licence from the Bermuda Monetary Authority and is expanding in Brazil, Canada, Singapore, Europe and the United Arab Emirates. CEO Brian Armstrong told an event in London the exchange may end up battling the SEC in court for years, and its HQ may relocate to the UK or elsewhere.
Revised stablecoin bill
Republicans on the House Financial Services Committee have released a modified draft bill to regulate stablecoin issuers. It's part of an effort to restart stalled negotiations from last year with Democrats on the issue, with the new bill half the length of the last one and including new provisions agreed on in negotiations from the last attempt. It clarifies stablecoins are not securities. Jeremy Allaire, CEO of Circle which issues USDC, welcomed the announcement.
Singapore firm looks to Near future
Cosmose AI, an AI-driven retail analytics firm in Singapore, has entered a strategic partnership with the Near Foundation, which heads up governance and development of the blockchain of the same name. The undisclosed investment from Near raised the firm's valuation to US$500 million (A$754M). The pair are building a payments system that combines AI and crypto to "personalize retail with Web3 experiences" and increase sales.
Apple's 30% tax ruled illegal
Good news for crypto and NFT apps on the Apple App Store after an appeals court ruled that Apple's prohibitions on app developers using alternative payment methods to get around its 30% fee on sales is illegal. It was the sting in the tail of a court victory by Apple against Fortnite Creator Epic Games in which the court found Apple was not a monopoly. The App Store opened to NFTs last year, but the 30% tax was too high for most, even to access a potential market of 1 billion devices.
Bitcoin to hit $100K or $180K?
Decentrader's Philip Swift says the bear market is over, but a return to US$20K (A$30.1K) isn't off the cards yet. "After what has been an outstanding Q1 2023 where BTC has rallied 80%. I would not be surprised if we need to cool off for a little while," he said. However, he pointed to a chart highlighting the similarities between the current four-year halving cycle and the previous two cycles, suggesting a big increase over the longer term. Unlike his colleague Filfilb who is tipping a US$180K (A$271K) peak for the next cycle, Swift thinks long-term holders will start offloading past US$80K (A$121K) and for a peak above $100K (A$151K). Standard Chartered analysts told clients this week they also see the potential for prices to climb to US$100K by the end of 2024.
Bits and pieces
Google's authenticator now offers cloud backup for its 2FA codes, but users should carefully research the topic as this makes codes much more vulnerable to hacking. Australia now hosts the third largest network of Bitcoin ATMs and has more ATMs than all of Asia. However, our 1.1% share of the world's Bitcoin ATMs is miles behind Canada's 7.8% and the USA's 84.5% share. Ethereum devs met last week to discuss the proto-danksharding upgrade called Cancun-Deneb. Also known as EIP-4844 it aims to improve scaling via layer 2 networks. The world's biggest crypto conference, Consensus, kicks off later today in Texas with guests including Chelsea Manning, Balaji Srinivasan and William Shatner. It has sparked renewed interest in crypto in the past.
Until next week, happy trading!