In Markets
Bitcoin topped US$50K (A$69.3K) in the past 24 hours, its highest level since early May. Bitcoin peaked at almost US$65K (A$87K) in April then lost more than half its value between mid-May and late June. Bitcoin is up 4% for the week and 44.6% for the month and it's currently trading around A$69K. Ethereum increased 2.2% for the week and is trading at A$4,620. Cardano is up 35.4% for the week as anticipation for the "Alonzo" upgrade grows. The Crypto Fear and Greed Index is at 79 or extreme greed.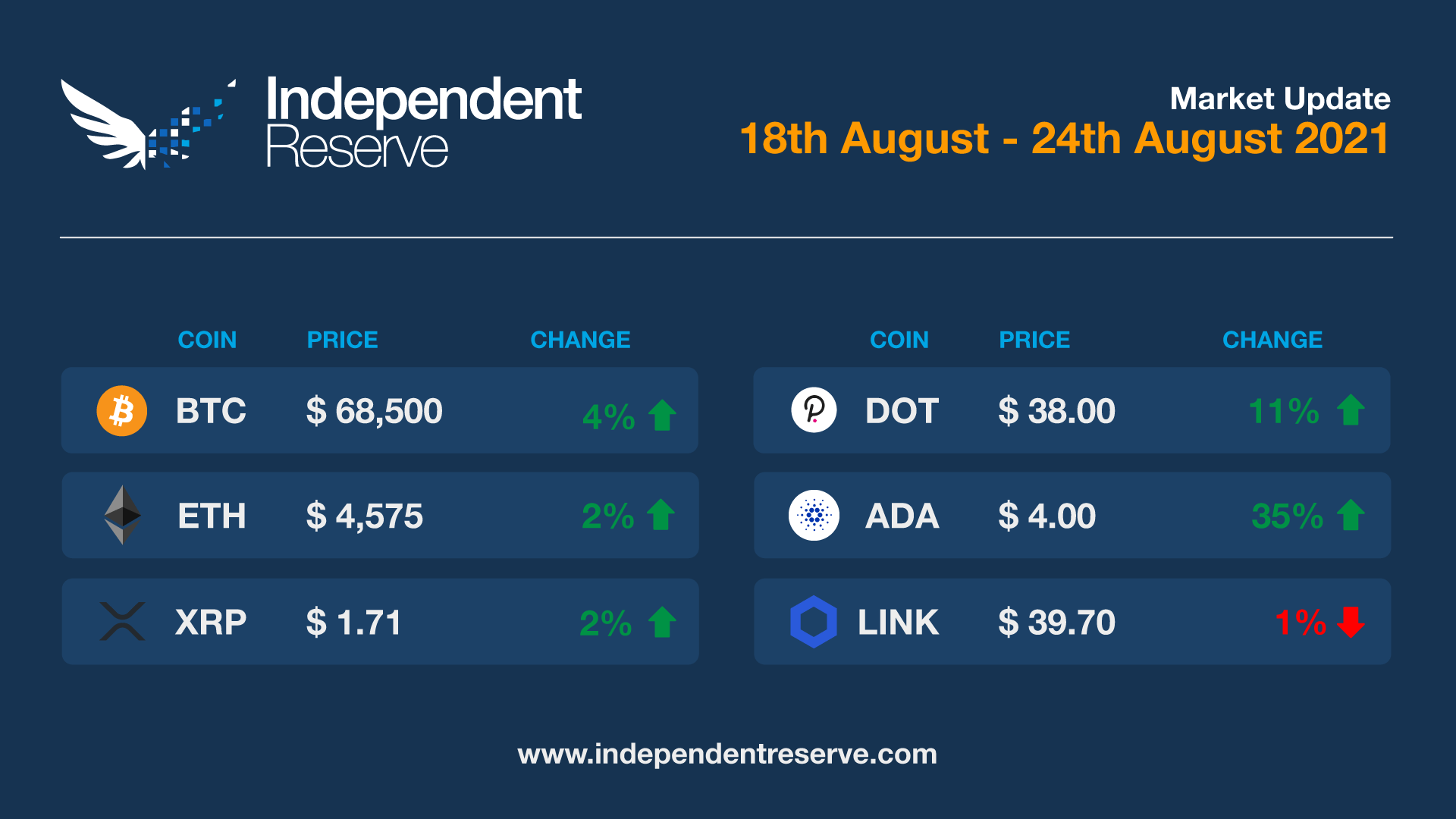 From the IR OTC Desk
Last week we highlighted the Reserve Bank of New Zealand's (RBNZ) Monetary Policy Decision as a key market event. And while the outcome was to hold Monetary Policy broadly in line with its previous setting, and for no immediate change, the requirement for a central bank to request additional time to assess the impacts of the Delta variant was quite telling.
This week we move onto the Jackson Hole economic conference, titled "Macroeconomic Policy in an Uneven Economy", and in particular the speech to be delivered by US Fed Governor Powell on Friday (10am US EST). Prior market expectation is that Powell may use this speech as an opportunity to address a taper to the current quantitative easing settings (and if tapering will start later in the year). Given the most recent uptick in the number of cases of the Delta variant, the big question is whether the Fed will continue to see it as appropriate timing to address tapering, or skip the topic altogether to buy some time. If history is anything to go by, the outcome will likely be very significant for the broader market.
Across the desk we have seen good 'buying into strength', particularly in ETH and BTC. What has been telling is the relative outperformance of BTC/AUD. With Iron Ore pricing remaining soft (down nearly 40% from the peak in May 2021), and much of the country still under lockdown, AUD/USD has drifted lower on the month. Watch for BTC/USD 50K option expiries (Friday) to come into play towards the end of the week, if we remain around these levels.
For any trading needs, please don't hesitate to get in touch.
In Headlines
Where to next
According to Decentrader, there wasn't a lot of volume in the move above US$50K so they weren't expecting it to stay there in the short term. However, Ulrik K.Lykke Executive Director at ARK36 said the price is being driven by spot buyers, and he believes the market structure is more resilient than earlier this year when it was driven by leverage trades. "The blockchain fundamentals and a large number of deleverage positions make us very bullish on the development of the uptrend once the $50K barrier has been breached," he told Blockworks.
Ether to flip Bitcoin within 5 years?
DeVere Group CEO Nigel Green believes that Ether will continue to outperform Bitcoin this year and inevitably flip BTC for the top spot. deVere is one of the world's largest independent financial advisory organisations. "Ethereum is outperforming Bitcoin, and it can be expected to continue this trend for the rest of 2021," he said, adding that Eth2 was a game changer for blockchain technology. "Ultimately, this will mean that its value will exceed that of Bitcoin – probably within five years". Around US$221M (A$306M) worth of ETH has been burned since the London hard fork.
Cardano takes third
The market price of crypto-asset ADA, the native token of Cardano, reached an all-time high of US$2.96 per unit, solidifying ADA as the third-ranked in market cap with around US$95B in overall valuation. The token has seen well over 1,500% year-to-date return and 140% gain in the last 30 days alone. Heavy demand for ADA is being fueled by the upcoming Alonzo upgrade set for September 12, 2021. The anticipated "Alonzo Purple" upgrade brings forth fully functional, advanced smart contract solutions to Cardano.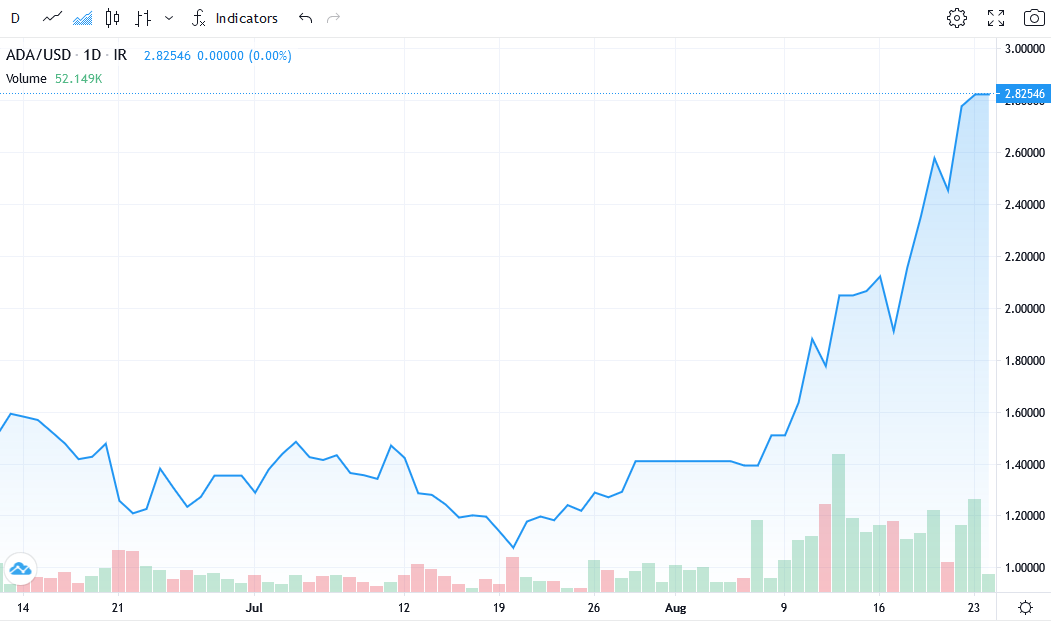 Price chart from Independent Reserve
Stablecoin to become stable
The Tether printer is back in action, and it's printed 4 billion USDT in the past three weeks. Meanwhile its main competition USDC has just announced that its entire reserve will become cash and short term US treasuries by September. Currently only 61% of its reserves are backed by "cash and cash equivalents". The move is likely a way to get ahead of impending regulations proposed by Treasury and to shore up Circle's ambitions to become a "full reserve national commercial bank".
DeFi is CeFi and that's our turf says SEC
Securities and Exchange Commission boss Gary Gensler says most DeFi projects are kidding themselves if they think they can escape regulation. He told the Wall Street Journal that many DeFi projects are controlled by a small team and are therefore exactly the sort of entities the SEC oversees. He said projects that reward participants with digital tokens could be regulated, no matter how "decentralised" they say they are. "These platforms facilitate something that might be decentralized in some aspects but highly centralized in other aspects," he said. It's unclear whether DeFi projects controlled by DAOs with community governance would be affected (Synthetix, Uniswap), but the comments certainly indicate projects controlled by a team with an admin key (Polygon for example) are likely to face stricter oversight.
CFTC regulates futures
Meanwhile, after originally stating that digital assets were not regulated by the Commodity Futures Trading Commission (CFTC), a CFTC commissioner has released a statement clarifying that the body regulates derivatives in cases where crypto assets are considered commodities, citing futures contracts on Bitcoin and Ether as examples.
PayPal expands crypto service to UK
PayPal is extending its crypto service to the UK this week, allowing users to trade Bitcoin, Ether, Litecoin, and Bitcoin Cash for as little as one pound. It's the first expansion outside the US, where the service began in October 2020 and was considered one of the sparks behind the bull market. Customers still can't move assets off the platform however.
Most financial execs think blockchain is mainstream
Deloitte's 2021 Global Blockchain Survey found that 81% of financial services industry executives surveyed believe that blockchain technology is "broadly scalable" and has gone mainstream. Almost three quarters believed they'd lose a commercial advantage if they do not adopt blockchain or digital assets.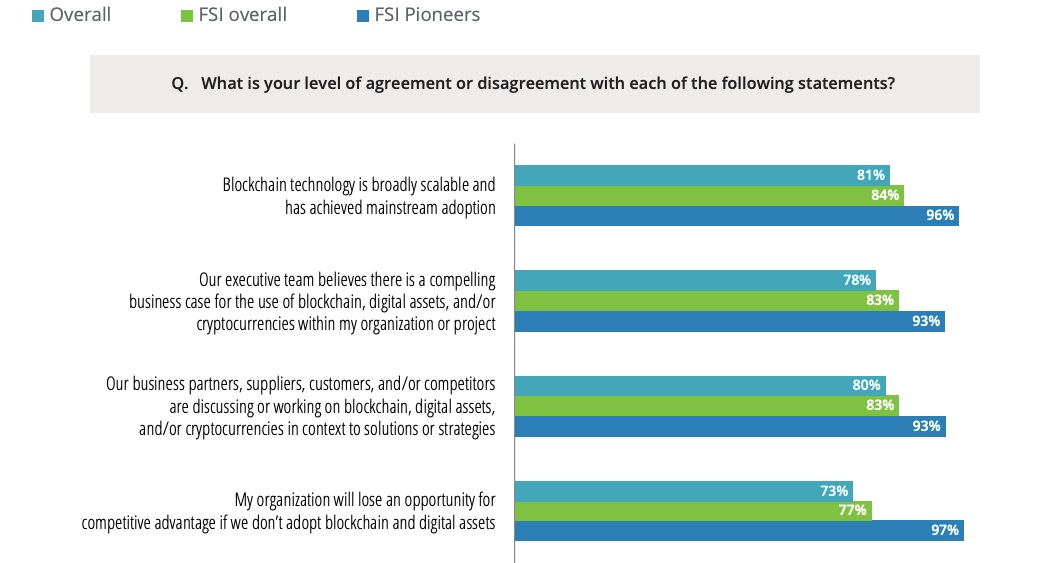 "Most Crime Is Conducted With Cash You Print"
The president of the Federal Reserve bank of Minneapolis made a statement recently regarding cryptocurrencies as "95% fraud, hype, noise and confusion." Adding, "I've not seen any use case other than funding illicit activities like drugs and prostitution." In a swift response, Congressman Tom Emmer shared a report published by blockchain data platform Chainanalysis overturning such claims, showing "in 2020, the criminal share of all cryptocurrency activity fell to just 0.34% or $10.0 billion in transaction volume." Emmer simply finished with, "Unfortunately, most crime is still conducted with the cash you print."
Bits and pieces
Chainalysis released the 2021 Global Crypto Adoption Index this week and Australia didn't make the top 20 countries. On the upside, adoption has grown by 2,300% since the end of 2019 and 881% in the past year. The Dogecoin Foundation has been resurrected, with Ethereum co-founder Vitalik Buterin on the board along with Dogecoin co-founder Billy Markus. VanEck and ProShares this week put in applications for Ether Futures ETFs with the SEC, and just as quickly withdrew them again. Pundits suggest that means an Ether Futures ETF has little chance of approval in the near term.
Until next week, happy trading!