In Markets
After reaching new highs earlier in the month, crypto markets have pulled back across the board, with Bitcoin losing 14% on seven days ago to trade around AU$77,650 (US$56,500). Ethereum is trading around AU$5,650 (US$4,100) which is down 10.2% on seven days ago. Most other coins pulled back too: Cardano (-13%), Ripple (-13%) and Polkadot (-12.3%). Interestingly Dogecoin (-15.8%) was pushed out of the top ten by Avalanche which gained 42% this week. As you might expect sentiment took a dive from 72 last week (greed) down to 50 (neutral) this week according to the Crypto Fear and Greed Index.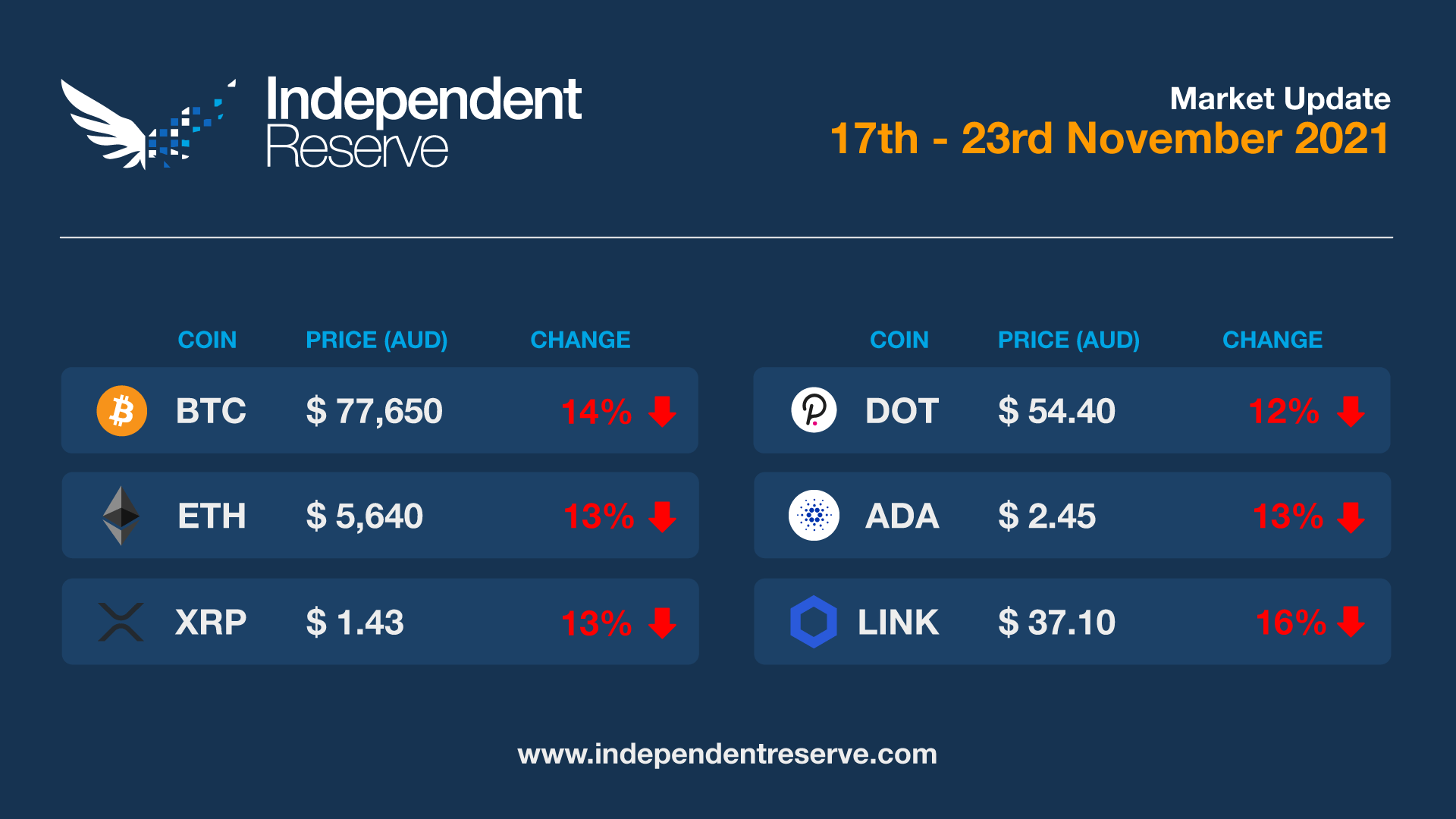 From the IR OTC Desk
US President Joe Biden confirmed today that Jerome Powell has been selected for a second term as Chair of the Federal Reserve. As mentioned last week, the White House interviewed both Powell and Lael Brainard for the position. In today's announcement, President Biden has sided with continuity in policy and approach for monetary policy, while appointing Fed governor Brainard to the Vice Chair position. Seen as more hawkish for interest rate increases relative to a Brainard appointment, risk markets have initially taken the news with caution. Further information on tapering and any future change to the underlying interest rate term structure may be communicated beyond February, now that another term has been assured.
On the OTC desk this week, flows have been opportunistic, tending to be preceded by larger moves in intra-day volatility. We have continued to see some profit taking in the majors, however this flow is starting to be offset by new orders. Interest in stable coins has remained strong, although in less volume. It is unclear whether lighter flow may be related to AUD/USD pricing, affecting remitter payments. Current AUD/USD is trading at circa 0.7240, down from circa 0.7500 at the beginning of November.
Important data events include the Reserve Bank of New Zealand (RBNZ) and their monetary policy meeting due Wednesday 24th November. The market is currently expecting the Bank to deliver their second 0.25% rate increase.
For any trading needs, please don't hesitate to get in touch
In Headlines
Bitcoin city and volcano bonds
El Salvador President Nayib Bukele has announced the country will raise US $1 billion (A$1.4B) in a tokenised Bitcoin bond scheme. Half the money will be spent on Bitcoin and the other half on building energy and mining infrastructure. Bloomberg's report on the scheme says "Blockstream models show at the end of the 10th year of the bond, the annual percentage yield will be 146% due to Bitcoin's projected appreciation." Bukele also announced grand plans for a Bitcoin city where residents will pay no income tax, property tax or city tax. There will be a VAT however and the hope is to power the city and Bitcoin mines using geothermal power from the Conchagua volcano.
Government and regulators on crypto
ASIC's new chair Joe Longo told the Australian Financial Review's Super conference this week that while he's fascinated by crypto and DAOs "he has no regulatory oversight, in large part because crypto assets cannot be classed as financial products," an AFR report stated. Financial Services Minister Jane Hume told the conference that crypto "is not a fad". "Decentralised finance underpinned by blockchain technology will present incredible opportunities – Australia mustn't be left behind by fear of the unknown." The sentiment was in stark contrast to Reserve Bank head of payments policy Tony Richards who last week warned against crypto and suggested potential global action against the sector meant "the current speculative demand could begin to reverse." Over in the US President Biden has tapped current Federal Reserve chair Jerome Powell for another four years. He's previously said he's not in favour of a ban on Bitcoin.
Ethereum disappears from exchanges
The balance of Ethereum on exchanges has plunged to a low last seen in 2018, with just 14,241,063 ETH present on exchanges, representing 12% of the total supply according to Glassnode. The rise of decentralised exchanges and DeFi protocols may be a factor, but it's often taken as a bullish sign that investors have no intention of selling their coins right now and are awaiting higher prices. Glassnode data also shows the coin is more popular than ever with a record 19 million addresses holding more than 0.01 ETH ($56 worth).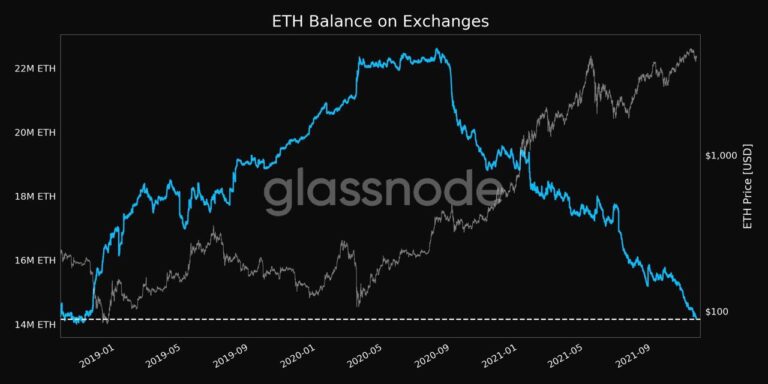 NFTs so hot right now
Google searches for NFTs broke into new highs in October and the term has become more popular than "DeFi," "Ethereum", "blockchain" and even "Dogecoin". Even iconic wine brand Penfolds is launching a new wine range tied to NFTs, with a $130,000 NFT tied to the Magill Cellar 3 barrel, and 300 NFTs that can each be redeemed for a bottle of wine from the barrel.
Bits and pieces
The IRS seized US$3.5B (AU$4.84B) worth of crypto in the 2021 fiscal year, 93% of all the assets the tax agency seized. Risk management firm Elliptic says DeFi users have lost $12 billion (A$16.6B) to hacks, scams and rugpulls over the past two years, although only $2B ($2.76B) was stolen directly, the rest of the money was lost when tokens plunged as a result of the incidents. Three Arrows Capital founder Su Zhu caused controversy on Twitter on the weekend, suggesting he'd abandoned Ethereum due to high gas fees and scaling woes in favour of Avalanche (which gained almost 50% as a result). This resulted in much debate over Ethereum's sky high gas fees and whether scaling would ever happen. A group of crypto investors formed a DAO about a week ago called ConstitutionDAO and raised around $47M (A$65M) from 17K contributors to buy a rare copy of the US Constitution at Sotheby's. They were narrowly outbid, but helped popularise the concept of DAOs with coverage in the New York Times and Forbes.
Bitcoin DeFi white paper released
Twitter and Square boss Jack Dorsey's TBD has put out a whitepaper for its decentralized Bitcoin exchange. "tbDEX" will be both a DEX and a liquidity protocol. TBD suggested "fintech companies, regional banks, large institutional banks, or other financial institutions" will partner with the protocol to get fiat on and off the exchange which would mean KYC would be necessary.
Majority of Gen Z think crypto will make them rich
A wide-ranging study on the economy by Engine Insights found that 31% of US adults believe they can become millionaires via crypto investments. The younger you are the more likely you are to agree with the proposition: 46% of millennials think crypto can make them millionaires and 59% of Gen Z. However stocks, mutual funds, real estate and bonds were all seen as safer places to invest.

American Consumer Survey | Source: Engine Insights
Mt. Gox payouts
Bearish sentiment has surfaced following a Tokyo court signing off on plans to repay creditors of Mt Gox, the infamous exchange that fell through in 2014, which lost half a billion dollars in Bitcoin. Whilst those affected in the event are set to receive large sums of Bitcoin, this has brought some bearishness to the market as the expectation is that these creditors are likely to be sellers. Repayments are estimated to happen early to mid-2022, "the waters over the next few months will be rough" but "Bitcoin's long-term outlook remains bullish", says analyst Edward Moya.
Until next week, happy trading!