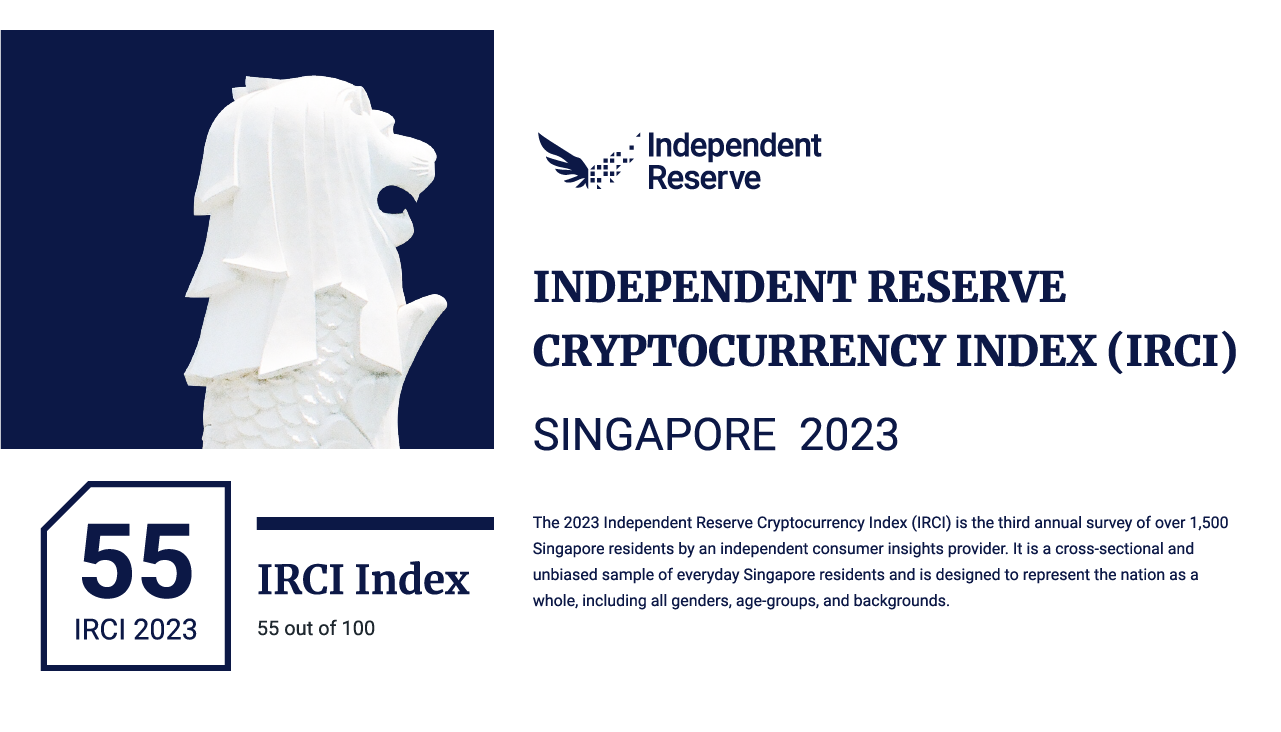 43% of Singaporeans currently own cryptocurrency, of which 77% hold two or more different types. The Index sits at 55.
Insights and highlights from IRCI Singapore 2023
The IRCI is the only industry-led research that deep dives into Singaporeans' attitudes and investing behaviours towards the blockchain and cryptocurrency sector.
Despite the hit to confidence, crypto ownership in Singapore rose to 43% (up 3% pts).

Ownership among Gen X (46-55-year-olds) rose from 30% to 55%.

Crypto ownership among females rose by 7% pts to 37%.

Portfolio diversification is the main driving force for crypto adoption.

23% of crypto investors invest $1,000 or more per month.

26% of crypto investors report making losses on their investments (up 6% pts).

95% of investors that have been in the market for 5 or more years either made a profit or are breaking even.
For more insights, please download the IRCI report.
Download the IRCI Singapore 2023 report
Visit www.independentreserve.com/sg/irci23 to download the comprehensive 34-page report.
This year's report includes:
Foreword from Lasanka Perera, CEO of Independent Reserve Singapore.
In-depth data into the awareness, adoptions and confidence in crypto among Singaporean residents.
An in-depth look at the rising adoption of crypto among females and Gen X.
Analysis of young investors aged 18-25.
The outlook for digital assets in Asia's wealth markets, authored by Michael Stanhope, Founder and CEO of Hubbis.
How Singapore and Hong Kong are addressing the crypto industry, authored by Grace Chong, Head Of Financial Services Regulatory, Singapore, Gibson Dunn.
What is the IRCI?
Now in its third year, the Independent Reserve Cryptocurrency Index (IRCI) Singapore is a nationwide, cross-sectional research survey of 1,500 Singaporean residents (mirroring Singapore's demographics with a proportionate split between genders, age, income and ethnic backgrounds) that examines a nation's awareness, adoption, trust and confidence in cryptocurrency.
With a score out of 100, the 2023 IRCI for Singapore sits at 55, down from 61 in 2022.
A score of 100 indicates maximum awareness, optimism, trust and adoption of cryptocurrency. A score of 0 indicates a complete ignorance of cryptocurrency and blockchain technology, and that no one has heard of or thought about buying Bitcoin.
What does a score of 55 indicate?
The decline of the Index from 61 in 2022 to 55 is a reflection of the hit to confidence felt by the continued bear run and a string of high-profile negative headlines in 2022 and early 2023.
Despite the increase in cryptocurrency ownership, this year's survey revealed an increase in losses from crypto investors, more investors planning to sell out their entire crypto portfolio, fewer Singaporeans willing to invest in crypto over the next 12 months and fewer respondents believing in the long-term viability of crypto.
So is it all bad news? No. For comparison, the 2022 IRCI in Australia (survey taken in late 2022) had a score of 45, indicating that Singaporeans are comparatively more crypto-forward. Additionally, the survey revealed that there's a lot of pent-up demand in Singapore. 16% of Singaporeans that haven't invested in crypto, indicated that they wanted to enter the market but weren't in a financial position to do so. Additionally, 16% of respondents said they would like to enter the market but were not sure how to start.
Moreover, there's a wide disparity in opinion between crypto investors and non-investors. For example, 72% of crypto investors would recommend investing in crypto to family and friends, as compared to only 17% of non-crypto-investors. While that statistic on its own doesn't indicate much about the future of crypto, what's worth highlighting is that 53% of investors noted that family and friends were an influence on their decision to invest. Therefore, one could extrapolate that over time more Singaporeans will enter the crypto exchange market, if for no other reason – the influence of family and friends.
Final thoughts
The much-anticipated Bitcoin halving event is scheduled for May 2024. Historically, this event has lifted the sentiment for cryptocurrency, along with the value of Bitcoin and many altcoins. Despite the challenges, crypto spring beckons, and there is much to look forward to.
IRCI Singapore 2023 infographics
Please feel free to download and share the infographics. We kindly request that you cite and link to this blog if you're sharing the infographics across social media, blogs or news publications.