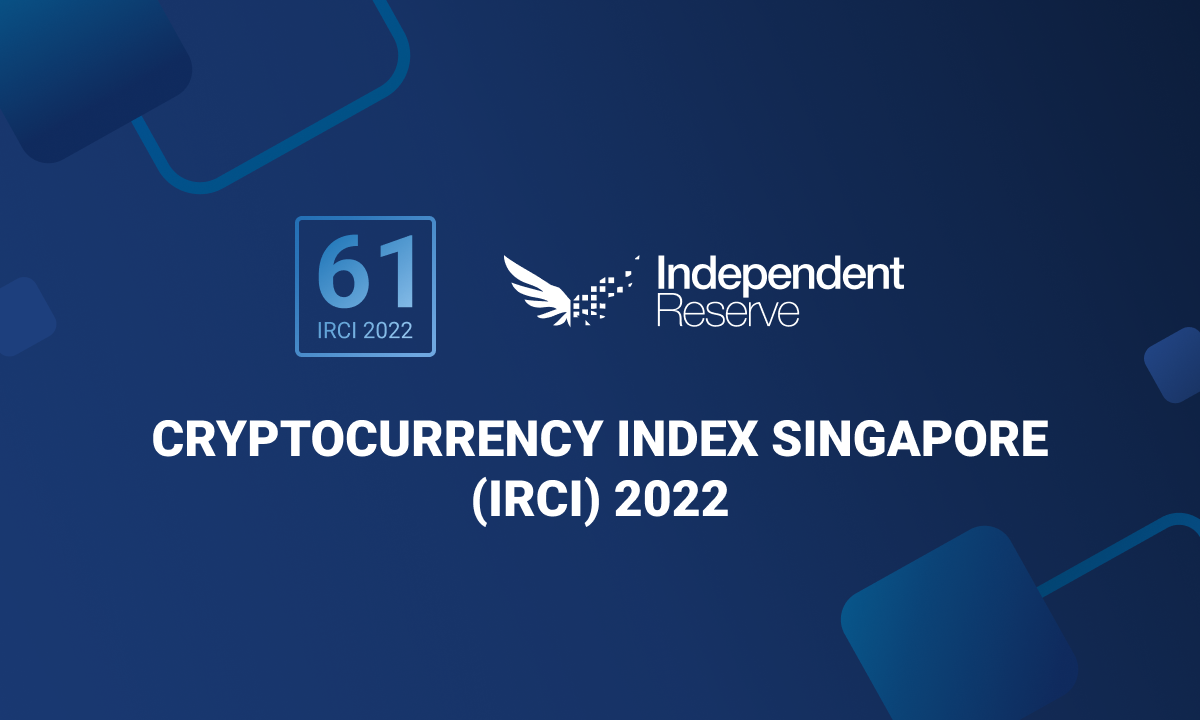 40% of Singaporeans currently own cryptocurrency, of which 76% hold two or more different types. The Index sits at 61.
What is the IRCI?
The Independent Reserve Cryptocurrency Index (IRCI) Singapore is a nationwide, cross-sectional research survey (mirroring Singapore's demographics with a proportionate split between genders, age, income and ethnic backgrounds) that examines a nation's awareness, adoption, trust and confidence in cryptocurrency.
With a score out of 100, the 2022 IRCI for Singapore sits at 61.
A score of 100 indicates maximum awareness, optimism, trust and adoption of cryptocurrency. A score of 0 indicates a complete ignorance of cryptocurrency and blockchain technology, and that no one has heard of Bitcoin.
What does 61 indicate?
In the latest study by Independent Reserve, the first regulated cryptocurrency exchange for all investors in Singapore, 40% of Singaporeans surveyed own cryptocurrency today.  Of these, 76% hold two or more different types of cryptocurrencies.
In its 2nd year, the 2022 Independent Reserve Cryptocurrency Index (IRCI) Singapore polled 1,500 everyday Singapore residents on their attitudes toward cryptocurrency. Singapore scored 61 on the IRCI this year, 7 points ahead of Australia's most recent IRCI score of 54 in December 2021.
Despite the slight decline in score from 63 in 2021 due to the recent bear run after a strong year-long bull market, this still reflects the country's positive sentiment and outlook towards cryptocurrency.
Download the IRCI Singapore 2022 report
For more insights and information download the report using the link below:
Download the 2022 IRCI Singapore report
Insights and highlights from IRCI Singapore 2022
Overall awareness remained high in 2022 with 90% of Singaporeans having heard of at least one cryptocurrency (2021: 93%), and 87% having heard of Bitcoin (2021: 90%).
Bitcoin remained the most popular cryptocurrency, with 78% of investors holding it. 50% hold Ethereum and the third most popular cryptocurrency is Dogecoin, held by 25% of investors.
Another 47% are planning to buy cryptocurrency in the next 12 months.
By gender, 30% of female respondents own some cryptocurrency (2021: 35%) compared to 49% of male respondents (2021: 51%).
51% of respondents invest in crypto because of family and friends, 60% of female crypto owners invested for this reason.
Price volatility is nominated as the number one reason people avoid investing in crypto.
20% of respondents said they had planned to buy crypto but did not go ahead because of the uncertainty of the economy or because they were negatively impacted by the economic conditions during Covid.