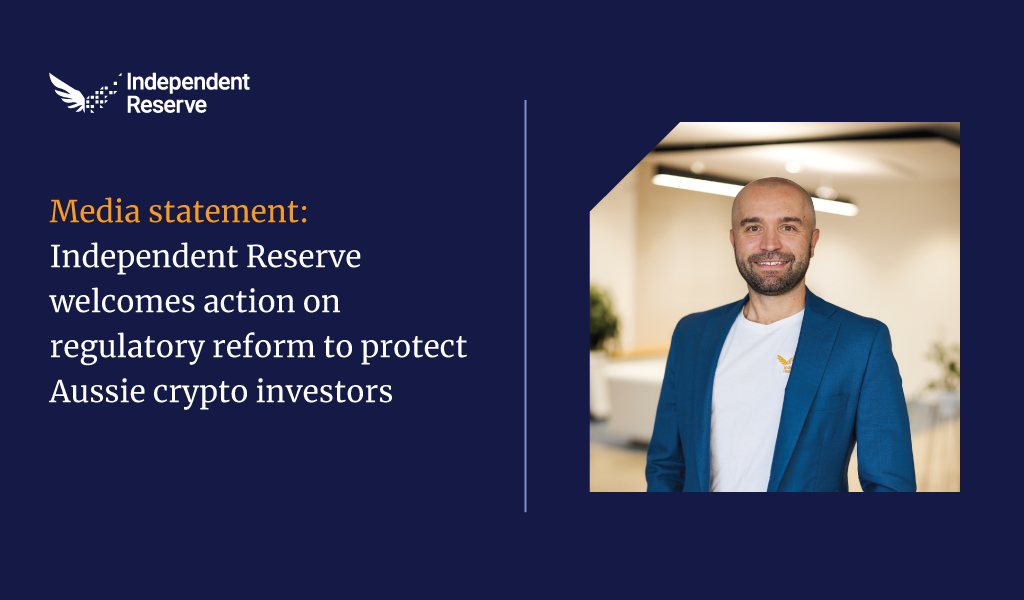 Independent Reserve today welcomed the Federal Government's recommendation to make crypto exchanges and digital asset platforms subject to existing Australian financial services laws and require platform operators to obtain an Australian Financial Services Licence, but warned that the recommendation must be followed by swift action.
Independent Reserve CEO, Adrian Przelozny, said: "We commend the Federal Government on its recommendations to introduce stronger regulation and policy change.
"Today's recommendations are a milestone for the Australian crypto sector. This isn't just about regulation; it's about restoring trust. We firmly believe these changes will drive investment, provide certainty to the sector and ultimately, increase consumer protection.
"As more Australians invest in digital assets, it's critical that we have a robust and competitive regulatory, tax and policy framework that deals with these assets," he said.
"A recommendation is one thing, but what we need now is firm action to follow it through. The Albanese Government has an opportunity to revolutionise the Australian crypto sector and improve consumer protection, therefore driving innovation, confidence and growth in the industry. While it's promising to see action and progress in this space, we urge the Government to maintain momentum with these changes and act swiftly to move to implementation.
"For too long, investors have had to weigh up accessing a rapidly growing asset class and the risk of investing in an unregulated environment, where distinguishing which companies operate in a responsible manner is difficult. Australian investors deserve better.
"At Independent Reserve, we have always taken a conservative approach in managing our business and client assets. This includes:
Keeping full reserves of all client assets
Keeping the vast majority of client assets in offline cold storage vaults
Not commingling Independent Reserve's digital assets and funds with those of our clients
Undergoing regular financial audits to obtain external assurance. We are ISO27001 certified as assurance of our processes and security protocols.
"We have led the way with pushing for these critical industry changes and greater protection for crypto users for many years now, so this is an important day for the sector," he said.
ABOUT INDEPENDENT RESERVE
Established in 2013, Independent Reserve is Australia's most trusted cryptocurrency order book exchange and OTC trading desk. Over 250,000 customers from Singapore, Australia and New Zealand trust Independent Reserve to easily buy and sell Bitcoin, Ethereum, XRP and other major cryptocurrencies. Independent Reserve offers a range of innovative features, including AutoTrader, an OTC trading desk, API integration and world-class security.