1. Log into your Independent Reserve account and select Accounts in the navigation menu.
2. Navigate to the Account Balance section and click the withdraw link in line with XRP.

3. A pop-up window will appear in order for you to fill in your withdrawal details. Your Available balance (XRP) will display at the top.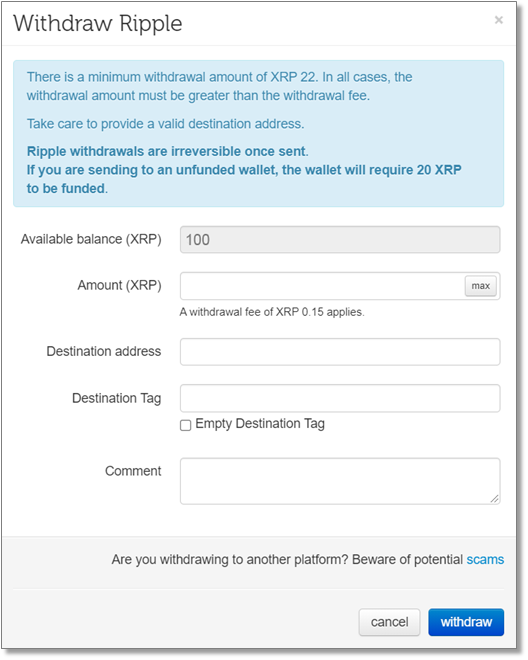 5. Enter the quantity of XRP you would like to withdraw in the Amount (XRP) field.
Note:
– The minimum amount of XRP you can withdraw is 22 and a fee of 0.15 XRP will apply.
– XRP withdrawals are not reversible once executed.
6. Enter or paste the Destination Address and Destination Tag (if applicable) in the corresponding fields.
Note:
Be sure to only withdraw your XRP to a trusted destination and that all of the details have been entered correctly.
7. Click withdraw once the details of the transaction have been filled in, and you have ensured the details are correct.
8. A confirmation window will appear with the details of the transaction and will require you to enter your 2FA or password.
9. Once your XRP has been withdrawn, your funds will no longer appear in your Account Balance.
Note: Your withdrawal/transaction will need to be confirmed by the network before the XRP becomes available in the destination wallet.
10. As soon as the required numbers of confirmations on the blockchain are reached, the XRP should be available at your destination wallet. Note that the number of confirmations required is specific to your destination wallet; you will need to consult their support documentation for details.
You can view your recent transactions by navigating to Accounts > Transaction History and scrolling down to the Withdrawals section.