In Markets
If you're still here after a record four quarters in the red for crypto markets in 2022 then congratulations – odds are you have survived the worst of it. The year ended with crypto exchanges seeing the lowest volumes since December 2020 after volume plunged 47.6% in December. Over the course of 2022 Bitcoin fell 65% and Ethereum lost 68%. Prices have stabilised since early November however, and over the past 7 days Bitcoin and Ethereum remained flat at A$24,570 (US$16,700) and A$1,788 (US$1,215) respectively. XRP lost 8%, Dogecoin (-8%) and Cardano (-7%). The Crypto Fear and Greed Index is at 26, or Fear. The good news is that the Bitcoin halving, which has historically preceded a new bull market, is  only 438 days away.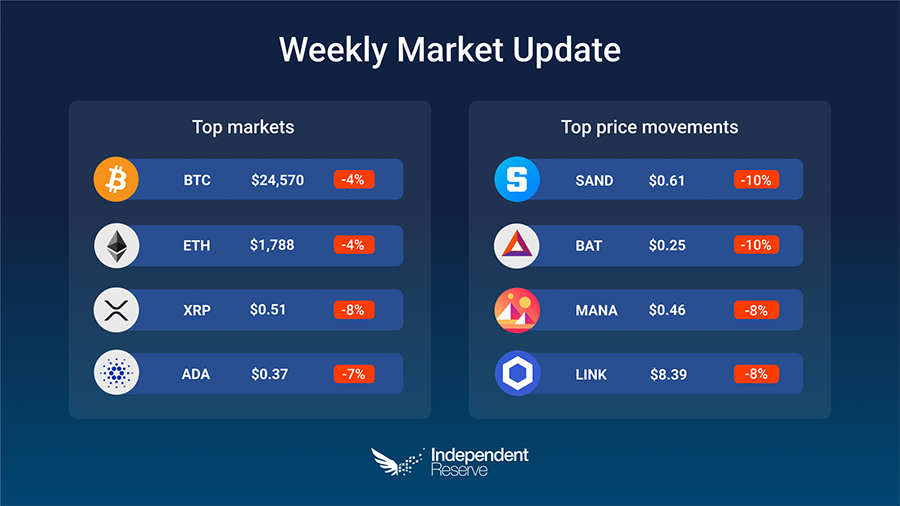 In Headlines
Other reflections on 2022
2022 started out with big hopes and dreams for Web3, but crypto finished up with a battered reputation thanks to mismanagement and fraud. The combined crypto market cap fell 64% from US$2.2 trillion (A$3.23T) to just below US$800M (A$1.175T). Most coins are 65%-95% below their all-time highs. Arcane ran a ruler over the numbers and found the Metaverse sector was the hardest hit, falling 89% in 2022. ETH killers and alternative layer 1 blockchains suffered a collective 78% drawdown. Exchange tokens (excluding FTX token FTT) lost 57% while privacy coins lost 47%. But it's not just crypto suffering: the "everything bubble" popped as inflation and interest rates increased. Traditional investors in Australia saw their worst returns since 2008 (although the ASX 200 was only down 5.45%) and in the US stocks and bonds had their worst year since 1932. Tech stocks performed like cryptocurrencies with Netflix, Meta, Zoom, Spotify and Tesla falling between 51% and 70%.
SBF to plead not guilty
Reuters reported that Sam Bankman Fried intends to plead not guilty in court on Jan 3 in New York to wire fraud and conspiracy charges related to the collapse of FTX and Alameda. Alameda CEO Caroline Ellision and FTX cofounder Gary Wang have already pleaded guilty, however that's part of a deal to give evidence against SBF who now has nothing much to lose from challenging the charges.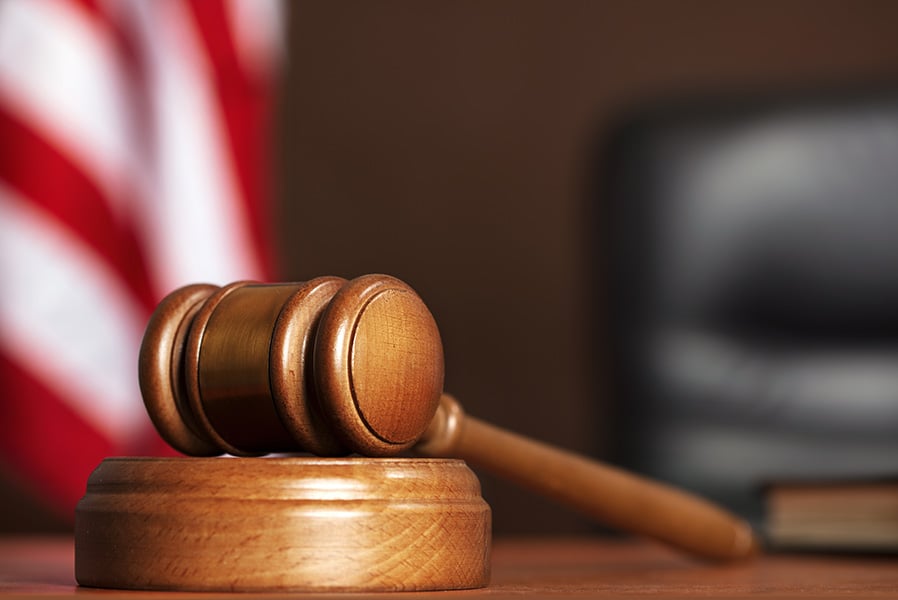 DeFi market exploits are still illegal says FBI
Back in October Avraham Eisenberg and his crew drained US$110 million (A$162M) from Mango Markets using an exploit. They used the tokens to put a DAO governance proposal that they be given back US$67 million (A$98.5M) and keep the rest as a bounty. Eisenberg claimed that he played by the rules of the smart contract so what he did was legal. The FBI disagrees and has now arrested him on charges of commodities manipulation and fraud.
Genesis issues still lurking
The unexploded bomb that is Digital Currency Group owing US$1.675 billion (A$2.46B) to troubled crypto lender Genesis reared its head again. Gemini owners the Winklevoss Twins published an open letter accusing DCG CEO Barry Silbert of "bad faith stall tactics" and demanded he commit to fixing the problem by January 8 (Gemini's 340,000 Earn customers can't access their funds since Genesis halted withdrawals). Silbert denied DCG borrowed anything from Genesis and claimed DCG had offered a proposal on December 29 but hadn't received a response.
Reasons to be cheerful 1
Bitcoin analyst Tuur Demeester reports that US interest in "how to buy Bitcoin" is up 500% since August with searches highest in Honolulu, Anchorage, Lafayette, Odessa/Midland and Miami, Florida. "Plebs buying while Wall Street is sleeping?" he asked. Bitcoin was the most popular crypto in google search across 2022, accounting for 28.41 million searches each month. Dogecoin is second with 5.9m, Shiba Inu third with 4.4M and Ethereum fourth with 3.8M. Meanwhile Bitcoin critic Peter Schiff ran a poll asking "How low does #Bitcoin have to fall before you admit that you're wrong and sell your stack?" More than 62% of 64,000 votes cast were for "I'm right. HODLing till 0".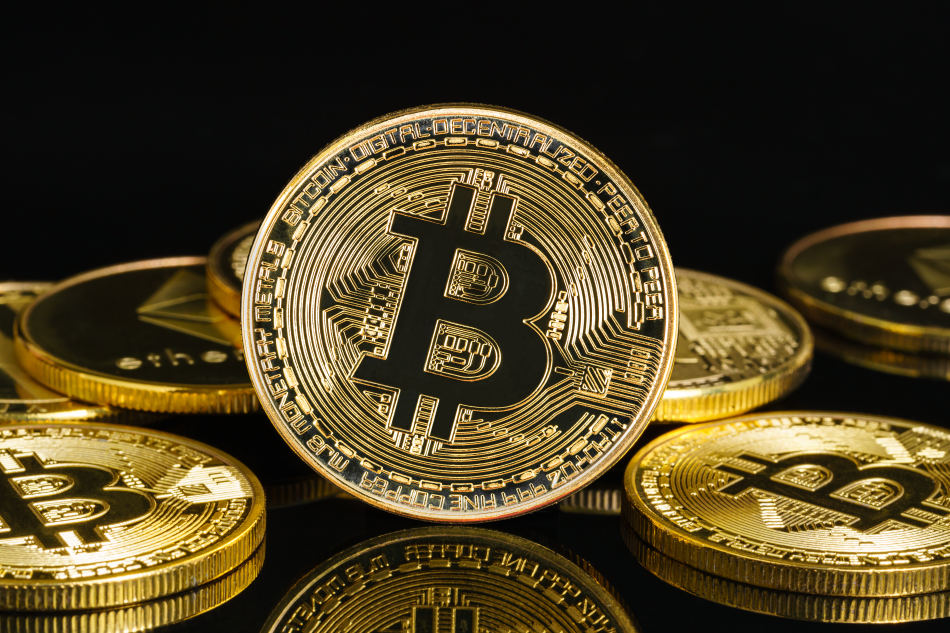 Reasons to be cheerful 2
According to Coin ATM Radar, the number of Bitcoin ATMs in the world surged 506% since January 2020 when there were just 6,362 BTC ATMs. There are now 38,601 Bitcoin ATMs, with that figure increasing by around 6,000 machines since January. Australia now has 216 Bitcoin ATMs.
Ethereum fundamentals
Ethereum's fundamentals are looking good. There are more than 491,000 validators securing the proof of stake blockchain and 15.7 million ETH staked. Around US$23.7 billion (A$34.8B) worth of NFTs were minted on the network over the year and the Otherdeed NFT mint saw the Ethereum network record more transactions in a single day than Bitcoin managed all year. Overall, transactions on Ethereum were 338% higher over the course of the year than on Bitcoin.  Bloomberg's senior macro strategist, Mike McGlone believes ETH will outperform Bitcoin. "Once the dust settles from some reversion in risk assets amid inflation pressures, Ethereum is more likely to resume doing what it has been – outperforming".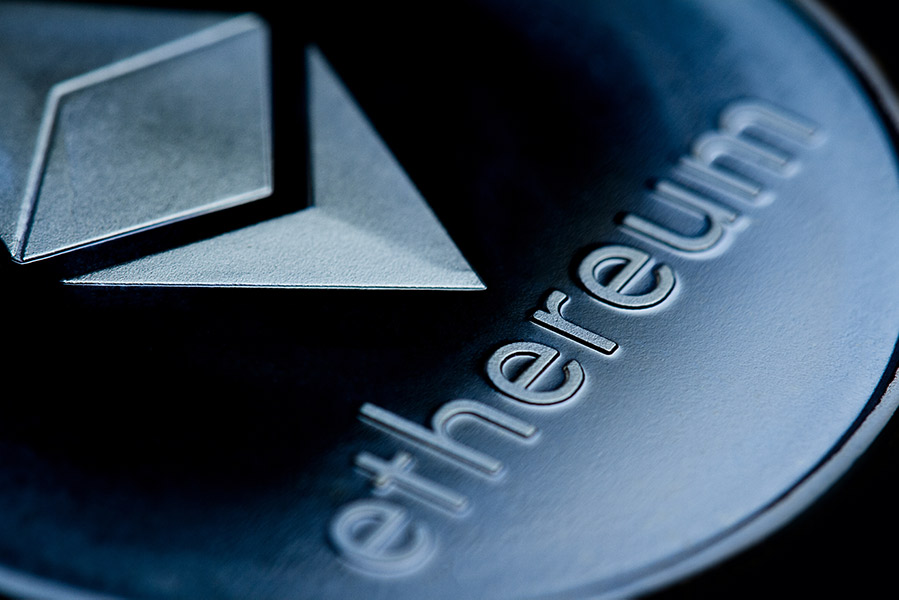 Next bull run in 2025?
David Marcus, Facebook's former head of the Novi digital wallet project, thinks the crypto market won't really recover until 2025. "It'll take a couple of years for the market to recover from the abuse of unscrupulous players, and for responsible regulation to come through," he said. "Consumer trust is also going to take a few years to rebuild, but ultimately I believe this will prove to be a beneficial reset for legitimate industry players over the long run."
Other predictions for 2023:
Bitcoin bull Tim Draper says US$250K (A$367K) by mid-year, although that was also his target for 2022. ShapeShift CEO Erik Voorhees thinks US$40K (A$59K) by June if macro conditions improve. Standard Chartered warns Bitcoin could sink to US$5K (A$7,350), veteran investor Mark Mobius says US$10K (A$14.7K), Sussex Uni finance professor (who tipped $10K last year) thinks BTC could hit US$50K (A$73.5K) this year due to a "managed bull market" by whale buys. In terms of the macroeconomic conditions, Fundstrat managing partner Tom Lee thinks inflation will wind down much faster than expected, and stocks will recover more than they lost. "In fact, 3 of the 5 best ever annual gains came after a 'negative' year," he said.
Until next week, happy trading!