Market Update 29th January – 4th February 2020
In Markets
Bitcoin increased another 3.5% this week to trade around $13,900 at the time of writing. Most altcoins gained even more: Ethereum is up 9.9% in the past seven days, XRP (8.3%), Bitcoin Cash (3.6%), Litecoin (16.3%) and EOS (4%). Tezos jumped by almost a third and is now at #11, while Stellar (up 6%) has dropped back to #14.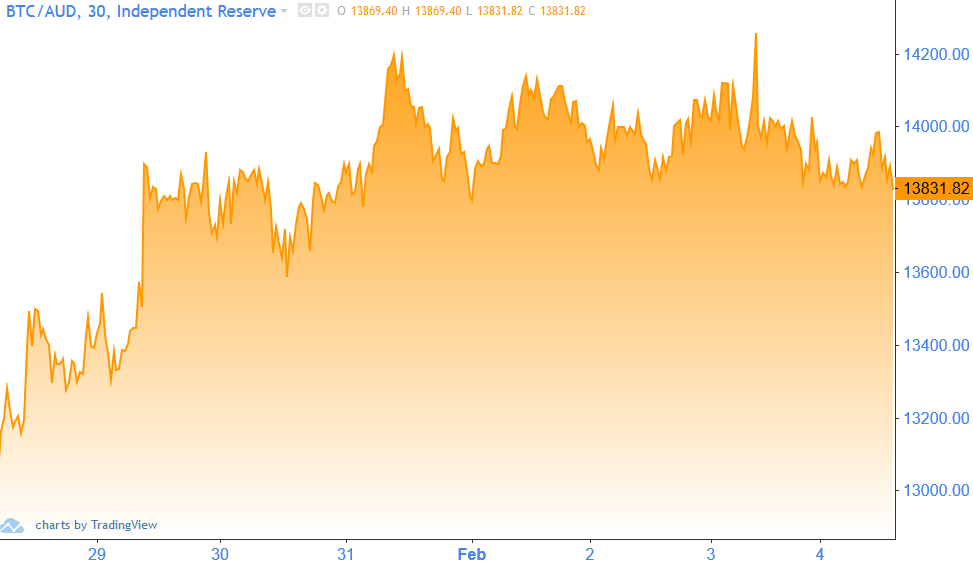 Source: Independent Reserve Bitcoin/AUD chart
In Headlines
2020 vision looking great
Bitcoin recorded its best January performance in seven years, gaining 30% across the month. The last time Bitcoin performed better was in 2013 when it rallied 54%. Analyst PlanB tweeted the price is now ahead of his famed Stock To Flow model (which tips a US$100,000 price following the May 'halving'). Fundstrat co-founder Tom Lee and respected market analyst Mati Greenspan both believe the bull market is back. They point to Bitcoin breaking the 200 day moving average as a sign 2020 will be a big year for crypto. "As far as technical analysis is concerned, it doesn't get much more bullish than this," wrote Greenspan. To top it all off Bitcoin now has its own Twitter emoji – just type in #btc or #bitcoin and it'll appear

.
ABC News calls Bitcoin 'digital gold'
Economics commentator Alan Kohler this week referred to Bitcoin as 'digital gold' on ABC News. He said the recent BTC price rise could be from investors seeking a safe haven asset due to the Corona Virus. That's a big change in his thinking from 2017 when he called crypto 'a giant scam'.
Blockchain patent war is coming
The full extent of Craig Wright's forthcoming patent war is becoming clear. He claims to have applied for more than 830 blockchain patents and intends to file 6000 in total. The actual number granted is '50-ish' according to Bitcoin SV's Jimmy Nguyen. Overnight SV's billionaire benefactor Calvin Ayre said the "BTC is not Bitcoin" and there are "lawsuits … coming related to this issue, this year." Bitcoin Cash's Roger Ver said that "preparing to sue everyone over patents is the exact definition of crony capitalism".
Billions in Bitcoin payments
Payment processor Bitpay facilitated $1.5 billion worth of crypto transactions in 2019 – with Bitcoin payments the most popular. Coinbase Commerce processed $202 million – up 600 percent from 2018. In total, Chainalysis estimates that roughly $6 billion worth of Bitcoin was sent through payment processors in 2019.
Ethereum 2: 10 million ETH to be locked up
Ethereum co-founder Vitalik Buterin says the introduction of Proof Of Stake for Eth 2.0 will lead to 10 million more ETH being locked up. Preston van Loon, the CEO at Prysmatic Lab, told The Block he expects the first stage of Eth 2.0 to launch late in the second quarter of 2020. "The latest state of phase 0 is that the spec is complete, all of the features that we're expecting to be there are frozen, and our cryptography library has been standardized," he said. "Testnets are now running on the most recent update."
Protect your Trezor with a passphrase
Researchers from Kraken Labs have broken into a Trezor hardware wallet in just 15 minutes. Attackers need to have physical access to the wallet and equipment that enables them to send timed voltage glitches to it, and they can then brute force the device PIN. Trezor released a statement urging users to set up the optional passphrase, which protects funds from such an attack.
All you need is Bitcoin
Raoul Pal, former executive at Goldman Sachs, predicted this week that Bitcoin will be the best-performing asset over the next decade. "If I could only own one asset for the next 10 years, it would be Bitcoin. It encapsulates all of my larger macro views and feels like the point on the far horizon we are headed to, in some shape or form. Yes, I like gold too and many other things but BTC risk/reward beats all."
Until next week, happy trading!
Independent Reserve Trading Desk