Market Update 5th – 11th June 2019
Welcome back to another Australian crypto market update.
In Markets
Is this the correction we had to have? Bitcoin's price dipped below $11,000 a few times this week, but has recovered to now be trading above $11,400. It's down 4.3% for the week, but up 10% on a month ago. The upcoming halving helped push Litecoin to its best price since May 2018 – it's up 16.2% this week to $184. Everything else is marginally down over the past seven days: Ethereum lost 4%, Ripple (-8%), Bitcoin Cash (-5.3%), EOS (-8.7%), Stellar (4.9%) and OmiseGO (-5.3%).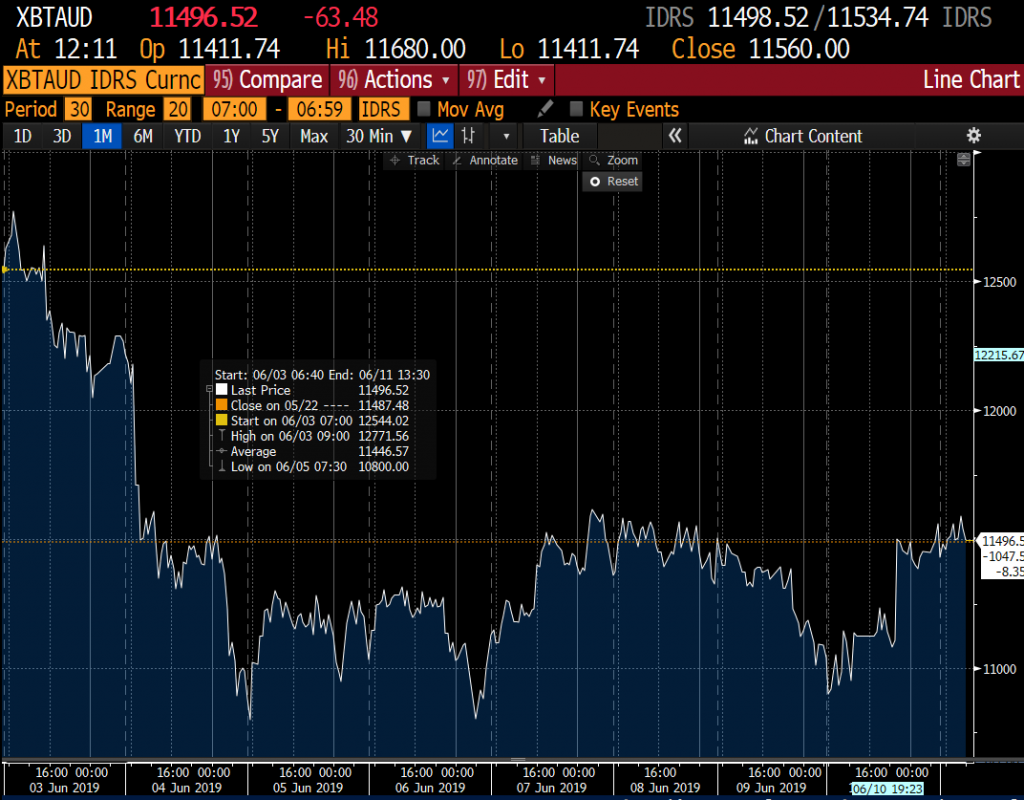 Source: Independent Reserve Bitcoin/AUD chart on Bloomberg
In Headlines
Bitcoin and Ethereum transactions up
There were 1.3 million Bitcoin transactions over the past week worth $14.7 billion – up 5.71% on the week before. The average transaction size increased 3.36% to $6,224. Analysis last week by Brave NewCoin shows Ethereum's fundamentals are also looking good. Average block times are 13.33 seconds – nearly the fastest ever – while inflation is pretty close to its lowest levels ever. On chain transactions per day are around 910,000, up from a yearly low of 430,000 in February.
Bitcoin to hit $25k (or maybe $40k)
Crypto influencer/investor Oliver Isaacs has told The Independent he believes the US/China trade war will see Bitcoin hit US$25k ($A36,000) by year's end. And Fundstrat co-founder Tom Lee says that if Bitcoin crosses $10k, FOMO will see it shoot to $40k (A$57,500) within five months. He says Bitcoin has only ever traded above $10k for 87 days, or about 3% of its existence. "If you look at half cycles, when you get to that 3% threshold, the typical surge in the next five months is 200-400%," he said.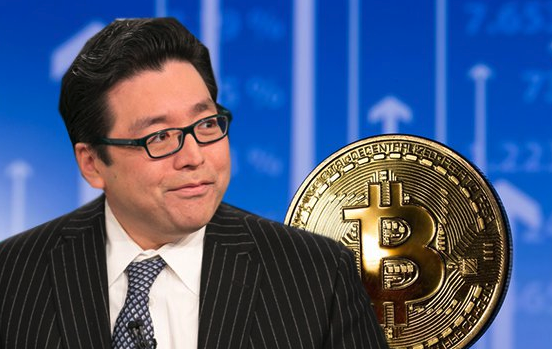 Fundstrat co-founder Tom Lee
Technical problems
Crypto analyst Willy Woo says Bitcoin's Network Value to Transactions ratio is out of whack, which he predicts will cause a correction. If you're into technical indicators, the GTI Vera Convergence-Divergence indicator flashed a sell signal on Bitcoin last week for the first time since April.
ATO cracking down on crypto
The ATO has been sabre rattling in the Sydney Morning Herald over crypto tax avoidance schemes. "There is definitely legitimate use for investment in cryptocurrencies, but we're also seeing the use of them to facilitate tax crimes,"" said Will Day, ATO deputy commissioner. On the subject of tax, remember you can get a tax estimate direct from IR.
Bitcoin and crypto dominate Google search
'Bitcoin' and 'Donald Trump' have been fighting for dominance on Google Search for the past 12 months, according to a new report by analysts ConsenSys. Since the recent price surge though, 'Bitcoin' has rocketed ahead. 'Bitcoin' is also more searched for than 'Kim Kardashian' or 'Tesla'. Many more people search for 'crypto' than 'cryptocurrency'. Meanwhile, changes to Google's search algorithm on June 3 reportedly saw crypto news site CCN's mobile traffic drop 90% overnight. As a result it's shutting up shop today.
G20 upbeat on crypto
The G20 finance minister and central bank heads have put out a statement ahead of the Osaka summit saying cryptocurrencies "can deliver significant benefits to the financial system and the broader economy." There will be some regulatory moves coming out from this, hopefully not too draconian.
Until next week, happy trading!
Independent Reserve Trading Desk
澳大利亚交易平台
比特币和以太坊交易量上升
比特币交易量在过去一周达到130万笔,价值高达147亿美元,比前一周增长5.71%。平均交易额增长3.36%,达到6224美元。Brave NewCoin
上周的分析显示,以太坊的基本面也表现不错。平均生成时间为13.33秒,接近以太坊历史上最快的时间,而通货膨胀则接近有史以来的最低水平。每天的链上交易量约为910000笔,而2月份时,年最低值为430000笔。
比特币将涨到2.5万美元(甚至可能4万美元)
加密影响者/投资人Oliver Isaacs 告诉The Independent ,他认为中美贸易战将推动比特币价格在年底前涨到2.5万美元(约合3.6万澳元)。Fundstrat联合创始人Tom Lee亦表示,如果比特币突破1万美元,那么
对错失机会的恐惧(FOMO)将在5个月内刺激价格涨到4万美元(5.75万澳元)。他表示,比特币价格超过1万美元的情况自其诞生以来只存在过87天,相当于其存在时间的3%。"如果你观察减半周期,当触及这3%的临界值时,接下来五个月的典型价格飙升幅度可达到200-400%,"他说。
技术问题
加密货币分析师Willy Woo表示,比特币的网络价值对交易比率(Network Value to Transactions ratio)
不正常,他预计这将导致价格调整。如果你对技术指标感兴趣,上周,GTI Vera趋同背离指数(Convergence Divergence indicator)自4月份以来首次发出卖出信号。
澳大利亚税务局打击加密货币
澳大利亚税务局一直在《悉尼先驱晨报》上对使用加密货币的避税计划吹毛求疵。税务局副局长Will Day说:"投资加密货币肯定是合法的,但我们也注意到使用加密货币协助税收犯罪的情况。" 关于税务问题,您可以直接从
IR官网查询预估税。
比特币和加密霸榜谷歌搜索
根据ConsenSys的一份新分析报告,过去12个月中,"比特币"和"唐纳德·特朗普"一直在角逐谷歌搜索的一哥位置。不过, "比特币"由于近期的价格飙升一直遥遥领先。"比特币"的关键字搜索量甚至比"金·卡戴珊"或"特斯拉"更高。"加密"的搜索量高于"加密货币"。与此同时,据报道,6月3日谷歌搜索算法的改变导致加密新闻网站CCN的移动流量一夜之间下跌90%。由此网站不得不关闭。
20国集团对加密持乐观态度
G20财长和央行行长在大阪峰会前发表声明称,加密货币"可以为金融体系和更广泛的经济带来重大利好"。届时还将出台监管措施,希望不会过于严厉。