In Markets
Let's face it: January was not a great month for the crypto markets, with the market cap for all cryptocurrencies plunging from almost AU$3.2 trillion down to AU$2.47T today.  It's the worst start to a year since Crypto Winter began in 2018. There were only 11 green days this month and cryptocurrencies across the board lost double digits as prospective rate rises in the US spooked markets (here in Australia the RBA is expected to end the AU$4 billion a week bond buying program and open the door to interest rate rises after inflation reached the central bank's target for the first time since 2014). Bitcoin is down 19.5% on a month ago, and Ethereum is down 29%. The good news is that February has started with a bounce and BTC is up 2% in the past week to AU$54,385 (US$38,475) and ETH is up 7% to almost $3,800. Cardano lost 4%, Ripple was flat and Polkadot increased 4%. The Crypto Fear and Greed Index is at 20, which is still 'Extreme Fear' but heading in the right direction after bottoming out last week around 11.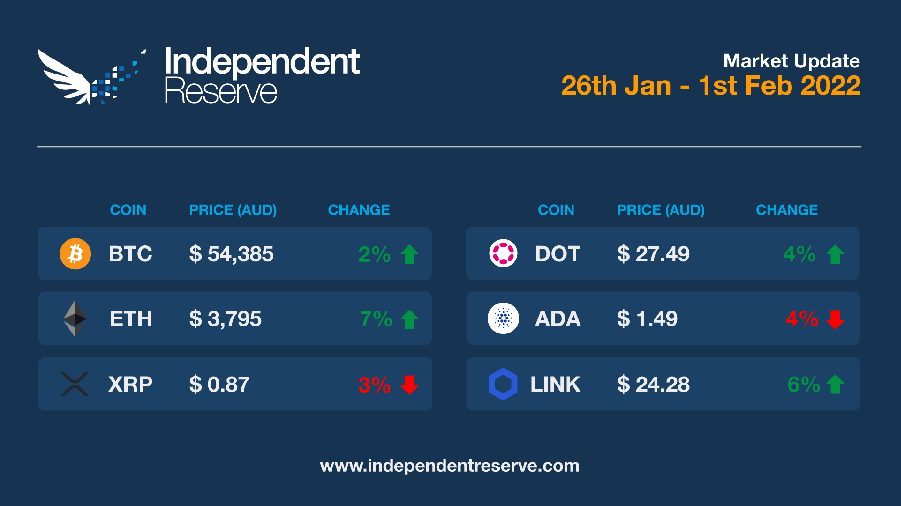 From the IR OTC Desk
The Reserve Bank of Australia's (RBA) first meeting for the year saw an immediate end to the AU$4bn/week bond purchase program with the final asset purchase to take place on 10 February.  Following on from noticeably strong employment and inflation data, delivered in January, the RBA has today highlighted that it is 'too early' to conclude that inflation is sustainably within the 2 to 3 per cent target range.  Key focus will now move to wage growth, as the Board 'is prepared to be patient' in their inflation assessment.
Of significance to inflation and the hiking cycle will be the federal election, which is expected to be called on or before the 21st of May, 2022.  Further information on the date should be announced in the near future.
In the US, the Federal Open Market Committee (FOMC) meeting (last Thursday) delivered:
1) Further information on the expected timing for the path of quantitative easing (QE) reduction
2) The expectation around when interest rates might begin to move higher, and
3) The forecast and composition of any balance sheet reduction
The Committee formally stated 'it will soon be appropriate to raise the target range for the federal funds rate'.  With Chair of the Federal Reserve, Jerome Powell highlighting ongoing 'uncertainty' and the ability of the Fed to remain 'nimble' in their monetary policy approach, short term interest rate markets are expecting the Fed will cease their bond purchasing program in March; and likely raise the Federal Funds rate in the same meeting.  With the Fed seemingly more comfortable that the employment and inflation targets have now been met, timing and pace of any balance sheet reduction will become highly topical in FOMC communication.
On the OTC desk, sell flows seem to have abated with enquiries becoming much more neutral.  Market volatility has been asymmetric, with UST and MIM briefly breaking their pegs on the back of Michael Patryn's involvement in the Wonderland protocol, while seeing correlated tokens – many within DeFi 2.0 – showing significant market volatility.  Outside of these associated protocols, short dated volatility has seemed to take a breather, particularly in the majors.  ETH/BTC has been a noted market mover (higher on the cross): as well as the flow into USDT and USDC, with USDT trading above par.
For any trading needs, please don't hesitate to get in touch.
In Headlines
Bitcoin emits less carbon than you think
Bitcoin's energy usage is shaping up as a big threat to its future success, with various governments mulling bans for climate change reasons. However a new report from CoinShares estimates the network only accounts for 0.08% of the world's total emissions and uses 89 terawatt-hours (TWh) of electricity a year, which is lower than competing estimates from the University of Cambridge. It's difficult to get accurate figures however given the use of stranded energy, intermittent renewable energy use and miners operating illegally in countries like China and Iran.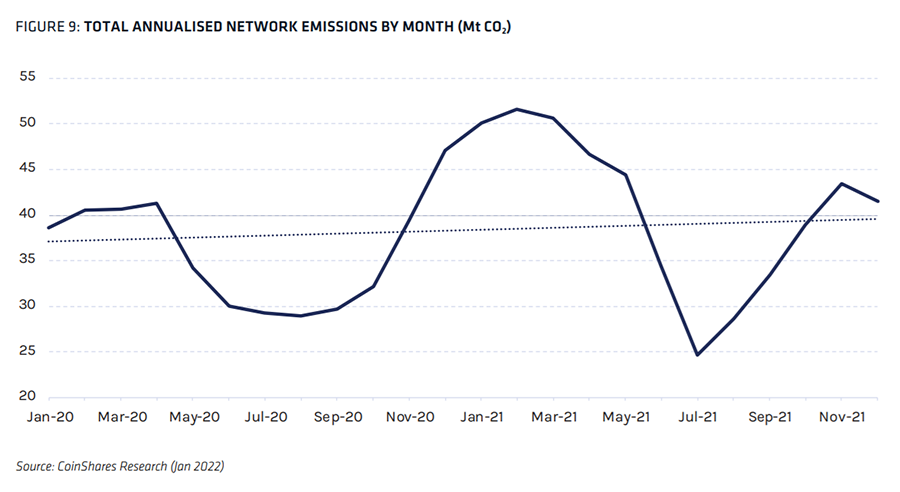 Eth2 will never happen
It's official: Eth2 is never going to happen. The upgrade formerly known as Eth2 is still going ahead, however the Ethereum Foundation has dropped the Eth2 name in favour of "Consensus Layer". The current Eth1 mainnet (which will continue on after the merge) will be known as the "Execution layer". The Foundation announced the change saying it'll help clear up confusion around a "broken mental model" of what Eth2 will be comprised of, and it means scammers won't be able to flog fake 'Eth2 tokens' (which will never exist) to the uninformed.
Biden prepares crypto executive order
The White House is reportedly preparing an Executive Order on crypto. According to Barron's, the order would fall under national security and require government agencies to study crypto, stablecoins and NFTs with the goal of developing workable regulations. "This is designed to look holistically at digital assets and develop a set of policies that give coherency to what the government is trying to do in this space," a "source familiar with the matter" told Barron's.
Game devs resistant to crypto
Game developers really hate NFT and crypto – according to the New York Times they see it as a scammy attempt to extract more money from gamers. The State Of The Game Industry 2022 survey of 2,700 game devs found just 1% were working with NFTs or crypto and 70% said they had no interest in doing so. 72% said their studios have no interest in taking crypto payments.
Apple interested in Metaverse
Apple is interested in the Metaverse according to the Q1 earnings call this week. CEO Tim Cook was asked about the topic and replied "we see a lot of potential in this space and are investing accordingly." He added: "We're always exploring new and emerging technologies and I've spoken at length about how it's very interesting to us right now." Major competitor Microsoft recently purchased Activision for US$69B (AU$98B) to further its Metaverse ambitions.
Meta goes open source as Diem says bye bye
Facebook's Libra stablecoin project morphed into the Diem project, but received so much pushback from governments around the world that Diem is now selling all its assets to Silvergate Capital for $200M (AU$283M) according to the Wall Street Journal. Facebook has since morphed into Meta to focus on the Metaverse. Overnight Meta made the unexpected but encouraging move of joining the Crypto Open Patent Alliance. Set up by Jack Dorsey's Block, companies who join COPA pledge not to enforce their "core cryptocurrency patents" meaning the Metaverse may actually end up open source, rather than a walled garden controlled by Big Tech. Well, hopefully.
Russia ban less likely as Putin backs crypto
Russian strongman Vladimir Putin appears too busy preparing for war with Ukraine to wage a war on crypto. He has rejected the Russian central bank's recent proposal to ban crypto and crypto mining outright and told the bank and the government (which is also opposed to a ban) to work towards a compromise on the regulation of crypto. Russia is the third largest country for Bitcoin mining in the world, and Putin highlighted its strength. "We also have certain competitive advantages here, especially in the so-called mining," Putin said during a government meeting, while acknowledging crypto was risky. "I mean the surplus of electricity and well-trained personnel available in the country."
US$20T Ether market cap sound good?
Ark Invest has gone for a heroic level prediction in its latest report which suggests Ether could hit a market cap of US$20 trillion (AU$28.3T) by 2030. Owing to some uncertainty about the supply and how deflationary it will be, that would roughly work out to around US$170K (AU$240K) to $180K (A$255K). The Big Ideas 2022 report also tips a US$1.36M (AU$1.92M) Bitcoin price, based on a lot of assumptions including that BTC will account for 50% of global remittances and 5% of the cash from S&P 500 companies among others.

Bitcoin 2030 Expectations | Ark Invest
Until next week, happy trading!