Market Update 5th – 11th February 2020
Welcome back to another Australian crypto market update.
In Markets
Bitcoin smashed through the psychological US $10,000 mark (around A$15,000) on Sunday, to hit the highest price in five months. It's increased more than 40% so far this year. At the time of writing it was trading just above A$14,500, which is 4.7% up on this time last week. Even with a rising price, Bitcoin dominance has fallen to 63.3%. It's hard to say if it really is 'alt season' (given how far the top 10 coins are from their all time highs), but they are gaining much faster than Bitcoin. Ethereum was up 18.1% this week, XRP (8.3%), Bitcoin SV (26.4%), Litecoin (6.4%), EOS (16.7%). Stellar is up 10.9%.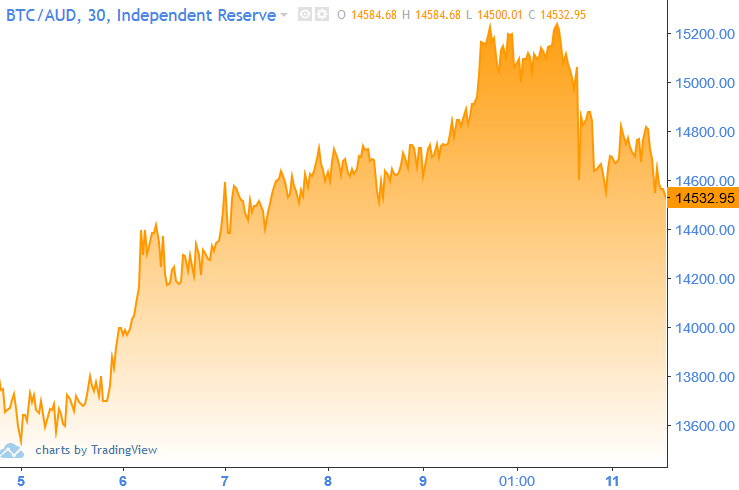 Source: Independent Reserve Bitcoin/AUD chart
In Headlines
The new normal for Bitcoin?
Bitcoin has only traded above the US $10,000 for 170 days in its history. On chain analyst Willy Woo says the fundamentals look a lot better now than last time. "This breakout is the real deal. Fundamental investment activity is backing this $10k breakout," he tweeted. Market analyst Mati Greenspan agreed: "This isn't the first time Bitcoin has been valued above $10,000 and it might not be the last, but it is the first time that the valuation is justifiable based on fundamentals of the network." Bitcoin addresses are now being created at a rate we haven't seen since April 2019's rally.
Retail or institutional money?
An analysis of billions of Reddit comments (mostly retail investors) found they have moved in tandem with the Bitcoin price since 2014 – in many cases increasing ahead of a big price spike. But the correlation has broken down in the past six months and it could be because institutional money is moving in. Glassnodes data show Bitcoin exchange deposits have dropped 60% in six months, and Google searches for Bitcoin are a third of what they were in June last year (suggesting new retail investors aren't fueling the rally). Institutional grade crypto platform Grayscale took a record A$907 million in 2019 – more than the previous five years combined. Managing director Michael Sonnenshein said institutional investors are "here and showing up in a meaningful size".
Trade Bitcoin SV and Tether
Trading went live in Bitcoin SV (BSV) and Tether (USDT). Top five by market cap, Bitcoin SV was created out of a hard fork with Bitcoin Cash. Tether is the world's most popular stablecoin and is tied to the US dollar. There is an introductory brokerage fee for BSV and USDT of 0.1% for the first two weeks of trading.
Ripple co-founder sells 1 billion XRP
Jed McCaleb, the co-founder of Ripple has sold more than a billion XRP over the years – and has 4.7 billion left. While his sales of XRP probably don't move markets much, due to various deals he made limiting sales, those agreements expire this year or next. In good news for XRP holders, Ripple sold very little of its own hoard of XRP in the final quarter of 2019, after coming under heavy fire from the community for allegedly suppressing the price.
DeFi becomes a unicorn
Decentralised Finance (DeFi) is only two years old and it has already become a unicorn. The total value of cryptocurrency locked in DeFi this week surpassed US$1 billion for the first time (A$1.495B). DeFi includes derivatives, payments and exchanges. Ether accounts for about 70% of the total, with Bitcoin's Lightning Network the only project in the top 20 not built on the Ethereum blockchain. The second largest DeFi project – Synthetix – is Australian.
National Blockchain Roadmap
The National Blockchain Roadmap was released on Friday and identifies three big use cases in Australia: wine and agriculture supply chain tracking to combat food fraud, recording education qualifications and know your customer identity verification. Blockchain Australia is calling on industry to get on board with its $60 million Cooperative Research Centre proposal, to be jointly funded by industry and government if approved.
Until next week, happy trading!
Independent Reserve Trading Desk