In Markets
In crypto's ongoing game of snakes and ladders, we've just hit a ladder, with Bitcoin down 8% in the past 24 hours and 18% down for the week to trade around AU$53,500 (US$39,600). The overall crypto market cap is down to AU$2.46T (US$1.82T). Pundits point to Bitcoin's increasing correlation with equities markets as a possible explanation – the correlation is at the highest point since October 2020 and all the major US markets were down on Monday, with the tech heavy Nasdaq losing 2.2%. The Ukraine war, interest rates, and inflation are weighing heavily and former BitMEX CEO Arthur Hayes thinks it'll get worse before it gets better, tipping BTC will test US$30K (AU$40.4K) and ETH US$2,500 (AU$3,370) before the end of June.  Ethereum lost 18% this week to trade just over AU$4,000 (US$2,960) and everything else lost ground including XRP (-16.7%), Polkadot (-27%), Cardano (-26%) and LINK (-23%). The Crypto Fear and Greed Index is at 32, or Fear, though expect that to dip further today.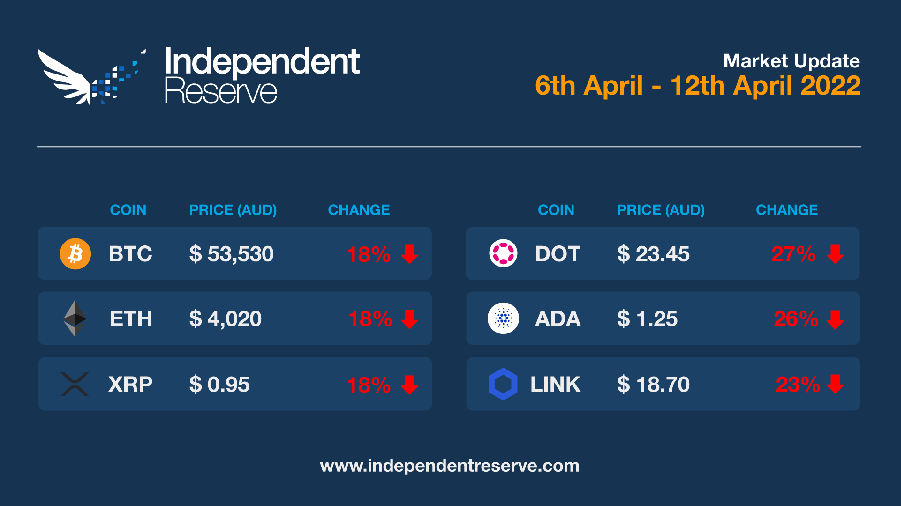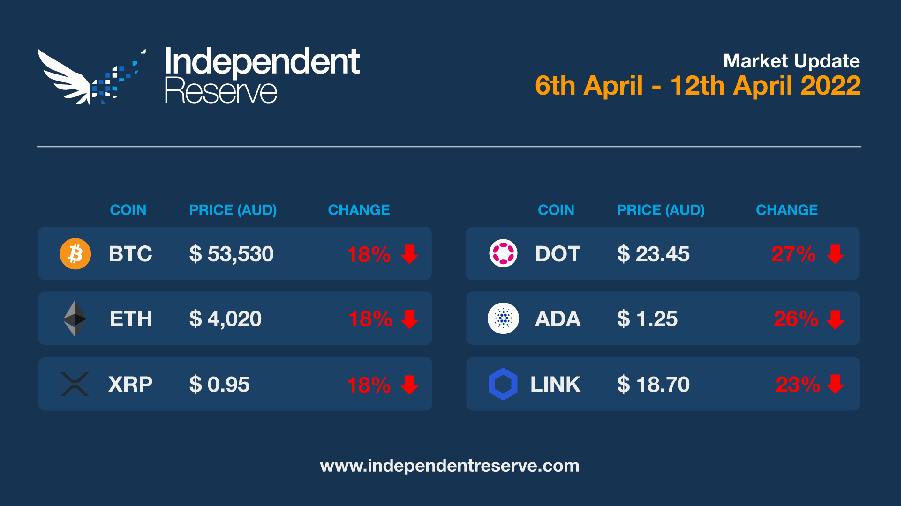 From the IR OTC Desk
Financial markets, and in turn cryptocurrencies, continue to move with central bank rhetoric.  As highlighted by one of our liquidity providers – mainstream adoption of digital assets has resulted in their greater pricing sensitivity to changes in monetary policy.  This certainly feels like a developing theme and one to watch carefully.
This week the US Federal Open Market Committee (FOMC) delivered an in-depth view of their most recent 16th of March meeting with the release of the meeting minutes.  Of note was the discussion on the size of the policy move – and whether a 25bp or 50bp increase was considered appropriate.  Secondly, it was confirmed that the likely pace of balance sheet reduction (quantitative tightening) has been "generally agreed" and is expected to run at a pace of US$95bn per month (US$65bn in Treasuries and US$35bn in RMBS).  A formal announcement, with a comprehensive timeline, will most likely be delivered at the upcoming 5th of May meeting.
Quite critical to asset markets this week will be US inflation data – scheduled for release this evening 12th April at 11:30pm AEST.  Expectation for the Inflation Rate (YoY) Mar is currently 8.4% (verse 7.9% in February).  Expectation for the Core Inflation Rate (YoY) Mar is currently 6.6% (verse 6.4% in February).  Price action US Treasury Bond futures will likely be a key indicator of market sentiment following this release.
In Australia, Reserve Bank of Australia (RBA) Deputy Governor Michele Bullock spoke before the Senate Economics and Legislation Committee about monetary policy conditions.  Of note, the Deputy Governor mentioned the RBA is beginning to see a 'response in wages' and wage growth, with unemployment at 4% – and that there are now signs of underlying inflation in the economy.  With the Australian Federal election formally being called for the 21st of May, major bank economists are expecting the RBA to increase the cash rate by 15bps (from 0.10% to 0.25%) at the June meeting.  Australian unemployment data is scheduled for release on Thursday 14th of April, with expectation for the Unemployment Rate (Mar) at 3.9% (versus 4% in February).
On the OTC desk, major flows have been sporadic and largely non-directional – we haven't seen sell side pressure through our flows.  ETH/BTC has been unable to push towards the next key level of 0.078 – currently trading at 0.07520 and well contained on the week.  Interest remains for USDT, USDC, UST (terra) and DAI as staking coins.  In a telling sign of the market's most recent volatility, last week we mentioned keeping an eye on the 200dma for BTC/USD around USD 48,300 and ETH/USD at USD 3,490!  These levels now seem distant… Digital asset sentiment remains linked in correlation to US tech stocks.  Continue to watch US equities as a market lead of cryptocurrency price action.
For any trading needs, please don't hesitate to get in touch.
In Headlines
Endangered whales
Santiment reports that Bitcoin whale transactions have fallen to the lowest point in a decade. "Bitcoin whale transactions (any transaction exceeding $100k [AU$134K]), are at the lowest proportion of total BTC volume since August 2012," Santiment noted. "The rise of retail investors and crypto popularity have played a major role." That said, whale activity spikes in periods of volatility.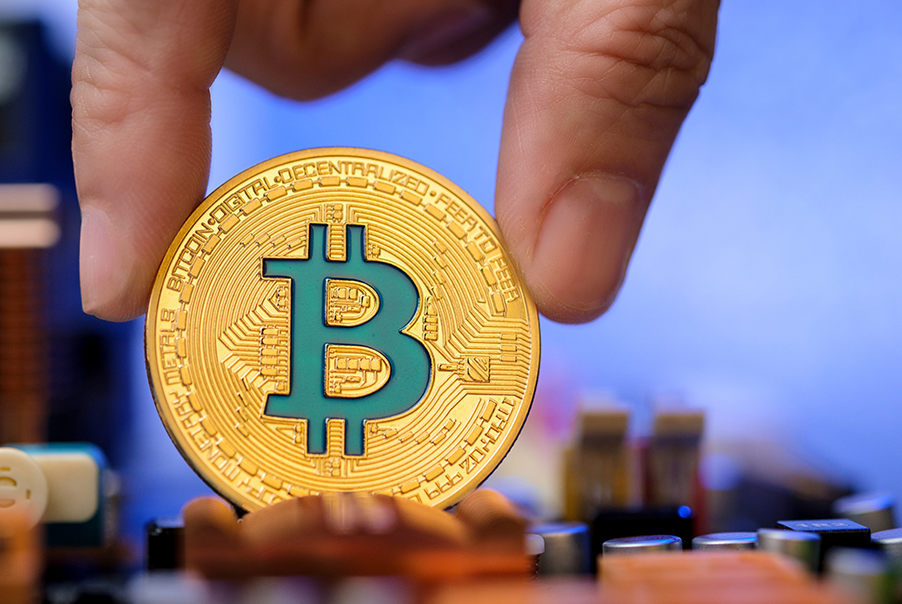 Visa should be scared
Lightning Labs raised US$70M (AU$94.3M) for the development of a new protocol called Taro that enables stablecoins to be sent and received via Bitcoin's Lightning Network (made possible by the Taproot upgrade last year.) "If I were Visa, I'd be scared," said Elizabeth Stark, CEO of Lightning Labs. In related news Ark Invest's Cathie Wood said the company had liquidated its Paypal assets because it believes that Block's Cash App will win the race against Paypal's Venmo app due to its organic focus on Bitcoin.
The Merge
In the midst of a crypto market pullback comes the news that one of the most potentially bullish catalysts in years has moved one step closer with Ethereum's developers successfully testing a mainnet shadow fork of The Merge. The next test is set for April 22 and Ethereum developer Tim Beiko tips that ETH's long awaited shift to the 99.9% more power efficient Proof of Stake consensus mechanism will happen around July.
Bitcoin $2022?
The Bitcoin 2022 conference in Miami over the past week was twice the size of last year, but clearly didn't help the price despite some big announcements. Strike has integrated with Shopify, an online ecommerce platform with almost two million customers globally as well as the world's largest point of sale vendor NCR. Taken on face value it would appear to allow shoppers to spend Bitcoin without doing KYC, which some lawyers worry will see pushback from regulators. And two new territories are adopting Bitcoin. Prospera, a jurisdiction on the Roatán island off the northern coast of Honduras, won't impose CGT on Bitcoin gains and residents can pay taxes and fees with it. Madeira, an autonomous region in Portugal, announced there will be no personal income taxes when buying and selling BTC.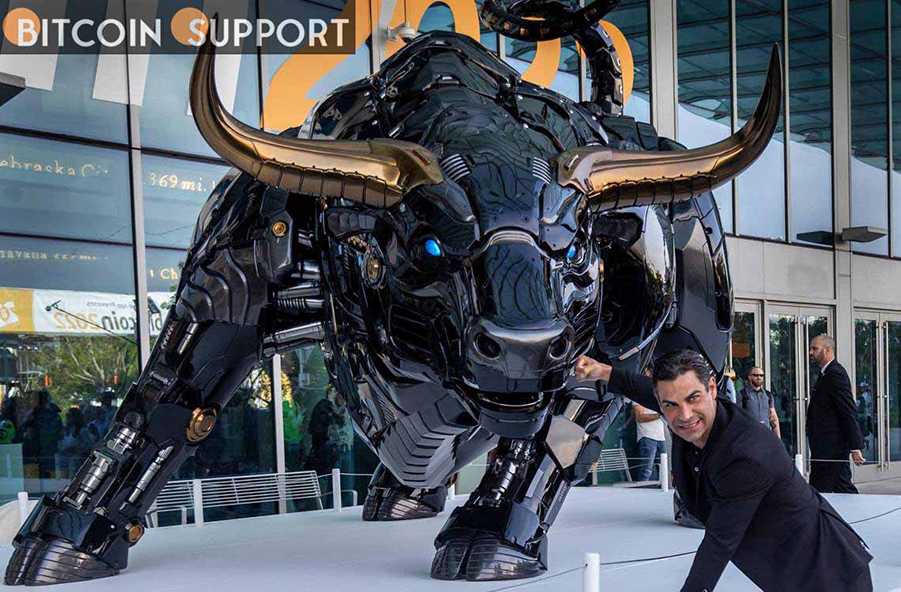 Miami Mayor Francis Suarez with the Miami Bull | BitcoinSupports.com
Election 2022
With the election underway, how will a possible change of government affect crypto policies? The current government has a plan for reform in train, and embraced six of the nine reforms recommended by last year's Senate inquiry. But Labor is facing criticism from investor Mark Carnegie and Liberal Senator Andrew Bragg for not having a detailed crypto policy. According to the AFR, the Shadow Minister for financial services Stephen Jones said that if the ALP wins, it would consider crypto in a wider overhaul of digital payments. "The broad principles we would take to crypto regulation is safety and transparency […] That inevitably leads to greater regulation of exchanges."
Next halving draws closers
We hit the exact midway point between Bitcoin block reward halvings yesterday (April 11) which has historically been accompanied by a mid-halving price slump. Check! Despite the current price action pundits like Santiment believe the four year halving cycle has been broken and "history won't happen exactly in the same way that happened before." On chain analyst Willy Woo also thinks the 'Last Cycle' is playing out and notes "three relatively short bull and bear markets have transpired since the 2019 bottom already. i.e. No more four year cycles."
Blockchain Week 2022 videos now available
The Australian Blockchain Week 2022 sessions are now available to view online. There's 5 days of content from more than 250 speakers from across Australia and worldwide, all content is free to access. The Independent Reserve sponsored panel, "How is crypto and the blockchain used in everyday life" is now available on Youtube. The panel includes Adriana Belotti, LilBoBuilding, Mitchell Travers, Joseph Shew, and our CEO Adrian Przelozny.
Singapore passes law to tighten rules for crypto providers
As stated in a recent Bloomberg article, Singapore has approved a new Financial Services and Markets Bill, which gives licensed operators a further competitive edge over those that are unlicensed. The new legislation will require virtual asset service providers in the city-state, which only do business overseas, to be licensed.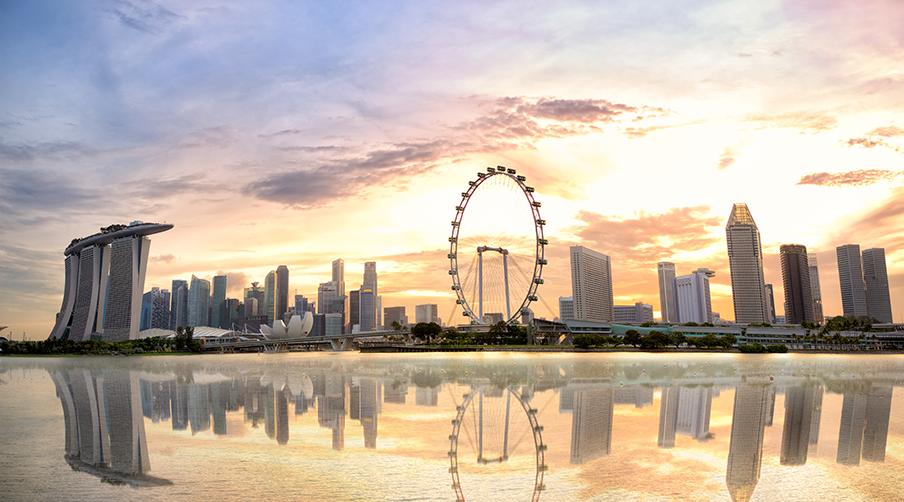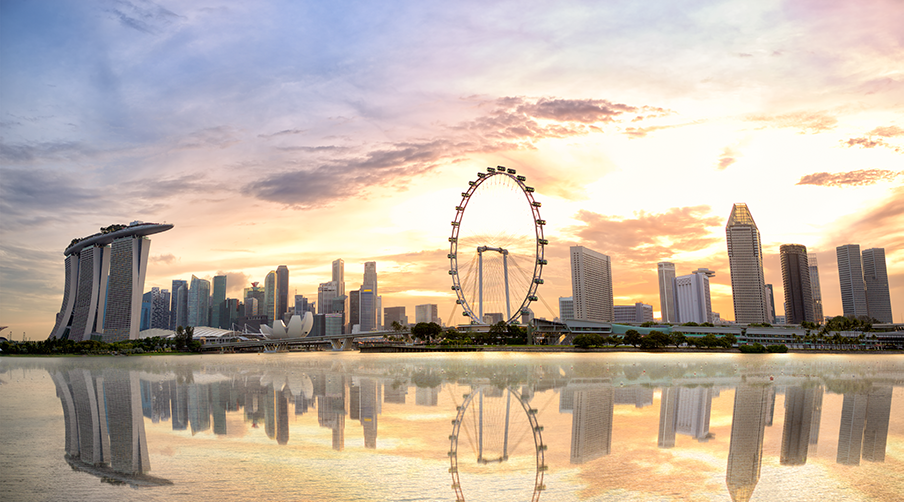 Bits and pieces
Things are looking a little concerning for Cardano holders right now, with IntoTheBlock figures showing that 67% of ADA owners now under water – and that three quarters bought ADA in the past year. The total share of the Bitcoin hash rate controlled by listed companies has grown from just 3% in 2021 to 19% today according to Arcane research. There are now a total of 26 different public companies involved in Bitcoin mining, with many going public to access the capital needed to expand operations. Interestingly, 44.95% of the global hash rate now comes from miners in America. The RMIT Blockchain Innovation Hub has proposed the creation of a Docklands DAO to help the Melbourne precinct recover from the effects of the pandemic. Meta is reportedly planning on introducing a new virtual currency dubbed 'Zuck Bucks' along with lending services to apps including Facebook, Whatsapp, Instagram and Messenger. Unlike with defunct stablecoin project Diem, it's said to be closer in form to a centrally controlled in-game token than a cryptocurrency.
Until next week, happy trading!