In Markets
Bitcoin may have pulled back one third from its all-time high of AU$95.7K (US$68.9K) in November, but it's still up by almost 50% from a year ago, beating out the S&P 500 which was up 27% in 2021. Bitcoin's performance was better than 2019's 75% drop but didn't hit the heights of other annual gains since 2016, which ranged between 81% to 1390%. Bitcoin dipped to around AU$63,000 (US$46.2K) on New Year's Day and is currently trading around AU$64,300 (US$46.2K) for a loss of 11% this week. A survey of 110K CoinMarketCap traders tips we'll hit AU$73K (US$52.6K) by the end of the month. Ethereum was down 10%, Cardano (-15%), XRP (-13%) and Dogecoin (-11%). Synthetix turned a corner, up 11% this week. The total crypto market cap is currently just over AU$3 trillion. The Crypto Fear and Greed Index is at 29 or 'Fear'.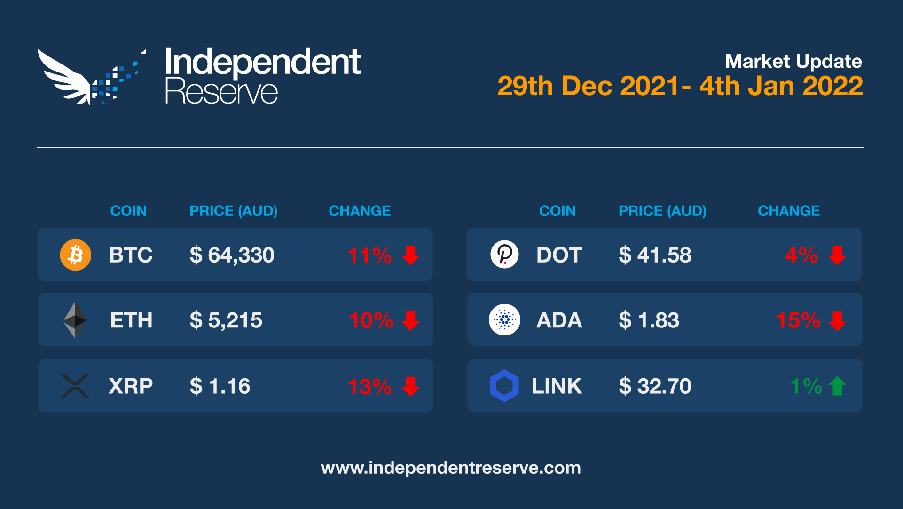 In Headlines
Bitcoin becomes a teenager
Bitcoin turns 13 years old today (January 3 ET), with its birthday marking the day in 2009 that Satoshi Nakamoto mined the Genesis Block with its famed The Times headline "Chancellor on Brink of Second Bailout for Banks" embedded in it. Square CEO Jack Dorsey tweeted an image of it, which Tesla CEO Elon Musk said reminded him of the time he "hex edited (video game) Ultima V to get out of the final maze." As if to celebrate, the network hash rate hit a new all time high of 207.53 exahash on the weekend. RT host Max Keiser tweeted that "Hash rate precedes price. New ATH hash means new ATH price incoming. US$220K (AU$306K) in 2022 in play."

Bitcoin hash rate in January 2022. Source: YCharts
Everybody's predictions were wrong
Popular analyst PlanB has said a number of times since mid-2021 that his stock to flow model would be "invalidated" if Bitcoin failed to hit US$100K (AU$139K) by the end of the year. He changed his mind on Christmas Day tweeting: "Tbh that was an ill attempt to clarify '$100K average this cycle' and regression analysis. S2F model intact." Ballet CEO Bobby Lee was way off with his US$300K (AU$417K) prediction while Brock Pierce and Tom Lee both missed with US$100K, but Pierce did at least include a range starting at US$70K (AU$97.3K), so he was arguably pretty close given the ATH of $69K (AU$95.7K) in November. Lee and Pierce have both doubled down and are tipping $200K ($278K) this year.
Non price predictions
Arcane Research released a series of 2022 predictions this week, including suggesting that XRP and ADA will fall out of the top ten, other layer one blockchains will continue to outperform ETH, a range of crypto companies will list on share markets with valuations above US$5B (AU$7B) and that the Bitcoin hashrate would "become even more geographically distributed" in regions such as Latin America. Like everyone else, Arcane also tips a big year for NFTs, the Metaverse and blockchain gaming. A range of other experts also weighed in with their predictions for the year ahead.

Source: Arcane Research
Vitalik looks back on ten years
Ethereum creator Vitalik Buterin wrote an extensive Tweet thread on Sunday looking back at his old essays and revising his opinions and predictions. A key realisation seems to be learning that tech and blockchain are as much about politics and people as any other sphere – that's one reason he thinks Bitcoin wouldn't thrive if it was banned (it would lack public legitimacy) and why Bitcoin Cash which he supported, has been a failure. He concedes his prediction Eth would have Proof of Stake by 2016 was "worth laughing at" and his inclusion of a tweet from the past week about a new sharding design for Eth2 suggests it's still very much a work in progress.
Bans in 51 countries
The number of countries with a total or near total ban on crypto has doubled in the past three years according to a new Library of Congress report. It found that 51 countries in total have bans, including nine countries with an absolute ban that makes crypto illegal, and 42 with an implicit ban, which prohibits financial institutions from dealing with crypto. Algeria, Bangladesh, China, Egypt, Iraq, Morocco, Nepal, Qatar, and Tunisia have the harshest restrictions.
Bits and Pieces
More than 90% of NFT volume was on Ethereum in 2021. Samsung's new Smart TVs will have an NFT trading page. Billionaire Tim Draper says the new Bitcoin City in El Salvador will be designed in the shape of the Bitcoin logo. Bitcoin dipped below 38% market dominance this week for the first time since early 2018 when the altseason was in full swing. Ethereum has doubled its dominance from 10% a year ago to more than 20% currently. Bitcoin billionaire Chamath Palihapitya says that legacy payment rails like Visa and Mastercard will be "the biggest business loser for 2022" overthrown by emerging blockchain and DeFi projects.  Various analysts think December's price action was driven by Chinese users selling up before a December 31 deadline for exchanges to stop servicing them. "It's also a potential reason for optimism going forward as the Chinese exchange overhang will be cleared," Blockstream analyst Jesse Knutson wrote.
Until next week, happy trading!