Market Update – 23 Jan
Welcome back to another Australian crypto market update.
In what would otherwise be a quiet week in crypto markets, we did see a bit of price volatility over the weekend. We saw a sharp gap up in prices on Saturday, some sideways trading, followed by a sharp drop on Sunday afternoon. From a Technical Analysis perspective it was a classic Bart Simpson retracement. I was surprised to learn that is actually a thing…
Simpsons aside, the market was fairly stable this week. It seems to have found support around these levels for the time being.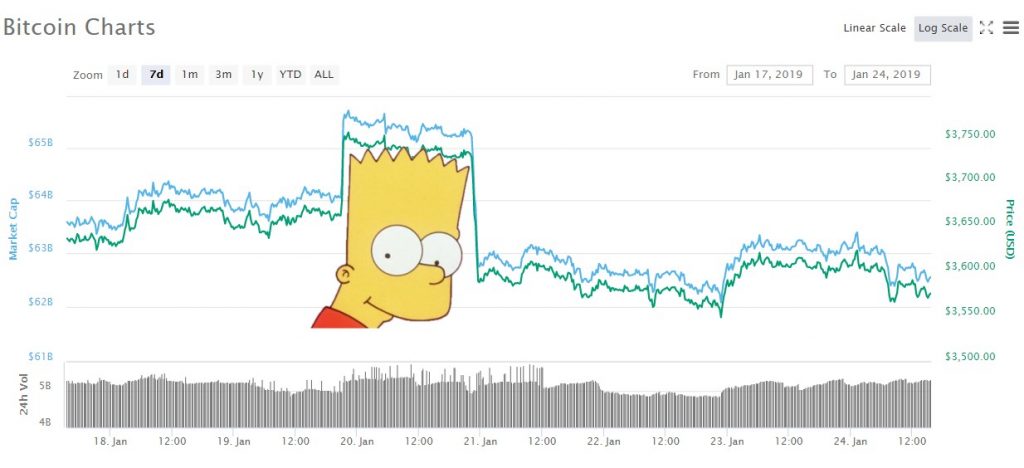 Bitcoin price movement over the weekend
In Headlines
Binance Blockchain week in Singapore this week
From all reports the conference was less Consensys 2017 style Lambo-Moon fanfare and more serious blockchain teams rubbing shoulders and getting stuck into current topics such as Security token regulation and POW/POS hybrids. A hackathon to improve overall crypto trading security was held with a prize pool of USD$100k handed out in Binance tokens. CEO Changpeng, or CZ, stated in an address that he believes the current bear market has overextended and current market prices are undervalued. He also announced his charity, The Blockchain Charity Foundation, where you can donate Binance coins to help various African charity programs.
myCryptoWallet gets debanked
This aussie crypto exchange experienced a classic debanking this week. All withdrawals were disabled when their banking partner suddenly froze their account. Unfortunately this can be a common occurrence for Australian crypto businesses. Debankings come with little warning and don't require any explanation from the banks.
Volt bank receives full banking license
Digital startup Volt, announced yesterday that it has been granted an 'unrestricted' deposit-taking institution licence. Volt is the first of a number of 'Neo banks' to be licenced, and is looking to disrupt the Australian banking oligopoly. Volt is a pure digital bank, no branches, and plans to offer such features such as being able to display external bank balances on its platform and an integrated bill comparison tool. We welcome this disruption to the Australian banking space. With more competition, hopefully the big four will revise their hard line policy on crypto.
Crytopia hack update
There hasn't been any new official details from Cryptopia since it announced via twitter last week it had suffered significant losses from a hack. NZ police released a statement on Tuesday confirming they had made progress in tracking down the source of the unauthorised transfer. Cryptopia has drawn some criticism for alerting the police so quickly and not attempting to stop the hack themselves. This and the fact that Cryptopia ETH wallets were drained gradually over the course of several days, before and after Cryptopia announced the hack, have led some to speculate they lost control of their private keys.
Happy trading!
Marcus Ochmann – Head of OTC Trading