In markets
It was all quiet on the crypto front again this week, with no big moves. Bitcoin's total transfer volume in USD has dropped to a three-year low, and its one-month volatility is at 22.9% (which is less than half the one-year volatility of 49.1%). Bitcoin has been mostly trading between A$43K to A$45K (just under US$30K) which is the same ballpark it's been in since March. Bitcoin finishes the week flat on seven days ago at $44,420 (US$29,140), while Ethereum is down 1.7% to trade at A$2,780 (US$1,825). Euphoria over XRP's court victory has dissipated, with the token falling 11.2%, Dogecoin losing 5.8%, Cardano (-5.8%) and Solana (-3.1%). The Crypto Fear and Greed Index remains at 49 or Neutral. Barring a major collapse or the passing of crypto legislation in the US, the next big market-moving event could be the potential approval of a spot Bitcoin ETF or an Ethereum Futures ETF which some pundits are tipping for October.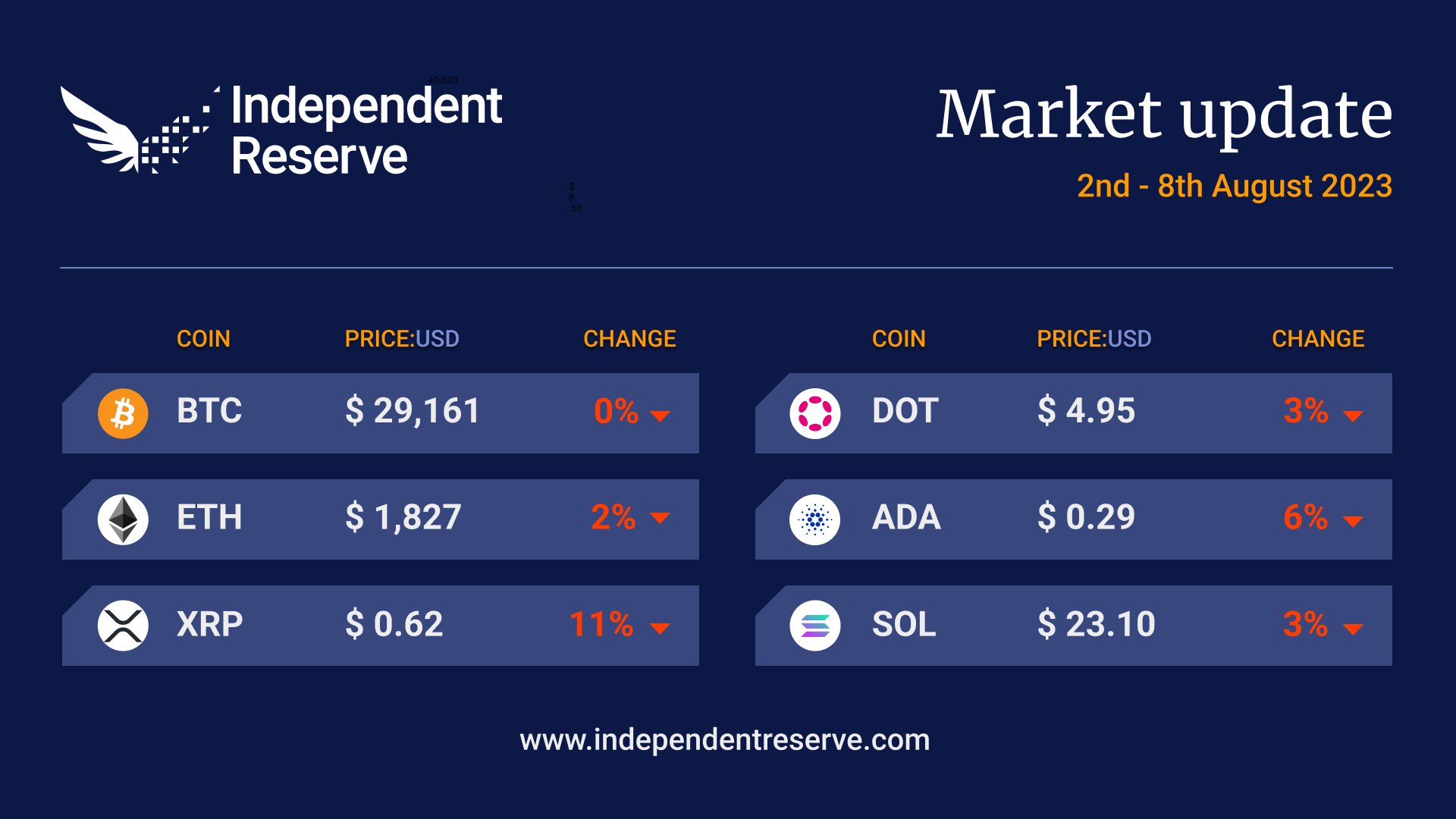 From the OTC desk
The major cryptocurrencies have remained subdued this week. Last month's 'outsized' purchases of mid-market calls, in both BTC and ETH, have continued to weigh on front-end volatility. Without short-term validation of higher prices, the more speculative tokens have shown signs of pricing fatigue – and have tended to perform the least over the last trading week. These tokens include XRP, LTC and DOGE; while BTC and ETH have remained steady.
Last week's US employment report delivered something for everyone. Despite the small miss in the number of jobs created (187k versus a market forecast of 200k), the unemployment rate fell to 3.5% from 3.6%. To put the release in context, the number of jobs created was the lowest number since December 2020. Meanwhile, average hourly earnings surprised higher at 4.4% (YoY) (July) versus a market expectation of 4.2%. The US labour market continues to highlight ongoing wage-price pressures with the unemployment rate remaining at historically low levels.
The real concern in the report, however, is the forming trend of negative labour market revisions. Each month, the US non-farm payroll job report is revised with further detail with each monthly revision this year, reducing the number of credited jobs. A statistic that is best explained in the falling JOLTS (job openings) data.
This week we receive US CPI (July) on Thursday at 10:30 pm AEST. Market expectation is for the core inflation rate to remain steady at 4.8%, while headline inflation is expected to increase from 3% to 3.3% – fuel related.
On the OTC desk, the fall in the AUD/USD has caused a noticeable increase in trading activity – particularly in stablecoins. While it may only be coincidental to the domestic flow, which has seen consistent USDT selling against AUD, USDT has remained soft and well under 1:1 USD over the last week. We expect USDT sell-side pressure to remain if market volatility remains subdued. USDT remains a good proxy for altcoin appetite, and with falling market volatility this flow is also naturally reduced.
For any further information, please feel free to reach out.
In headlines
PayPal is a very stable genius
PayPal has unveiled its new USD stablecoin in collaboration with Paxos as an ERC-20 token on the Ethereum network. Known as PayPal USD (PYUSD), the stablecoin has been in the works for years, with the contract written in an ancient version of Solidity and referencing events from 2018. It's a centralised stablecoin that can be frozen at will by Paypal (no different to USDT or USDC in that regard) and is 100% backed by USD deposits and short-term treasuries. It's being overseen by the New York State Department of Financial Services. "The shift toward digital currencies requires a stable instrument that is both digitally native and easily connected to fiat currency like the U.S. dollar," PayPal CEO Dan Schulman said. PYUSD can be redeemed one for one with US dollars and its 430 million customers will be able to convert other cryptocurrencies into the token or use it for payments. Gas fees on Ethereum are likely to prove prohibitive for small transfers, but onlookers expect the token will be bridged to Ethereum layer 2 solutions soon.
Tether says 'no sweat'
Paolo Ardoino, chief technology officer of Tether (USDT) claims the launch of PYUSD will not affect Tether because the company does not serve US users — but that it might impact USDC. "We do not expect any impact on USDT, but this will be positive for the crypto industry in general," Ardoino said. "This is an interesting situation. Another stablecoin in the US could lead to reduced revenues for payments, mainly feeding Mastercard and Visa. It will also help the industry grow further and push for sensible regulation."
Attack of the Ethereum Futures ETF applications
More than a dozen applications were filed this week for an Ether futures ETF, from players including Bitwise and Proshares, while Valkyrie amended its Bitcoin futures ETF to also include Ether. Bloomberg ETF analysts James Seyffart and Eric Balchunas put the likelihood of approval at 75%, which Seyffart notes "are the same odds we gave Bitcoin Futures ETFs in early September 2021." He says to expect one to launch around October.
Gradually and then all at once
Meanwhile, Global X has refiled its application for a spot Bitcoin ETF naming Coinbase as its surveillance-sharing partner. That brings the total number of active applications to nine, or ten really if you include Grayscale which is using the courts to overturn the SEC's denial. New York Digital Investment Group released a report this week suggesting a Bitcoin ETF could create fresh demands for Bitcoin of up to US$30 billion. Meanwhile, Grayscale's chief legal officer Craig Salm has predicted that if the company is successful in its appeal, it would open the floodgates for other Bitcoin ETFs in October. Bloomberg's Syffart says that if Grayscale wins "the path of least resistance is simultaneous approval" for everyone at once. ARK Investment Management founder and CEO Cathie Wood agrees a swathe of approvals is most likely. A decision on ARK's application is due this week, though the SEC can punt it as far away as January next year.
Rumours of… something
Crypto Twitter, or Crypto X, is awash with vague rumours and dark murmurings about arrests of Huboi staff and a bunch of funny business going on with Binance, Tether and USDC. Binance has just released an attestation report showing 100% backing and so has Tether, although Binance boss CZ thinks USDT is a "black box" due to the lack of a genuine audit. USDC has seen a 38% decline in its market cap since the beginning of the year. Circle CEO Jeremy Allaire tweeted today that its reserves are "attested by Deloitte every month, and all of our T-bill and repo positions (and much of our cash) are reported daily through USDXX (93% of USDC Reserves) in an SEC-registered and supervised fund."
Razzlekhan and the Bifinex hack
Remember that aspiring rapper known as "Razzlekhan" who was charged over money laundering related to the Bitfinex hack? This week her husband Ilya "Dutch" Lichtenstein admitted to being the hacker as part of his guilty plea in court. He faces up to 20 years for money laundering, though has not been charged over the hack itself. Razzlekhan, real name Rhiannon Morgan faces five years for her role. The Department of Justice recovered 94,000 Bitcoin worth around US$3.6B at the time of their arrest in February 2022.
Bits and pieces
Global neo bank and fintech company Revolut has discontinued crypto services for US customers due to "the evolving regulatory environment." Coinbase has filed a brief asking the court to dismiss the SEC's case against it arguing that enforcement by regulation contravenes the major questions doctrine. Its earnings report was also released this week and wasn't as bad as expected. However, observers note that more than a third of its revenue relating to USDC and staking is at risk. Bloomberg reports the New York Attorney General (NYAG) is investigating Digital Currency Group (DCG) and its crypto lender Genesis. And finally, Tether is now the 11th largest holder of Bitcoin in the world, with 55,022 Bitcoin.
Until next week happy trading!