In markets
We're back! That's the prevailing sentiment thanks to Bitcoin's 29% gain in "Uptober" and double-digit price gains for some altcoins this week. Bitcoin has more than doubled in price so far this year, The Simpsons just did another crypto episode, and the prospects for a Santa Claus rally look enticing. As ever, things could fall apart quickly, with JP Morgan chair Jamie Dimon and BlackRock CEO Larry Fink warning that geopolitical conflicts could result in a global recession. Here in Australia, analysts now expect a possible Cup Day rate hike to be followed in short order by another rise. Bitcoin finished the week up 1.8% to trade around A$54,000 (US$35.1K), while Ethereum gained 4% on seven days ago to trade around A$2,919 (US$1,900). There's a mini-altseason going on with Ripple up 20%, Solana gaining 16%, Cardano increasing 19% and Dogecoin up 8%. The Fear and Greed Index is at 74 or Greed which is the highest level since the all-time high in November 2021.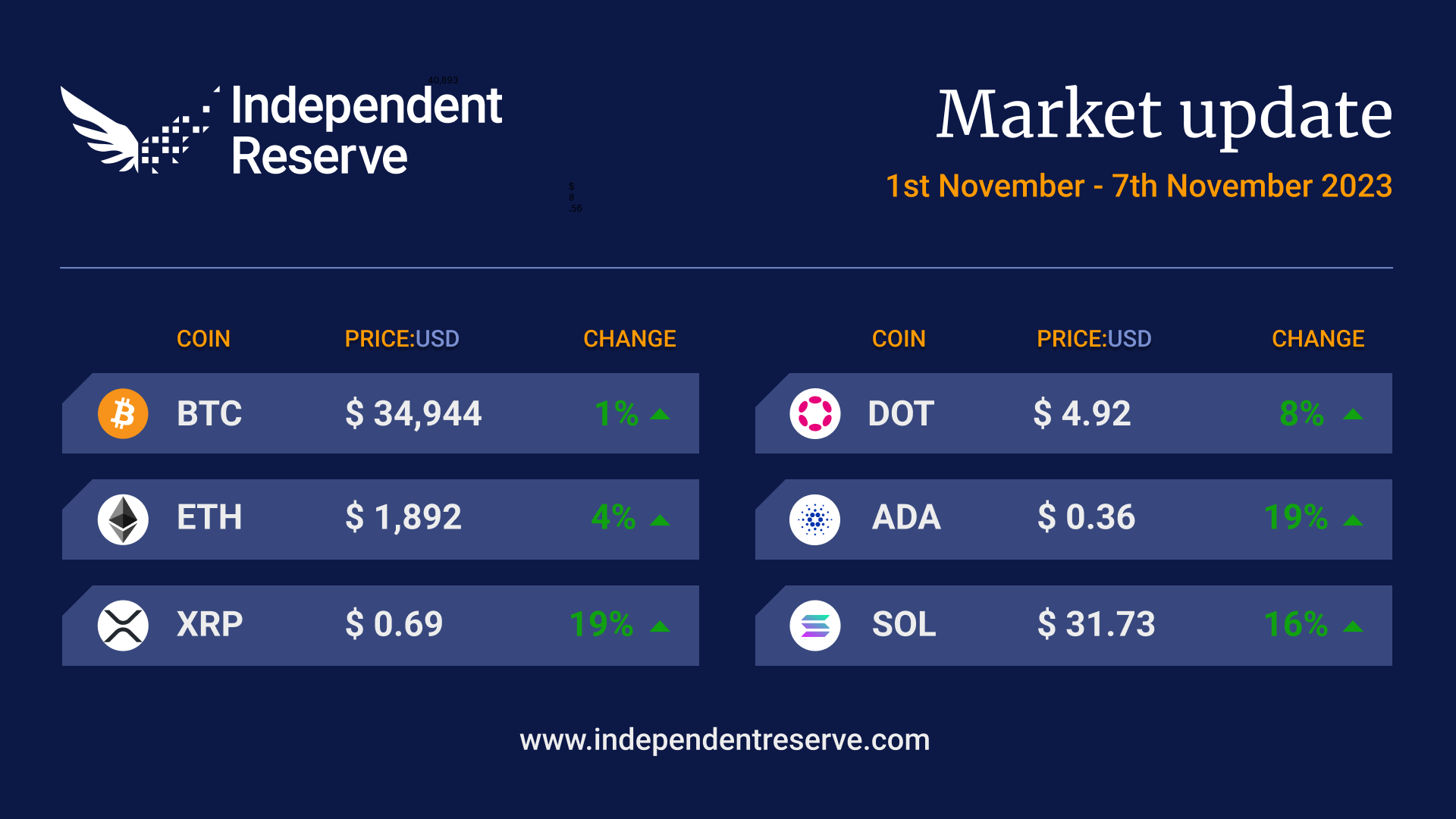 From the OTC desk
Altcoin buyers have emerged, as BTC flows become more balanced. The ETH/BTC cross has started to move higher, (from a low of 0.0520) to currently trade at 0.0540. The theme of the week has been token diversification in the cryptocurrency complex. This is different from the theme over the previous four weeks, which would generally be categorised as BTC and Sol accumulation.
While pricing tension and executed trade volumes of Alts have been relatively low up until this week, there has been a building confidence in smaller market cap tokens. This week's specific buying interest has centred around quality layer 1s and gaming tokens.
What has been apparent in global risk asset markets, is a general positivity in risk sentiment. Global equities have broadly rallied, while the yield on longer duration fixed income assets have declined. These have been positive inputs for smaller market cap cryptocurrencies.
In general, the unchanged monetary policy decisions from the US Federal Open Market Committee (FOMC), the Bank of Japan (BoJ) and the Bank of England (BoE), appear to be the underlying cause for the risk improvement. Last week's 'on hold' decision from the US FOMC represented the second time in a row the Committee has decided to keep the federal funds rate constant. This has caused the US bond market to challenge the further tightening bias of the FOMC, with the US 10-year note yield falling from 4.87% to 4.64% over the 5-day calendar week!
In domestic economic news, the first Tuesday in November always reflects two important meets in Australia – the Reserve Bank of Australia's (RBA) November monetary policy meeting, as well as the annual running of the Melbourne Cup.
At today's monetary policy meeting, the RBA decided to increase the cash rate from 4.1% to 4.35%. This is the first time since June the RBA has elected to increase the cash rate. In today's Statement of Monetary Policy, Governor Michele Bullock highlighted the following:
On the OTC desk, we have previously noted that movements in the cryptocurrency complex have broadly been identified in three stages. 1) BTC dominance; 2) ETH dominance (catch-up to BTC); and 3) Alt outperformance. This week had all the hallmarks of an initial move into stage 2) and stage 3). Time will tell whether this momentum can be sustained.
On-desk flows have moved away from USDT selling (even at levels well above 1:1 USD), to become more neutral on BTC flow direction despite increasing BTC volumes and dominated by Alt value picking. It has been an interesting week.
For any further information, please feel free to reach out to our crypto OTC desk.
FTX founder found guilty of everything
FTX founder Sam Bankman-Fried was found guilty of all seven charges in New York this week. The jury spent a little under 5 hours deliberating, so it seems like an open-and-shut case. Now the guessing game commences on how long SBF will go to prison when sentenced in March. Each of the charges comes with a 5-20-year sentence, but few expect him to receive the maximum sentence of 110 years as the sentences can be served concurrently. Former DOJ prosecutor Renato Mariotti tips 25 years, while former Assistant U.S. Attorney Kevin J. O'Brien thinks it will be "in the 15 to 20-year range." However, Vanderbilt University law professor Yesha Yadav thinks the crimes are so severe the sentence could be closer to the maximum.
Why the SEC knows nothing about crypto
The SEC has admitted that its rules against staff owning crypto make it difficult to hire anyone who knows anything about the subject. "This prohibition, according to SEC officials, has been detrimental to recruiting as candidates are often unwilling to divest their crypto assets to work for the SEC," the October Inspector General's statement concludes. Fortune's crypto editor commented: "Would make more sense to allow staff to hold a modest amount. This would also make them better at their job."
Help us raise S$10,000 for individuals with special needs
Independent Reserve has assembled runners to participate in the Standard Chartered Singapore Marathon to raise S$10,000 for Extraordinary People, a charity in Singapore that empowers individuals with special needs through integrated therapy and skills development, including vocational training and employment programmes. With every step we take, we're empowering individuals with special needs the chance to socially integrate with their communities and lead fulfilling independent lives.
Here's how you can support our cause:
Donate: Every contribution, no matter the size, brings us closer to our goal.
Share: Spread the word about our campaign and encourage others to join our movement for inclusion.
Please help us make a difference by donating today.
Another Bitcoin ticker added to DTCC site
Invesco Galaxy's ticker BTCO for its Bitcoin ETF has joined BlackRock's spot Bitcoin ETF on the Depository Trust and Clearing Corporation's (DTCC) website. The ticker was added after October 25, so it's not an old listing that was just unearthed like BlackRock's August filing was. Getting added to the list does not suggest an approval is a done deal according to the DTCC. So when is an approval likely? While it could happen any day — and the next batch of decisions is due in a week or so — Bitcoin analyst and author Jason Deane has put together a good overview on the topic and concluded that on past form the SEC will only give in and approve the applications when the clock runs out between Jan 1 and 17. Meanwhile, the Hong Kong securities regulator,, the Securities and Futures Commission (SFC), looks like they will be opening up Bitcoin and crypto ETFs to retail traders. SFC Chief Executive Officer Julia Leung told Bloomberg: "We're happy to give it a try as long as new risks are addressed."
BRICS currency to take on USD?
Former Russian minister Sergey Glazyev claims that a new international currency for the BRICS countries — Brazil, Russia, India, China and South Africa — is getting closer to reality. "In order to launch this currency, we need the political consent of the BRICS countries, three of which have already expressed their support for the idea of introducing a new currency through their heads of state. We are waiting for the reaction of China and India," he said. The currency, if it ever happens, would be pegged to the national currencies of BRICS members and a portfolio of exchange commodities.
Blockchain to have 100M users by 2028
Blockchain could have 100 million daily users by 2028, according to Bloomberg Intelligence analyst Jamie Coutts. He pointed out that adoption has continued unabated through the bear market, and daily active addresses topped five million in the third quarter, up 14% from 2022. In fact, the average quarterly growth since 2019 has been around 29%. "If we apply a more moderate 20% QoQ growth rate, then we could reach 100 million daily users by 2028," he said, adding that PayPal took 13 years to hit 100M users, and a similar timeframe from the launch of ETH would land on 2028 too. That said, ChatGPT took just two months to hit 100M total users, and it now has that number of weekly users.
Santa Claus rally incoming says history
Singapore-based crypto asset platform MatrixPort is predicting a big finish to the year. In late October, it doubled down on its prediction from the start of the year that Bitcoin would increase 30% to hit US$45K (A$69K) by the end of the year. Now it has revised that target up to US$56K (A$86K) based on momentum from Bitcoin's 114% gain so far this year. "If Bitcoin is up at least +100% by this time of the year, then there is a +71% chance or five in seven that Bitcoin would finish the year higher with average year-end rallies of +65%," Markus Thielen, head of research said in a note to clients on Thursday. Bitcoin options traders are also reportedly betting on a big price increase in December. "People are betting on the ETF coming by the end of the year. They're betting it will be in December," Bosslmp, pseudonymous options trader and advisor to options DeFi protocol Dopex, told DLNews.
Until next week, Happy Trading!