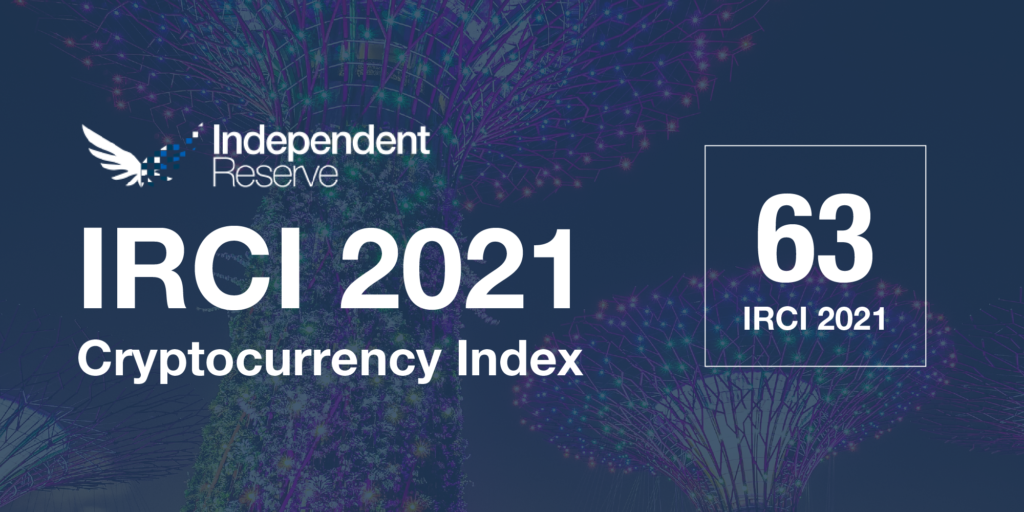 Singapore is a role model for cryptocurrency adoption both regionally and globally. The index sits at 63.
What is the IRCI?
The Independent Reserve Cryptocurrency Index (IRCI) Singapore is a nationwide, cross-sectional research survey (mirroring Singapore's demographics with a proportionate split between genders, age, income and ethnic backgrounds) that examines a nation's awareness, adoption, trust and confidence in cryptocurrency.
With a score out of 100, the 2021 IRCI for Singapore sits at 63.
A score of 100 indicates maximum awareness, optimism, trust and adoption of cryptocurrency. A score of 0 indicates a complete ignorance of cryptocurrency and blockchain technology, and that no one has heard of Bitcoin.
What does 63 indicate?
As this is the inaugural year of the IRCI for Singapore, this number will serve as a baseline to measure Singapore's progress in terms of cryptocurrency adoption in upcoming years.
Comparatively speaking, a score of 63 represents a lead of 34% over Australia's most recent IRCI score of 47, in the year 2020. This is reflective of Singapore's reputation as a hub of innovation in the cryptocurrency and blockchain space.
Other factors contributing to Singapore's rise as a global example for cryptocurrency adoption include its open-minded and responsive regulatory environment. Aware of the potential benefits of blockchain technology, the Singapore government has succeeded in creating an atmosphere of trust regarding locally-compliant cryptocurrency exchanges and services.
As this type of relationship fosters growth and innovation in the blockchain space, it is a win/win for both citizens and country, and Singapore's status as a leader in cryptocurrency adoption will likely be further cemented for years to come.
Download the IRCI Singapore 2021 report
For more insights and information download the report using the link below:
Insights and highlights from IRCI Singapore 2021
93% of Singaporeans are aware of at least one type of cryptocurrency. Bitcoin has the most brand recognition with 90% of respondents saying they're aware of it.
43% of Singaporeans own some type of cryptocurrency, which is remarkably high when compared to both regional and global average estimates.
74% of crypto holders report either making a profit or breaking even in crypto-related investments.
The major driver of confidence in cryptocurrency in Singapore is an increased clarity of local regulation and taxation issues.
Almost 40% of respondents believe Bitcoin to be an investment asset; more than three times the amount of those who consider it to be money.
About 7% of respondents believed Bitcoin to be a scam.
21% of Singaporeans who intended to buy crypto in 2020 but didn't, said their purchasing decisions were directly influenced by the economic fallout of the COVID-19 crisis.