Sponsorship and participation in the inaugural World Corporate Golf Challenge emphasises Independent Reserve's ongoing commitment to Singapore's communities and dedication to local social causes
Proceeds collected go towards more than 100 local social service agencies supported by Community Chest
Part of the exchange's broader efforts towards community betterment and environmental sustainability, reinforcing its role as a leading corporate citizen in Singapore's bustling financial landscape
Singapore, 18 August 2023 – Independent Reserve, the first licensed cryptocurrency exchange for all investors in Singapore, is giving back to Singapore communities through its Bronze sponsorship and participation in the inaugural World Corporate Golf Challenge in support of Community Chest – the philanthropy and engagement arm of the National Council of Social Service (NCSS) in Singapore.
At least 50% of the cash registration fees will go to Community Chest, comprising those from Bronze sponsors and above as well as 'Birdie Flight' sponsors. Proceeds will go towards more than 100 social service agencies supported by the organisation.
"Golf is a universal game that demands our best in terms of sportsmanship, grace, discipline and conviction, which is very much in line with our values. As a brand that has operated in Singapore since 2019 and the first regulated crypto exchange here, we're delighted to have the opportunity to contribute towards this worthy cause. I look forward to joining hands with like-minded corporates to do our part on the green," said Lasanka Perera, CEO of Independent Reserve Singapore.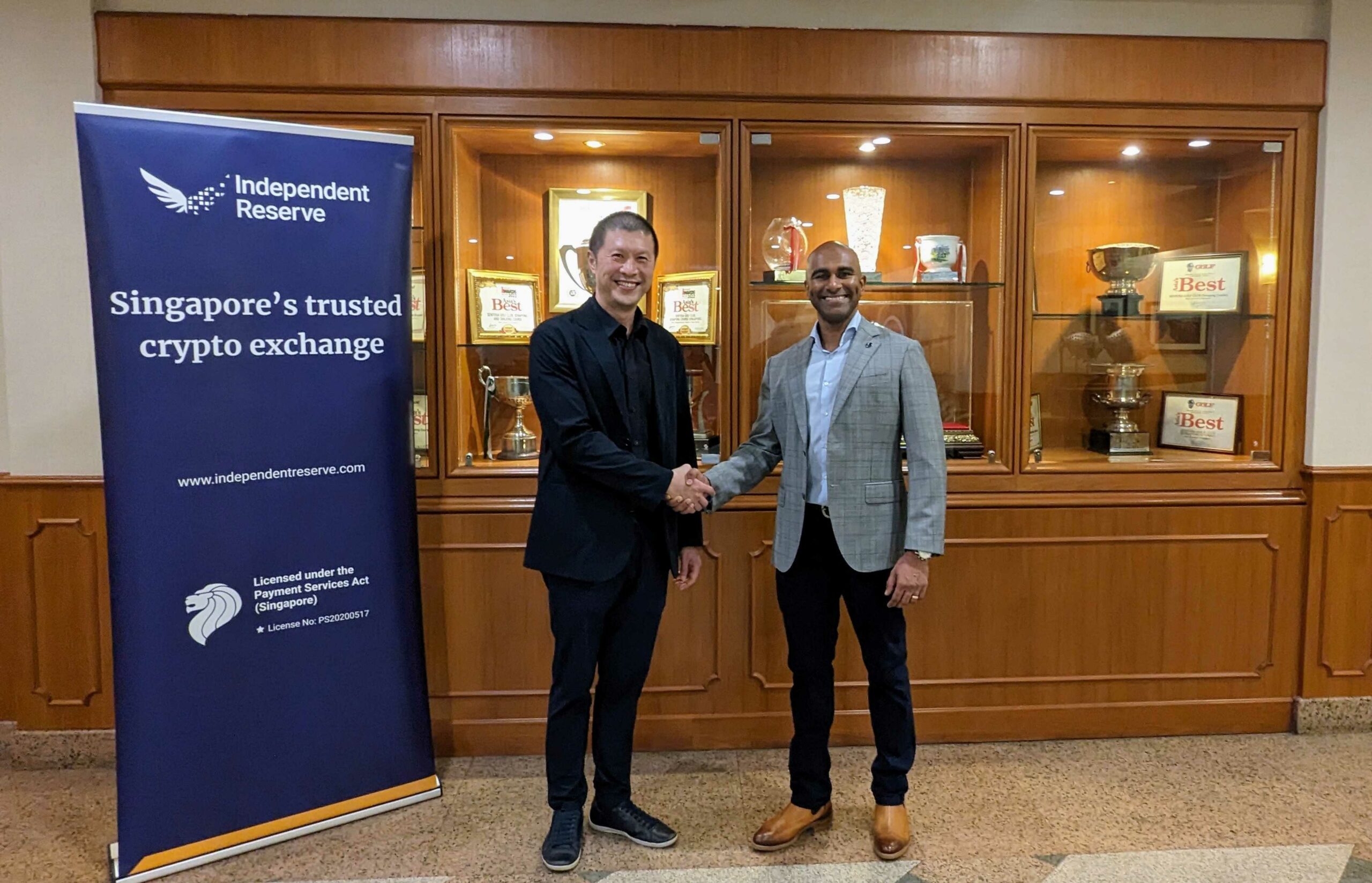 L-R: Joseph Kwok, Director of Vine Ventures with Lasanka Perera, CEO of Independent Reserve Singapore
Enabling a more inclusive society by supporting and uplifting those in need
Community Chest supports over 100 social service agencies and more than 200 programmes to empower the lives of children with special needs, youth-at-risk, adults with disabilities, persons with mental health conditions and families and seniors in need of assistance.
By forging strong partnerships across the people, public and private sectors to build a collaborative and impactful social service ecosystem, Community Chest empowers every person to live with dignity in a caring and inclusive society.
Said Ms Charmaine Leung, Managing Director of Community Chest, "Independent Reserve's support of Community Chest through the World Corporate Golf Challenge exemplifies how the business community can give back in a creative manner. As social service needs become more complex, such support ensures that we can continue to empower those in need to achieve their full potential, despite the challenges they face in life."
Celebrating a worthy cause by leveraging the legacy of the world's largest corporate golf series
Teeing off at 12.30pm on 6 September 2023 at the Sentosa Golf Club, the World Corporate Golf Challenge features up to 25 corporate teams from 15 companies this year vying for the title of Singapore's champion whilst celebrating a worthy cause. The winning team will represent Singapore and compete against 33 countries for the global title at the World Corporate Golf Challenge Final, played in Tenerife, Canary Islands (Spain), from 2 – 6 October 2023.
"We are extremely pleased to welcome Independent Reserve to the World Corporate Golf Challenge Singapore as a Bronze Sponsor for our inaugural event. As a well-established, reputable and regulated crypto exchange in Singapore, Independent Reserve's commitment in giving back to communities is heartwarming. We look forward to their participation in this exciting event that will see many other companies sending in teams to compete and do good to support Community Chest," said Joseph Kwok, Director of Vine Ventures Pte Ltd, the Singapore licensee of World Corporate Golf Challenge.
The World Corporate Golf Challenge is the largest corporate golf tournament in the world. Since its inception more than 25 years ago, over 1 million+ golfers have competed across the globe for the chance to represent their company and country at the World Finals.
Holding corporate citizenry at the heart of Independent Reserve's values
Independent Reserve has always strived to play its part as a corporate citizen to local communities, in line with its beliefs of creating a supportive environment for all to thrive. Since 2019, Independent Reserve has committed to help offset carbon emissions through various initiatives. 
As a corporate partner part of the Trillion Tree Foundation, Independent Reserve aligns itself to the foundation's goal to protect forests all over the world for the benefit of people, nature and the climate, by planting trees yearly. Its partnership with Climeworks, a Swiss-based firm dedicated to capturing CO2 from the air with its cutting-edge technology, will also remove 1 tonne of carbon per year in its bid towards becoming a greener company. 
In Australia, Independent Reserve is also the Official Cryptocurrency Exchange Partner of The Foundation for National Parks & Wildlife and its Tokens for Humanity (TFH) non-fungible tokens (NFT) project. TFH allows the Ethereum community to purchase NFTs that plant real-life trees in fire and flood-damaged areas, supporting the foundation's mission to protect and conserve habitats. 
"In the last 10 years since we started Independent Reserve, it has been in our DNA to find ways to give back to our local communities in various ways – whether through sponsorship, mentorship, or celebrating important milestones together. We look forward to contributing to more of such meaningful causes in Singapore as the Asian hub for our business," concluded Perera.
— END OF RELEASE — 
About Independent Reserve
Founded in 2013, Independent Reserve is Singapore's trusted cryptocurrency exchange. Independent Reserve is the first exchange licensed by the Monetary Authority of Singapore to provide a secure platform for trading and investing in digital assets. With a focus on trust and safety, the exchange serves discerning traders and investors by offering competitive fees, advanced trading tools, and comprehensive educational resources. Adhering to the highest standards of governance, compliance, and security, Independent Reserve empowers institutions and individuals in Singapore to confidently navigate the world of cryptocurrencies.
About Community Chest
As the hallmark of care and share, Community Chest has been uniting the community to mobilise resources and raise funds to serve those in need since 1983. Community Chest supports more than 100 social service agencies to meet underserved and critical social needs. As its fundraising and operating costs are covered mainly by Tote Board, 100% of your contributions goes towards empowering the lives of:
Adults with disabilities

Children with special needs and youth at risk

Families in need of assistance

Persons with mental health conditions

Seniors in need of support
For more information about Community Chest, visit www.comchest.gov.sg.
About World Corporate Golf Challenge
The World Corporate Golf Challenge is arguably the most established global "Business to Business" golf tournament open to top-level executives around the world who share a passion for golf.
Players are ABC1, business executives with substantial purchasing power, aged 30-60 and 90% male. Companies represented come from a variety of industry sectors.
Local, regional and national tournaments are organised and promoted by licensed partners in different continents around the globe. More than 35 countries will be represented at the World Finals by top-level executives from a wide range of industries.