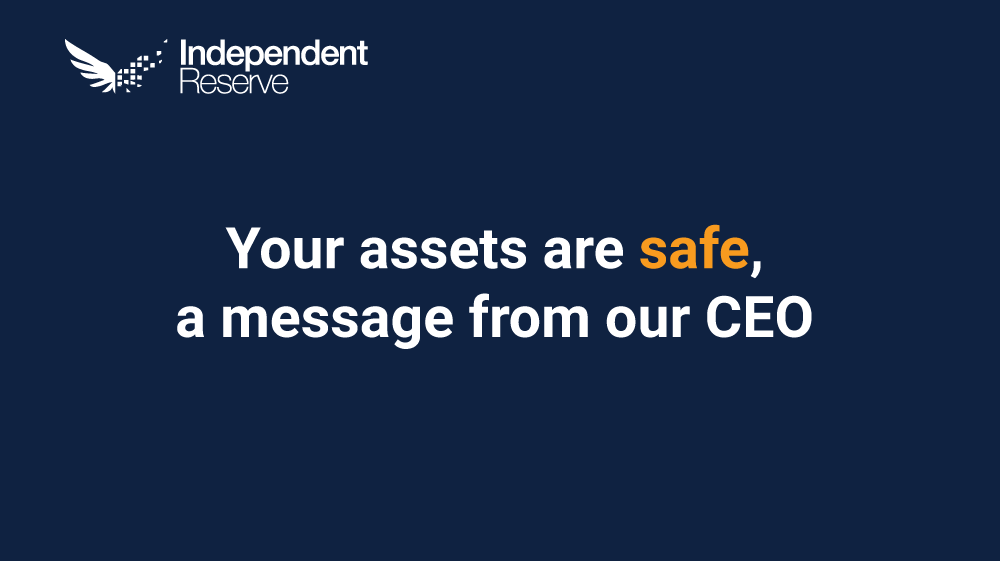 Over the past week, crypto investors have witnessed the downfall of FTX, one of the world's largest exchanges.
This saga will go down as one of the most disappointing events in the history of the cryptocurrency industry.
Independent Reserve has no exposure to FTX, Alameda Research, or the FTT token. As such, there is no impact to our customers from recent events.
I'd like to take this opportunity to assure you that your assets are safe with Independent Reserve.
Independent Reserve is a pure orderbook exchange. This means that we provide a platform for investors to trade cryptocurrency amongst each other. Our revenue comes from charging a small fee on each trade.
We will never lend, trade, use or reinvest your assets without your knowledge.
We would like to assure you that we:
Have never engaged in any lending, borrowing or rehypothecation activities (i.e. pledging assets as collateral for debt).
Have all our customer assets (in both fiat currency and crypto) segregated from our proprietary assets.
Have no debt on our balance sheet.
Maintain 1:1 reserves of all client assets.
Store the majority of our client assets in offline cold storage vaults.
Have undergone an external audit in Singapore as required by MAS. The audit includes an independent assessment of the controls and compliance pertaining to our treatment of client assets in both fiat currency and crypto.
Have undergone multiple financial audits in Australia.
Are ISO27001 certified as assurance of our processes and security protocols.
We are currently working on producing our Proof of Reserves (PoR), that ensures Independent Reserve holds the assets we claim to hold on behalf of our clients. We will share the details as soon as they are available.
The security of our customers' assets is at the heart of everything we do. We keep your funds safe. That is our promise.
Please do not hesitate to contact our customer support if you have any questions.
Thank you for your support and trust in Independent Reserve.
Kind regards,
Adrian Przelozny, CEO