Market Update 1st – 7th January 2020
Welcome back to another Australian crypto market update.
In Markets
Bitcoin broke through the $11,000 mark earlier this morning to record the best price since late November. At the time of writing it was up 6.33% on a week ago and trading at $11,200. Everything else increased substantially including Ethereum (8.4%), Ripple/XRP (12.6%), Bitcoin Cash (16.5%), Litecoin (7.35%) and Stellar (7.4%). Bitcoin SV increased by 20.4%.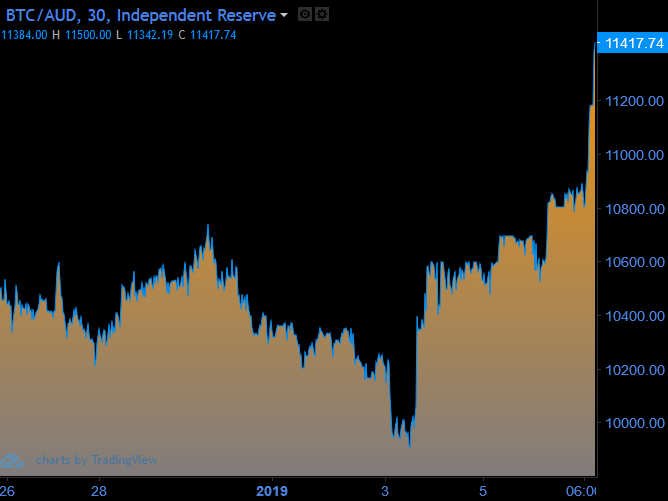 Source: Independent Reserve Bitcoin/AUD chart
In Headlines
Crypto looking positive heading in 2020
Coin Metrics' report on the state of crypto in 2019 found "very positive signs" heading into 2020. Over the year there was a general increase in usage and transaction counts, while fees stayed low. There appears to be less whales than is generally assumed, with just 11,000 addresses with more than $1 million worth of BTC and just 1800 for ETH. However, Stellar and XRP went backwards over 2019 in terms of price and the number of daily active addresses.
Network security best ever
The Bitcoin hash rate hit a new all time high of 119 exahashes on New Year's Day. That's around eight times what the hash rate was when the price hit its all time high in late 2017. However, with the block reward halving approaching, mining giant Bitmain is looking at cutting as many as 50% of its staff in expectation of a revenue drop.
McAfee renounces bet… and Bitcoin
John McAfee has sensationally backed down from his $1 million Bitcoin price prediction, with less than 12 months left to run. The anti-virus pioneer denounced Bitcoin as the "Model T" Ford of crypto and threw his support behind Monero and Ethereum. Incidentally, Monero increased 27.4% last week and broke into the top 10.
Global instability isn't good for anyone… except Bitcoin
The Bitcoin price surged following the US drone strike on Iranian general Qassem Soleimani. Michael Novogratz, CEO of the Galaxy Digital tweeted the "the more I analyze this Iranian situation, the more bullish the case becomes for gold and bitcoin" and the incident sparked another round of debate over whether Bitcoin is a 'safe haven' asset. However, data from P2P trading platform LocalBitcoins in Iran suggests Bitcoin trading is actually declining in the country. Various pundits from Peter Schiff to Alex Kruger suggest the price increase actually comes from speculators betting other people will flock into BTC as a safe haven.
Ethereum gets forked again
Ethereum's latest fork called Muir Glacier occurred early in the new year. Block times have since dropped by 25% from 17 seconds, to 12.69. The fork delayed the difficulty bomb by two years (a strategy to encourage the community to adopt Proof of Stake) and will also see Ethereum issuance grow from 10,000 ETH to around 13,500 ETH.
Donate crypto to help bushfire relief
The Aussie crypto community is throwing its weight behind donations to help with efforts to fight and recover from the devastating bushfires. You can donate crypto to the Red Cross Bushfire Appeal via Bitcoin Babe or to the NSW Rural Fire Service via Alex Saunders.
South Korea to list Bitcoin on national stock exchange?
The South Korean Government's Presidential Committee on the Fourth Industrial Revolution, has recommended that Bitcoin be listed directly on Korea Exchange – the country's sole securities exchange. The committee has also suggested allowing crypto derivatives and licencing exchanges as it is "no longer possible to stop crypto-asset trade".
Digital Euro delay while Digital Yuan progresses smoothly
A prominent European Central Bank policymaker has hosed down stories about the imminent launch of a digital euro. Jens Weidmann, president of the German Central Bank, said they wouldn't be rushing to issue one simply to compete with Facebook's Libra. He called for private alternatives to be launched instead. Meanwhile The People's Bank of China reports that it is "progressing smoothly" with development of the government backed Digital Yuan.
Until next week, happy trading!
Independent Reserve Trading Desk