Market Update 11th to 18th June, 2019
Welcome back to another Australian crypto market update.
In Markets
It's been another exciting week with Bitcoin up more than 17% to hit 13 month highs above $13,600. The leading crypto was on a steady upwards trajectory even before Sunday's sudden $800 spike brought BTC's total gains for the year to around 150%. Theories abound for the spike: was it about Facebook, Binance, institutional investors or Hong Kong? Whatever the reason, it all adds up to a very bullish picture and the Omenics Sentiment Score for Bitcoin is at 7.5 (very positive). Alts also had a run up this week: Ethereum was up 11.4%, XRP (12%), Litecoin (5.4%), Bitcoin Cash (10.2%), EOS (11.4%), Stellar (6.1%) and OmiseGo (3%).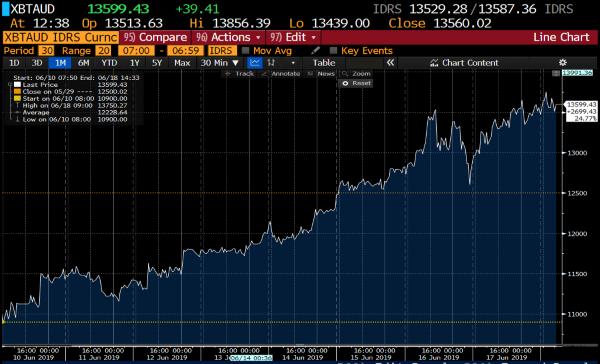 Source: Independent Reserve Bitcoin/AUD chart on Bloomberg.
In Headlines
Bitcoin's fundamentals looking good
The Bitcoin network hash rate hit a new all-time high on Friday of 62 million tera hashes per second (TH/s), just surpassing the record set in August last year. It's increased 10x over the past 24 months. The number of active daily Bitcoin addresses is back above one million for the first time since November 2017. Mean transaction fees back then were around $4.71 but are now just $1.94. Adjusted daily transaction volumes on the Bitcoin network is consistently above $4.4 billion and if this continues BTC will top $1.45 trillion in volume on an annual basis – within sight of MasterCard's $5.8 trillion. Weiss Ratings has upgraded Bitcoin from a B- to a B, after the risk/reward component of its score moved up to C-.
Hong Kong investors turn to Bitcoin
The Bitcoin price spike also coincided with massive unrest in Hong Kong, where more than a quarter of the entire population took to the streets to protest new extradition laws that also allow China to freeze assets (the laws are currently on hold). Reuters reports a flight of capital to safety, and Bitcoin is trading at a $250 premium on local exchanges. Grayscale this week also updated its report suggesting that at times of uncertainty, investors seek out BTC as a hedge.
Institutions driving the price this time
JP Morgan analyst Nikolaos Panigirtzoglou believes the markets have underestimated the importance of Bitcoin futures contracts. CME futures contracts surged to $17.5 billion in May up from $8 billion in April and well above the $2.6 billion average across quarter one. He concluded: "Market structure has likely changed considerably since the previous spike in Bitcoin prices in end-2017 with a greater influence from institutional investors."
CryptoCompare, Nasdaq and Independent Reserve
Nasdaq has partnered with CryptoCompare to launch a new minute by minute pricing product aimed at institutional investors called Nasdaq/CryptoCompare Aggregate Crypto Reference Prices. CryptoCompare also released its Exchange Ranking report this week, with Independent Reserve the highest ranked Australian exchange, and 20th in the world.
Facebook gets big names onboard, but not Wall Street
Facebook has Visa, Mastercard, PayPal and Uber on board its forthcoming crypto coin at a cost around $14.5 million for a node each – although attempts to get Wall Street involved were reportedly rebuffed by Goldman Sachs and JP Morgan. The project's name is Libra, and the white paper is due to be released mid-week. It'll take time, but we think Libra will help educate Facebook's 2.3 billion users worldwide about cryptocurrencies, which will inevitably turn people on to Bitcoin. After all, Bitcoin is scarce and limited to a maximum of 21 million coins – unlike Libra.
Ripple's good and bad news
Bad news for Ripple: Visa is muscling in on XRP's territory, launching a (partly) blockchain based cross-border payments network called Visa B2B Connect.
Good news for Ripple: The company is investing $73 million into MoneyGram which will now use XRP for its money transfer business. MoneyGram stock was up 140% on the news.
Institutional news
Coinbase Custody – which only accepts institutions with more than AU$14.5m in assets – now has $1.9 billion of crypto assets under custody. Intercontinental Exchange's Bakkt platform may have announced it'll launch Bitcoin futures at least twice before, but this time it's SERIOUS and will start testing physically backed Bitcoin futures (settled in BTC, not the cash equivalent) on July 22.
Until next week, happy trading!
Independent Reserve Trading Desk