Market Update 18th – 25th September 2019
Welcome back to another Australian crypto market update.
In Markets
Bitcoin is down 2.8% in the 24 hours since Bakkt launched – and 4.9% for the week – to trade around $14,400 at the time of writing. Unmet expectations for the launch may have pushed the entire top ten into the red in the past day – however Ethereum is up 2.8% on a week ago, XRP increased 3.1% and Stellar is up 6.6%. Bitcoin Cash lost 4.7% in the past seven days, Litecoin fell 6.8% and EOS – which has just completed its first major hard fork – lost 8.9%.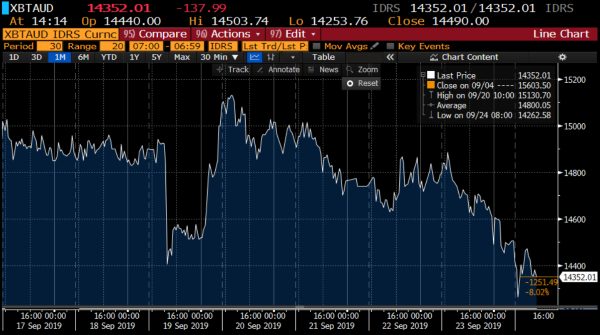 Source: Independent Reserve Bitcoin/AUD chart on Bloomberg
In Headlines
Bakkt gets off to a slow start
The launch of Bakkt's physically settled Bitcoin futures on ICE Futures US got off to a slow start yesterday. Around a million dollars' worth in AUD (71 BTC) of monthly futures contracts were traded in the first 24 hours. That pales in comparison to the $675m traded in CME's cash settled futures first week – however Bakkt was launched on a Sunday night and some of the largest prospective clients are yet to get permission to trade physically settled futures. ICE founder Jeff Sprecher says it could be weeks or months before Wall Street considers Bakkt a success or a failure.
Coming out in the wash
The good news: According to a BTI surveillance report, wash trading has reduced by 35.7% since the beginning of 2019 among the top 40 exchanges. Independent Reserve has a trust score of 8 out of 10 on CoinGecko for providing reliable data, putting it in the top 25 of the world's most trusted exchanges.
Buy a blockchain project
Horizon State was one of Australia's more promising projects, before a legal dispute last month between the founders saw it collapse. If you have some money to plough into a major investment, the IP and blockchain voting software developed for the project is now for sale.
News from the flippening
Ethereum flipped Bitcoin in 24-hour transaction fee volume on Wednesday last week according to Messari (US $202,036 to $182,530). The two networks were pretty much neck and neck over the past day – with BTC having a slight edge. No other network is even in the race, with the next highest, Litecoin, taking a measly $984 in fees. The number of Ethereum network transactions is currently 242% higher than Bitcoin (though many transactions come from a ponzi scheme and Tether). The gas limit has been upped from 8 million to 10 million this week – an effective 25% increase in block size.
Five insanely bullish charts
If you're still feeling a little flat after the underwhelming Bakkt launch, check out crypto entrepreneur and MedX CEO James Todaro's "five insanely bullish charts". They put Bitcoin's incredible returns into perspective against other asset classes such as tech stocks, and suggest there's still plenty of upside left to come.
Until next week, happy trading!
Independent Reserve Trading Desk