Market Update 11th – 17th September 2019
Welcome back to another Australian crypto market update.
The European Central Bank this week cut interest rates to a record low of -0.5% and will resume its quantitative easing program in November. Meanwhile oil prices have spiked, following an attack on a Saudi oil facility that wiped out 5% of global supplies and could potentially cause a war. And Bakkt BTC futures finally launch this week. What impact will there be on the Bitcoin price?
In Markets
The $15,000 mark seems to have become the new normal for Bitcoin. At the time of writing it was down 0.6% for the week, and 0.6% for the month, to $14,912. Ethereum is looking promising with a 9% gain this week off the back of strong network fundamentals. The bulls seem in charge of EOS with the coin up another 5.1% with its first hard fork scheduled for September 23. Everything else was steady: Ripple (0.3%), Bitcoin Cash (0.5%), Litecoin (2.7%), Stellar (-1.8%).
In Headlines
Meet the Independent Reserve team
Starting in Brisbane tonight, the Inaugural Blockchain Australia National Meetup Roadshow will travel to Melbourne on Wednesday and finish in Sydney on Thursday night. Drop by and say hi to the IR team and other great guests. Later this year, we'll be visiting other Australian cities.
Bakkt in for the win?
Bakkt's long awaited physically settled Bitcoin futures launches this week on September 23. The question is: will it put a rocket under the price… or prove a big fizzer like VanEck's 'ETF'? Forbes contributor Billy Bambrough is in the former camp, predicting cryptocurrencies could be in for "one of their biggest ever weeks" and reports some analysts and traders believe Bakkt will "allow for unprecedented Bitcoin and cryptocurrency growth".
Bitcoin hash rate tops century
The Bitcoin hash rate topped 100 exahashes per second for the first time this week. That's up a third in a month and 200% since the bottom of the bear market in December 2019. Back in September 2017 it stood at six exahashes. Crypto analyst The Moon tweeted: "The Bitcoin hash rate is starting to look almost parabolic". The number of Bitcoin transactions using SegWit has also hit a record high of 50.47%.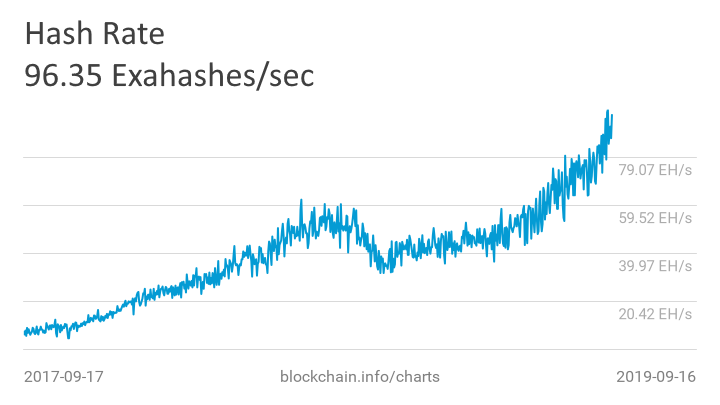 Ethereum moon also rises
Ethereum's gas usage has hit record highs. Venture capitalist Chris Burniske tweeted it shows that "demand for Ethereum's world computer is at an all-time high". However this demand – much of it from Tether – has seen the network slow down. The main mining pools are now testing out a 25% increase in the gas limit. In Bitcoin terms, that'd be equivalent to raising the block size from 800KB to 1MB.
Libra to launch in 2020 despite opposition
Facebook's Libra cryptocurrency will launch at the end of 2020 says COO Bertrand Perez – despite French Finance Minister Bruno Le Maire warning this week: "we cannot authorize the development of Libra on European soil." He suggested Europe should double down on plans to create its own digital EuroCoin.
Millennials love crypto
A new poll of 1000 people by eToro found that while two thirds of Americans are worried about a recession, 40% of millennials will happily invest in crypto during an economic contraction. A separate survey of 500 millennials in the UK with more than £25,000 ($45k) of assets suggests 20% of them have already invested in cryptocurrency.
Ripples of mistrust
Ripple has moved 100,000,000 XRP – worth around $38 million – to the wallet of Ripple and Stellar co-founder Jed McCaleb. McCaleb is allowed to sell 750 million XRP a year – and Bloomberg reports he's been selling 500,000 XRP daily pushing down prices and making XRP holders upset. He was allocated nine billion XRP in total.
Until next week, Happy Trading!
Independent Reserve Trading Desk