Market Update 19th – 26th February 2019
Welcome back to another Australian crypto market update.
Plenty of volatility again this week. Some are pointing to the scheduled Ethereum hard fork (read more here about how it may affect your trading on IR) as the main driver in prices over the past couple of weeks. I'm not sure if I'm convinced, but there hasn't been any other obvious news piece to explain the rally. Nor was there a catalyst for the sell off we saw on Sunday. I think market participants are back and whilst volumes are still relatively thin, it doesn't take a lot to move prices around. I see this volatility as a positive sign that life blood is finally returning to our market.
In Markets
Volatile price action
To give you an idea, at one point ETH was up ~19%, only for it to aggressively sell off on Sunday night and close -7% down for the week. It wasn't just ETH, most of the market got crushed. BTC fell ~10%, wiping its weekly gains and closing flat for the week. XRP perhaps saw the biggest swings this week, rallying 4% during the week before it too crashed ~10% on Sunday night. On monday night it rallied again after it was listed on Coinbase, finishing up 2% for the week.
50-wk MA < 100-wk MA = End of bear market?
From a technical analysis stand point, it takes a prolonged bear market for the 50 week Moving Average (MA) to drop below the 100 week MA. This happened on Monday. Many believe this to be a lagging indicator of the end of a cycle. Last time this happened was in April 2015, BTC had found its bottom three months earlier and then took off on a new bull run, one year before the July 2016 block halvening.
With Bitcoin printing its most recent low in mid December last year and a block halving expected next year, is history repeating itself?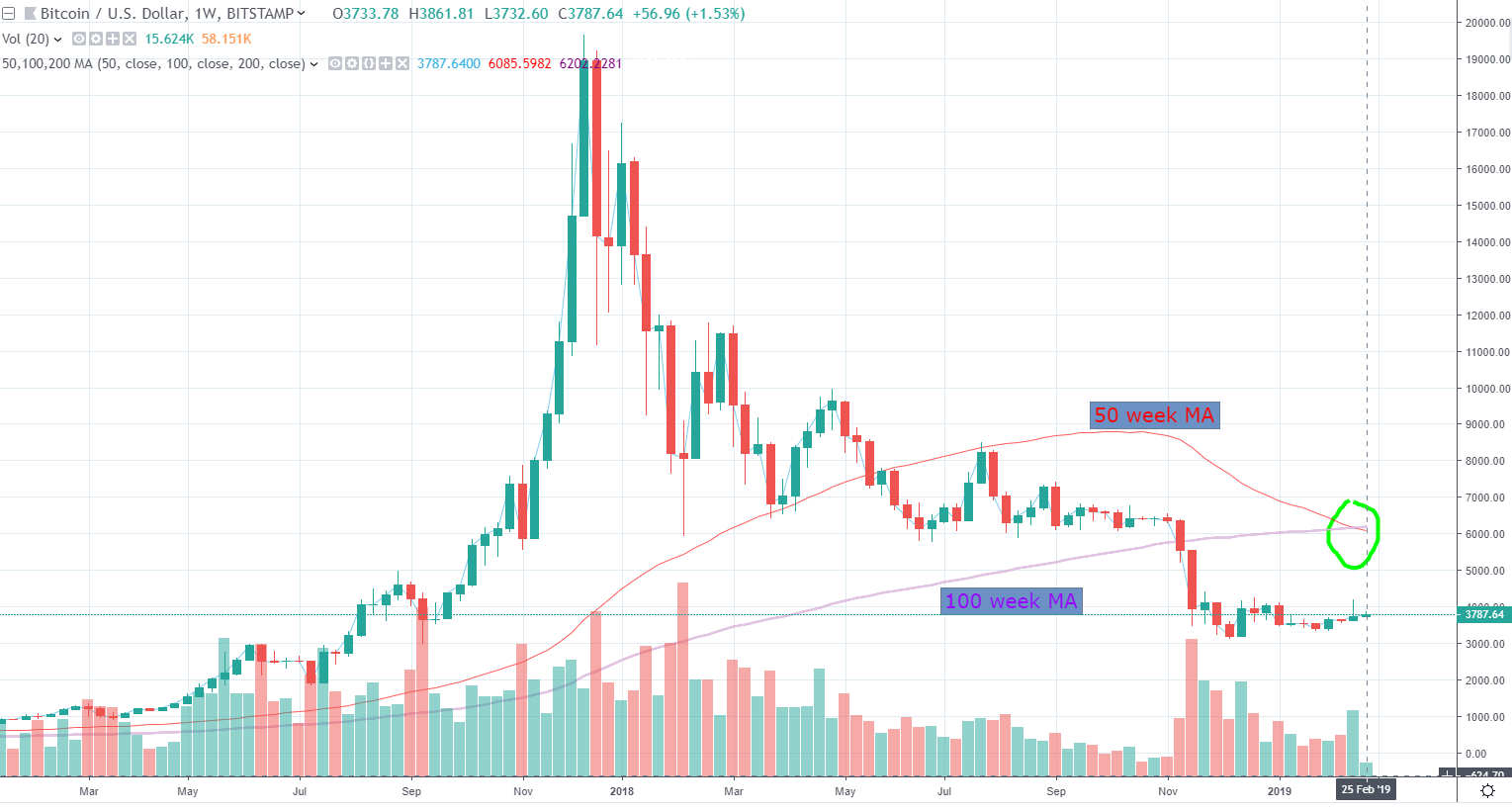 A major technical has people wondering if the end of the Bitcoin bear market is near
In Headlines
University of Michigan ups investment into crypto startups
Late last year we heard Ivy League endowment funds had started to invest in crypto businesses. Havard, Yale, MIT, and Stanford were among the names wanting a piece of the action. These funds are BIG. Harvard's endowment fund alone was reported to be US$39.2 billion last year. Even a very small allocation would amount to big dollars for a crypto fund.
This week Michigan University expressed interest in increasing its $3million investment into Andreessen Horowitz's "a16z Crypto" fund. Horowitz's fund has been busy acquiring crypto and blockchain companies during the recent market downturn; the fund was reported to have just over US$300million worth of assets under management in June 2018, – one of the largest of its kind.
Bitmain posts massive 2018 Q3 loss
As Bitmain prepares to list on the Hong Kong Stock Exchange this year, they have released updated financials, as required for the IPO application. Bitmain was sitting on a reported profit of US$1billion for the first six months of 2018. In its newly reported 2018 Q3 financials this profit has been halved, indicating that Bitmain subsequently sustained a loss of US$500mio in 2018 Q3.
It's also worth noting that Bitmain has substantial reported holdings in BTC, BCH, ETH, LTC and DASH, which have all significantly dropped in value since the September snapshot that these latest financial statements represent. Considering market conditions in 2018 Q4, Bitmain likely had another rough quarter, possibly even putting them in the red for the year. Not great marketing fodder for their IPO.
Eurex to launch crypto futures
Owned by German Deutsche Boerse AG, Eurex is the largest futures and options exchange in Europe. Announced this week, Eurex is about to go live on several crypto futures contracts including: BTC, ETH and XRP. With crypto derivative volumes surpassing physical bitcoin trading many times over, it's great to see traditional exchanges adding crypto products to their repertoire.
Huobi pulls out of Australia
8 months ago Huobi came to Australia to create another local fiat on-ramp exchange. As of today Huobi Australia has officially thrown in the towel and will focus efforts on their main Singaporean based crypto-crypto exchange. Low trade volumes were listed as the cause. We have seen many try and crack the Australian exchange market, it's not easy. We are seeing more and more small exchanges exit as current volumes only support one or two top tier Australian exchanges.
Happy trading!
Marcus Ochmann – Head of OTC Trading