Market Update 7th – 13th August 2019
Welcome back to another Australian crypto market update.
In Markets
Bitcoin is down 5% for the week but up 6% over the past month. Bitcoin dominance (ratio of bitcoin market capitalisation to alt coin market capitalisation) is up to levels not seen since May 2017. 'Altseason' looks further away than ever with the top ten coins heading backwards this week. Ether dropped 8%, Ripple lost 5%, Litecoin (-9%), and Stellar (-5%).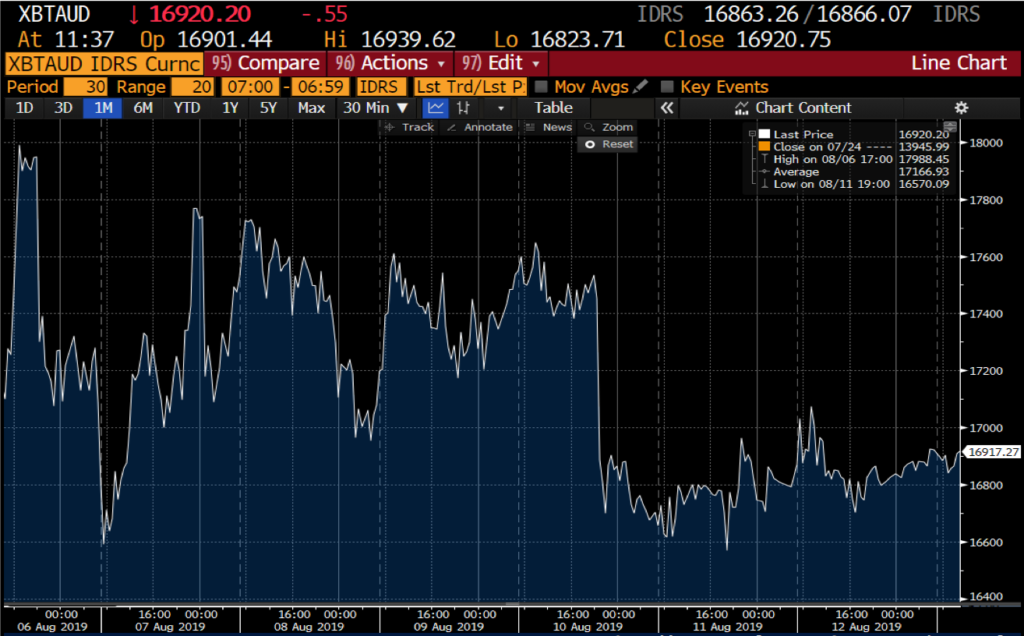 Source: Independent Reserve Bitcoin/AUD chart on Bloomberg
In Headlines
Litecoin Halving
If you're banking on a big increase in the Bitcoin price following the halving next year, it's worth taking a critical look at the Litecoin price, post halving. It's down 12% over the course of a week. Eric Turner, from the Messari blockchain analytics firm said: "Now that the halving is here, some investors are starting to exit the trade. Halvings tend to be priced in, so the event itself isn't the positive catalyst that many expect."
Britcoin
Will Brexit – looking increasingly likely to occur on October 31 – put a rocket under the Bitcoin price? Nicholas Gregory from CommerceBlock thinks so. "A no-deal Brexit could see a massive and unprecedented breakout," he told The Independent this week.
IR among most innovative – Australian Financial Review
The Australian Financial Review cited Independent Reserve as one of the 10 most innovative banking, superannuation and finance companies. The AFR singled out the crypto tax tool, developed in conjunction with KPMG, as a key factor. It "enables Independent Reserve to provide users with an estimate of their potential tax exposure in real time, based on the user's buy/sell transactions on the exchange."
The flippening is floppening
Ethereum boasts amazing technology that underpins a whole series of Decentralised Finance apps and hosts 204,303 ERC20 tokens. But that hasn't prevented the number two coin from going backwards. In late 2017 Ether accounted for 20% of the market and many believed it could take over from Bitcoin. That share has now fallen to 8%. Bitcoin is crushing alts, with dominance approaching 70%.
Shades of Grayscale
Bitcoin fund manager Grayscale has released a new report talking up the use case for Bitcoin as a way to hedge portfolio risk from the US China trade war. "Bitcoin has generated a cumulative return of approximately 105% between May 5 — when tariff hikes were announced — and August 7, versus an average -0.5% for the other asset classes we analyzed over the same period,' the authors noted. Bear in mind that correlation does not mean causation. There's been no Chinese spike on Local Bitcoins, one of the few crypto market indicators still operating there.
Until next week, Happy Trading!
Independent Reserve Trading Desk