Market Update 7th – 14th May 2019
What a week! We haven't seen price action like this since the start of the last bull run. And if you're reading this, you're in pole position to take advantage of it. For those who began investing after the last big upswing, it's been easy to feel as if you missed the boat. But the institutional investors are only now starting to arrive in big numbers. So strap yourself in – this really is just the beginning.
In Markets
It's been a thrilling ride as Bitcoin gained more than 40% across the past week to levels last seen in July 2018. Around the middle of last week, Bitcoin was trading at $8,200 before steadily increasing to $9,000 by the early hours of Saturday morning. Then it took off like a rocket, up 20 percent by Sunday evening. There was a brief pause and then it took off again, to surge above $11,500 (US$8,000) on Tuesday morning. It's since pulled back slightly – but who knows what price it'll be by the time you read this? Bitcoin dominance is around 60% – the highest since December 2017. Altcoins, which had been lagging, have also had a good week: Bitcoin Cash is up almost 30%, Ethereum is up 12.2%, XRP up 48% (!), Litecoin increased 15.5%, EOS was up 12.8% but Stellar rose only modestly by 1.87% .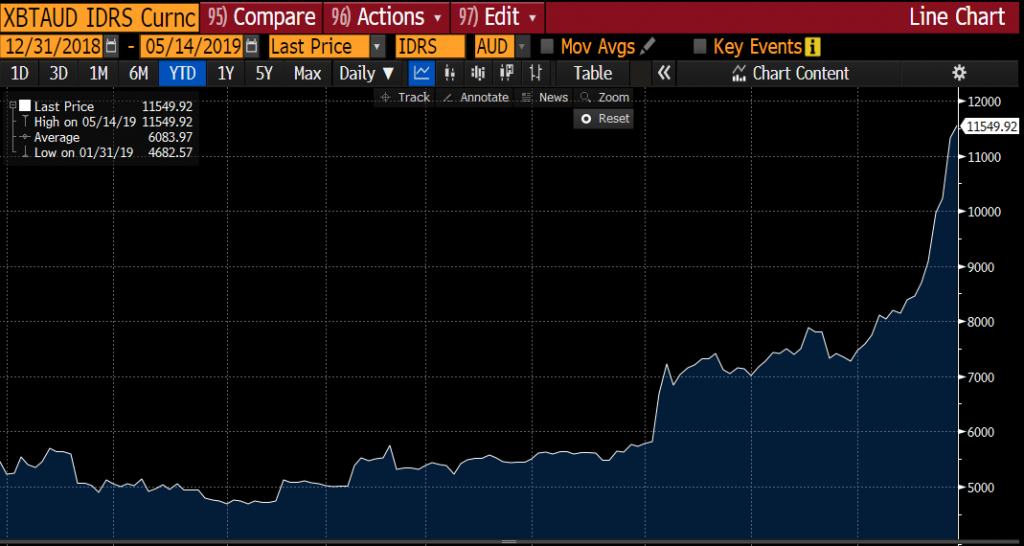 Source: Independent Reserve Bitcoin/AUD chart on Bloomberg
In Headlines
What 7000 BTC Binance hack?
The nagging doubt for many about this week's price surge, was last week's pesky Binance hack. Normally markets would react extremely negatively to the sixth largest hack in history. Instead they shrugged it off, along with Binance CEO CZ's almost unthinkable thought bubble to 'reorganise' and rollback the blockchain to make up for the company's security flaws. Still, Binance is so big that 7000 BTC only accounts for about 2% of its BTC holdings, so it can clearly deal with the financial impact.
Hey presto! Bitfinex magics up $1.4 billion
The other big negative weighing on investor's minds was the $1.2 billion hole in Bitfinex and Tether's finances uncovered recently in fraud allegations by the New York Attorney General's office. Not to worry though – that's been fixed at record speed, with the announcement on Monday night Bitfinex has raised $1.4 billion from institutional investors in the space of just ten days. CTO Paolo Ardoino tweeted the spectacular raise was due to the fact Bitfinex is so "trustworthy". The Bitcoin price jumped 4% within minutes of the announcement.
Institutions on the march
The recent upswing in institutional demand can also be seen in the number of Bitcoins added to the $1.4 billion US Grayscale Bitcoin Trust (GBTC). In April Bitcoin inflows into the trust totaled 11,236 Bitcoin – roughly the same as the previous four months combined.
Institutions on the march part II
Fidelity Investments – which looks after US$7.2 trillion in customer assets – is about to launch mega-volume OTC Bitcoin trading. Bloomberg reports that Fidelity Digital Assets will offer trading "within a few weeks" only targeted at institutional investors.
Consensus in New York
The world's biggest annual crypto event, Consensus 2019, has kicked off in New York this week. A 30 strong Austrade delegation will be there hand to witness the action. Last year, the BTC price fell 30% following the conference. But in the other three out of the last 4 Consensus conferences, BTC price has risen between 78 to 138 percent.
That's all from us. Until next week, happy trading!
Independent Reserve Trading Desk
澳大利亚交易平台