Market Update 1st – 7th July 2020
In Markets
Although Bitcoin has been showing signs of life in the past 24 hours (up 3%), the price action this week traded in a fairly narrow range above $13,000. It's currently just over $13,400 and is up 1.78% for the week. Zooming out, the price has essentially stagnated over the month, down 3.3%. But zooming out even further and Bitcoin is up 27% for the year, outperforming gold and stocks. Crypto Compare's report shows that the low BTC volatility has coincided with low volumes, which are down 36% on top tier exchanges. But altcoins made strong gains this week: Ethereum recorded its best price in a fortnight and is up 5.6%, XRP is up 6.3%, Bitcoin Cash (7.6%), Bitcoin SV (21%), Litecoin (5.3%), EOS (10.1%) and Stellar (10.3%).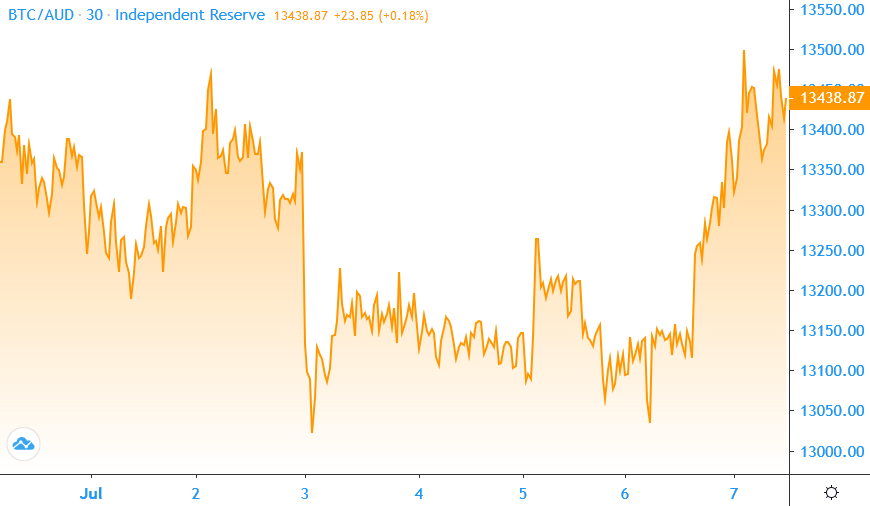 Source: Independent Reserve Bitcoin/AUD chart
In Headlines
Grayscales BTC appetite
Multiple news reports suggest that the Grayscale Bitcoin Trust has been buying up between 70% to 150% of all Bitcoin mined since the halving. But Messari analyst Ryan Watkins has thrown cold water on that idea by pointing out that 80% of Grayscale shares are actually purchased using Bitcoin. Watkins says this BTC 'recycling' means Grayscale has only bought up 31% of all new Bitcoin mined since the halving. They are still on course to control 3.4% of the supply by January.
Adoption is growing
Crypto proponents often release surveys that appear to overstate adoption, but the UK's Financial Conduct Authority has absolutely no reason to do that. Its latest survey found that 1.9 million people in the UK – or 3.86% of the adult population – currently own crypto. That's a significant increase from the 3% who did last year. More than three quarters own less than 1000 pounds worth ($1800). Awareness is growing fast too, with 73% of adults saying they've heard about cryptocurrency, up from 42% last year.
Year of the stablecoin
US dollar stablecoin usage is ramping up with Tether's supply crossing the US$10 billion mark. Its closest rival USDC just topped $1 billion too. According to The Block, the adjusted transaction volume for all stablecoins hit a new all-time high of US$54.9 billion in June, up from $48.2 billion last month and the fourth month in a row that was over $40 billion.
Stock to flow model updated
PlanB has released an update to his popular stock to flow model, which predicts a Bitcoin price of US $288,000 before the next halving. A 'red dot' has been released… though if you look closely at the legend, that just means we're a very long way away from the next halving. Nico Cordeiro, chief investment officer at the crypto fund Strix Leviathan, has released a detailed explanation for why he thinks the model is 'fatally flawed', although PlanB says his arguments are "old and refuted".
EOS social media platform launches
The soft launch of EOS-based crypto social media platform Voice went live this week. It seeks to incentivise content creators by rewarding them in Voice tokens. You can check it out now, though only registered community members can publish content so far. The next stage of the launch is on August 15.
Bitcoin Cash HODLers
Glassnode figures show that 43.7% of the entire Bitcoin Cash supply – around 8 million BCH – hasn't moved in two years or more. This indicates there are a lot of committed HODLers out there – and potentially some people have also forgotten where they kept it. The seven-day average for transactions on the network is around 13,500 per day, a sharp decline from more than 62,000 transactions in late March, but on par with figures from February 2019.
Ethereum network is on fire
Halfway through 2020, and the amount of gas paid to use the Ethereum network has already eclipsed the total paid out across the whole of 2019. The network is now raking in an average of $1.14 million a day, outpacing the Bitcoin network for a month straight. The increased use of DeFi plays a part, but sadly, some of the biggest gas guzzlers are scams. A newly created metric called the Flippening Index suggests Ethereum is more than halfway towards 'overtaking' Bitcoin as measured by eight indicators – however, ETH's market cap remains just 14.9% of Bitcoin's.
DeFi surging off a small base
DeFi token prices are surging lately and user numbers have been surging with them: up 86% on Balancer, 60% on Curve and 32% on Aave. But it's still very early days, and Ethereum DApps still only have between 6,000 and 12,000 daily users. The 40 top projects have a combined market cap of just $4.7 billion – which is around 5.6% of Bitcoin's market cap. This week the total USD value of assets locked in DeFi projects hit US$2 billion ($2.85B), increasing four-fold since March. Is it a bubble or will it bring about a new bull run? But the big question is: will DeFi's success be reflected in the price of Ether?
Until next week, happy trading!
Independent Reserve Trading Desk