In markets
What a rollercoaster ride. After the euphoria reported in our last update, came a heavy reality check when the price plunged 16.4% in a matter of hours later in the week. But markets have since recovered all of that and more to reportedly top the USD all-time high price earlier today when it spiked as high as US $19,873. At the time of writing, BTC was up 6.8% for the week to trade at A$26,800. It was a mixed bag for other coins however with Ethereum up 1%, XRP increasing 8.9%, Stellar (54.9%), YFI (5.4%), AAVE (6.8%). Coins going backwards include LINK (-6.9%), Bitcoin SV (-5.7%), EOS (-3.5%) and SNX (-13.4%). Litecoin and Bitcoin Cash were flat. The Fear and Greed Index is at 88 or "Extreme Greed'.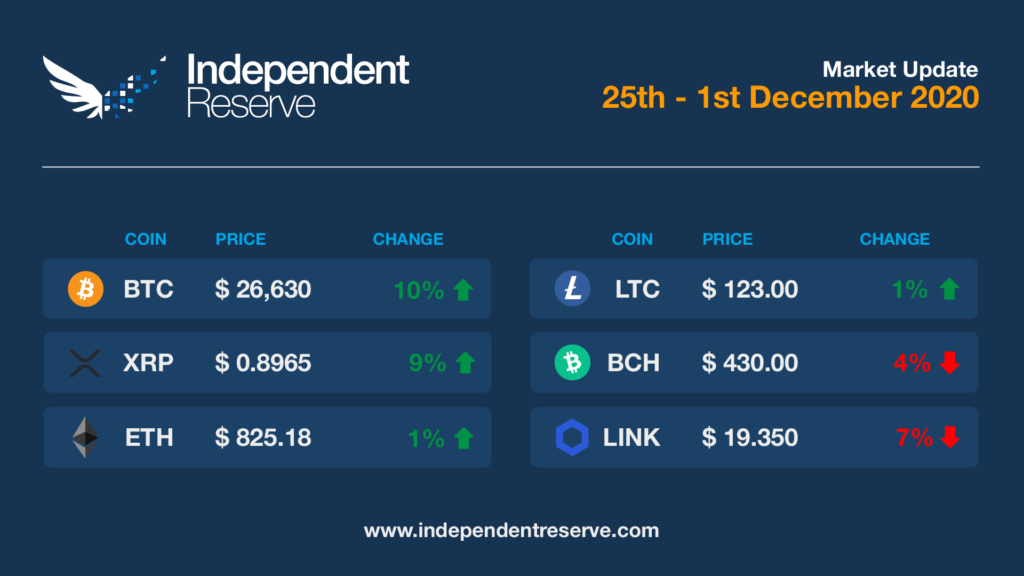 Everybody's talking about the new ATH
The Guardian, The New York Times, The Wall Street Journal, CNN, Bloomberg, Business Insider, Coin Desk, Reuters and more have all reported that Bitcoin has broken the all-time high against the US dollar. But it all depends on how you measure it and some are unconvinced at the time of writing. Larry Cermak from The Block points out that different exchanges all had different all-time highs ranging from US $20,093 on Bitmex to Kraken's $19,660. Cointelegraph said it isn't going to call a new ATH until the price tops Coinbase's record of US $19,891.  Independent Reserve's all-time high price was A$26,932 during the last bull run, and we beat that by $45 last night.  For what it's worth, Coinmarketcap has the ATH in Aussie dollars at $27,303.88. So theoretically, a handful of people in the world may still be a few dollars down on their BTC investments. Bitcoin is up more than 175% this year, 13 times the year-to-date gains for US stocks. Gold meanwhile is up just 17% and is once again approaching its inflation-adjusted all-time high price. However, gold's record price was set all the way back in 1980. No wonder some people think Bitcoin can take market share from gold which would see the price 25X from now.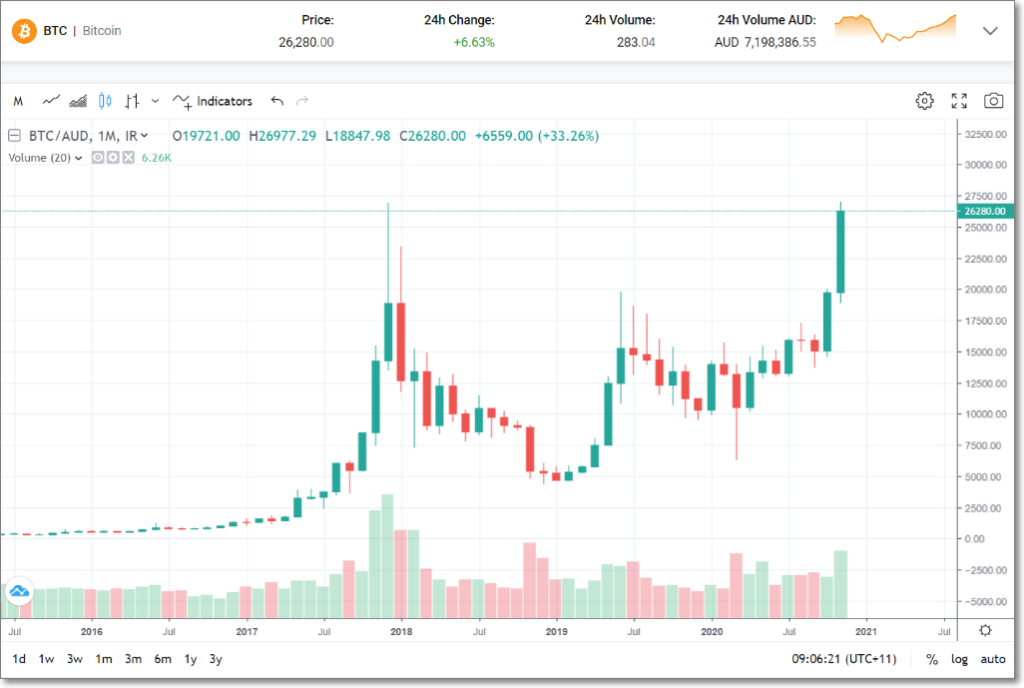 Raoul Pal sells all his gold for Bitcoin
Global Macro Investor CEO Raoul Pal is selling all his gold to throw all his money into Bitcoin (80%) and ETH (20%). This week he made a "conservative" prediction that Bitcoin will hit US$150,000 (A$204K) by November 2021 due to the amount of institutional money flowing into the market, combined with Paypal, Square and Grayscale snapping up so much of the supply. He also noted the all-time high price: "$20,000 here is not the same as $20,000 back then, back then it had gone up a hundredfold when it got to $20,000, we haven't even started this yet," he tweeted. Gemini exchange's Tyler Winklevoss is also big on both ETH and BTC:  "These cryptos will be the two best investments of the decade," he said.
Economist: 'I was wrong about Bitcoin'
Economist Jason Murphy, who has worked for the Federal Treasury and The Australian Financial Review, fessed up on News.com.au that he was a fool for celebrating Bitcoin's fall in 2018 now that it has broken its all-time high price against the Aussie dollar. His mea culpa said he'd been guilty of writing off Bitcoin as a fad and he has been buying Bitcoin over recent months. "It made me feel nervous to go against my gut instinct that there is no point to Bitcoin, but I couldn't deny the mounting evidence that my gut instincts on this were terrible," he wrote.  
What about XRP?
Ripple's XRP was a huge mover last bull run, and has gained 180% over the past month too. Raoul Pal upset BTC maximalists by saying he was "warming to XRP" now that he has "a basic understanding" of it and was mercilessly trolled in response. But he's not the only one interested: Google searches for XRP are back at early December 2017 levels. One factor feeding into the price is an airdrop of Flare Networks' "smart contract utility fork" Spark tokens to XRP holders which will be based on a snapshot of holders on December 12.
Libra says 'me too'
The Financial Times reports that Facebook's Libra project will launch in a scaled-back form early next year. Regulators didn't like the initial plan to create a stablecoin tied to the price of a basket of currencies, and that was scaled back in April to digital versions of several currencies and now it looks as if Libra will be just another US dollar stablecoin, initially at least.
Eth2 Genesis just hours away
It really is a historic day for crypto, with the genesis of Ethereum 2.0's Beacon Chain kicking off late-night tonight AEDT (December 1). More than 865,000 Ether has been staked in the deposit contract in exchange for returns in excess of 20%. However, stakers are locking up their funds until Eth2 actually launches with Phase 1.5. That's when the current mainnet will become a shard on the beacon chain and mark the transition to Proof of Stake. Staking is likely to be easiest for ordinary folk by using a decentralised pool such as Australia's Rocket Pool, though major exchanges like Coinbase and Binance have announced staking too.
Macro opportunities spotted
Another institution has jumped on board with the $7.2 billion Guggenheim Macro Opportunities Fund announcing it will be tipping money into Bitcoin. "The Guggenheim Macro Opportunities Fund may seek investment exposure to Bitcoin indirectly through investing up to 10% of its net asset value in Grayscale Bitcoin Trust," the firm said in a filing late last week to the U.S. Securities and Exchange Commission.
DeFi Digest
💠 Yearn Finance merges, acquires, partners and collaborates with 4 different DeFi projects.

🚨 Over $110 million of liquidations on Compound Finance due to their reliance on Coinbase as a single oracle.

🚀  xAAVE is audited, deployed and live.

🍣 SushiSwap saved shortly after an exploit is discovered.  
Until next week, Happy Trading!