Market Update 26th August – 1st September 2020
In Markets
Bitcoin spent the week trading between $15,000 and $16,000 and is currently just 0.5% down on the same time last week to trade around $15,900. Bitcoin dominance has fallen from 62% a month ago to 57.2% today. The Fear and Greed Index has eased back from "Extreme Greed" last week, to simply "Greed" (75). It's been a mixed bag for the other major cryptocurrencies, with Ethereum up 7.3% and Chainlink increasing 2.15%. Meanwhile XRP fell 2.5%, Bitcoin Cash was down 5.9%, Bitcoin SV (-5.6%), EOS (-5%), Stellar (-5.9%).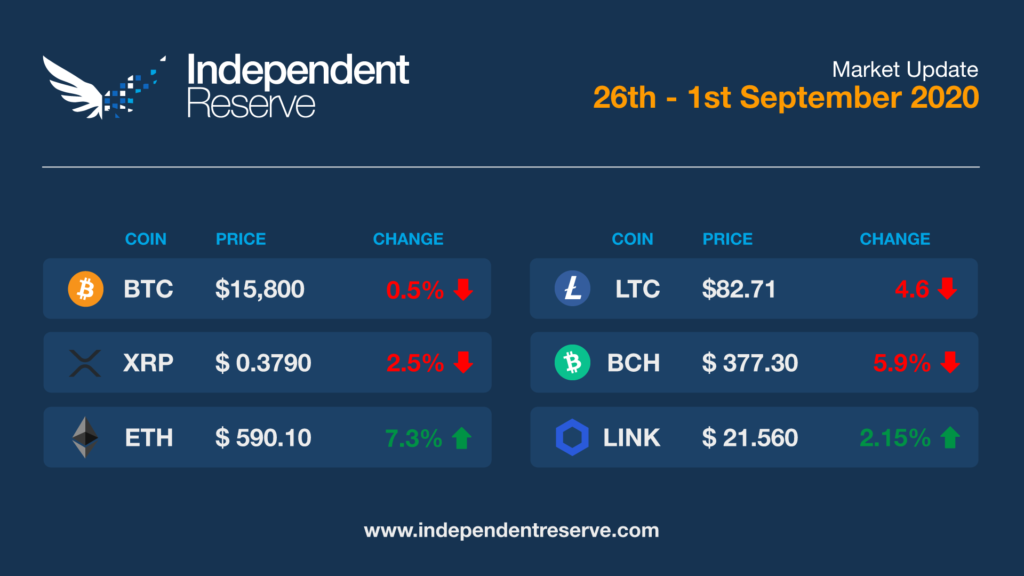 In Headlines
Bitcoin to $500K and beyond
The Winklevoss Twins – who own at least 1% of all Bitcoin in existence – have outlined their reasoning why Bitcoin will top $500,000. They point out US debt is set to hit $29 trillion next year and that "the Fed printed two-thirds as much money in the last 6 months as it did over the prior 11 years". This will force investors to seek out assets like gold, oil and Bitcoin. Given Bitcoin has numerous advantages over gold (easier to store and transport) they believe it will take over gold's US$9 trillion market cap. "If we are right about using a gold framework to value Bitcoin… the price of Bitcoin could appreciate 45x from where it is today, which means we could see a price of $500,000 U.S. dollars per Bitcoin," they wrote.
Ethereum and Bitcoin gain weight
The Ethereum blockchain's growth rate has skyrocketed over the past few months to 260MB per day according to Glassnode: "That is a 2x increase since the beginning of the year. And 40% higher than Bitcoin's current blockchain growth rate – which is at an ATH (186MB per day)."
DeFi tops $7B, then $8B
The incredible rise (or bubble depending on your point of view) of DeFi shows no sign of abating. No sooner had the total value locked in US dollars (TVL) in DeFi surpassed $7 billion mid-week, but it then sailed past the $8 billion mark on Sunday. It currently stands at US $8.7B ($11.16B). The top four projects Aave, Maker, Curve and Balancer now have as much, or more TVL each, than the entire DeFi ecosystem had on June 1. Depending on which assets you include (including Chainlink is controversial) the market cap for DeFi is now around $24,579,064,431.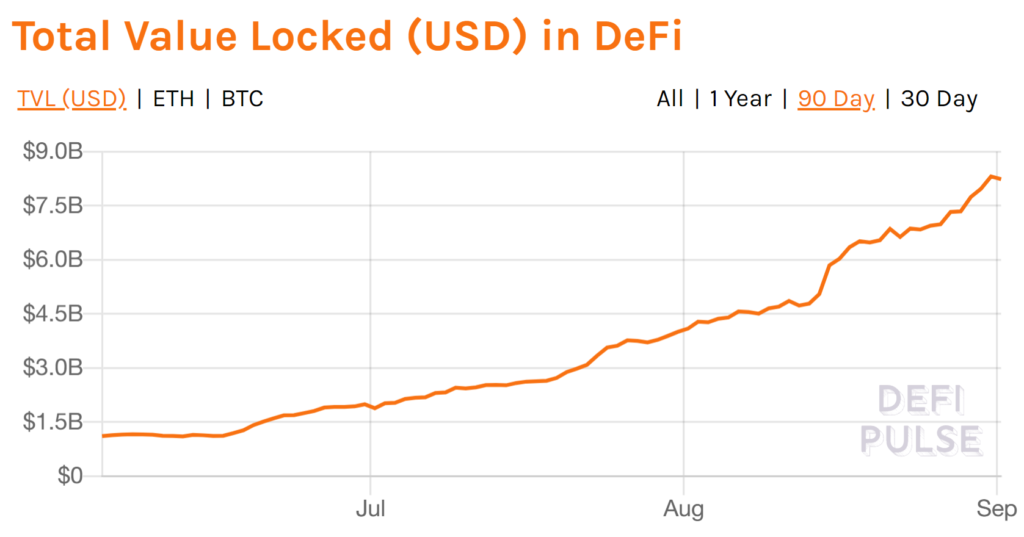 YFI shoots past BTC all-time high
Yearn.finance's token YFI has more than doubled in the past week and sailed right by Bitcoin's all-time high price. It's currently trading at $47,700, however, with just 30,000 tokens its $1.4 billion market cap is tiny by comparison to BTC. Yearn enables users to pool funds and then automatically switches them to whichever DeFi protocol offers the best crypto interest rate. Everyone seems very bullish, including Forbes, Nuggets News' Alex Saunders and Messari's Ryan Watkins who suggested YFI could hit $1B per coin (though he's probably just making fun of the hype). However, YFI can – and has – been cloned and one such copycat, YFII, also surged in value and is now trading at $5,330.
If blocks were buses
T-Street is a fun visualization of the Bitcoin, Ethereum, and Bitcoin Cash blockchains that includes a variety of useful statistics. It shows a cityscape in which the buildings represent big projects like Maker and Tether, while people represent transactions on the network by leaving the buildings to go jump on a bus – which represents the next block. When Ethereum or Bitcoin gets clogged, there's a crowd of people waiting at the bus stop. Ethereum co-founder Vitalik Buterin says he loves the city metaphor: "It's a bustling place where lots of things are happening, with lots of corners to explore, most of which you don't yet know about! Just lots of people quietly (and sometimes loudly) using the platform and the benefits that it provides to do their own thing."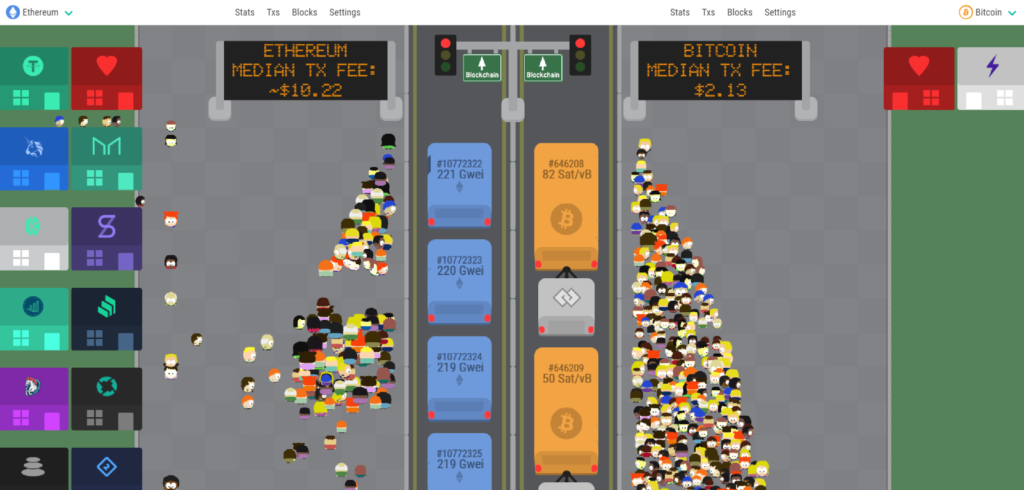 The missing link
Chainlink (LINK) has acquired the privacy-preserving oracle protocol DECO from Cornell University. The technology enables consumers and businesses to protect confidential data on the blockchain. "Basically, any smart contract that was previously limited by private data will soon be able to function on a public blockchain like Ethereum without revealing any confidential information to the blockchain," CEO Sergey Nazarov explained. LINK got a 10% price bump from the news but has pulled back since.
Until next week, happy trading!
Independent Reserve Trading Desk