Market Update 3rd – 9th June 2020
In Markets
After a euphoria-inducing spike above US$ 10,000 at the time of our last market update, Bitcoin dropped sharply some hours later back to its previous US$ 9,500 – US$ 9,800 range, where it has remained since. The constant tests of the barrier are becoming routine, which analyst Keith Wareing believes signals that a fast break up to $12K ($17,100) could be on the cards. At the time of writing Bitcoin was trading just under $13,900 and was down 1.2% for the week. Bitcoin dominance has fallen from 67.5% a month ago to 64.8%. Ether held steady this week, while XRP lost 2.2%, BCH increased 1.25%, BSV (-4.1%), LTC (-2.6%) EOS (0.6%) and Stellar (4.2%).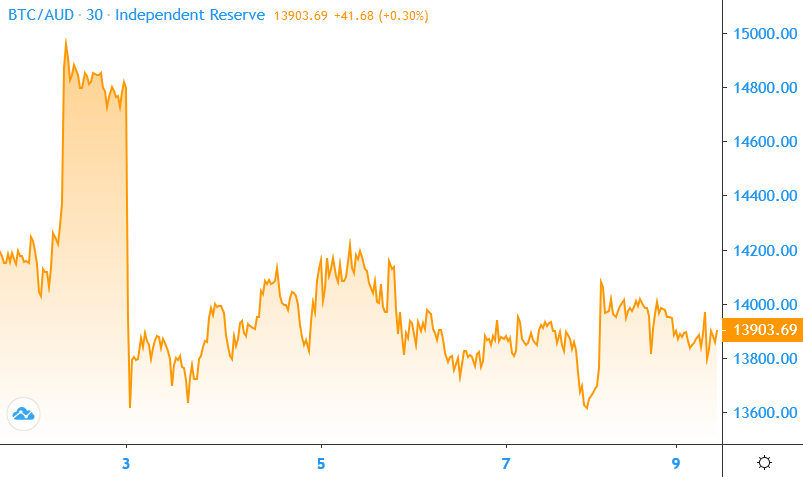 Source: Independent Reserve Bitcoin/AUD chart
In Headlines
Double your money
Bloomberg's June Crypto Outlook says that "something really needs to go wrong for BTC to not appreciate" and confidently predicts "Bitcoin will approach a record high of $20,000 this year" (A$28,500). However they see "little upside in the ETH price" and believe it is only a "matter of time" before USDT overtakes ETH as the second-largest cryptocurrency by market cap. Separately, Blockstream's Adam Back told Bloomberg this week that unlimited money printing will drive retail investors towards Bitcoin and push the price to $300K (A$430K) within five years.
Stock market timebomb?
The World Bank has just released a report predicting the world economy will contract 5.2% this year, and the downturn will be the worst in 150 years. In uncorrelated news, the US stock market has just returned to pre-pandemic levels. Many crypto pundits believe the Federal Reserve money printer is artificially inflating stock prices. Morgan Creek Digital's Anthony Pompliano tweeted earlier today: "The Federal Reserve is pumping asset prices so aggressively that bankrupt companies are seeing triple-digit appreciation in their daily stock prices."
Better than average returns
Stock to flow model creator Plan B has published a chart showing the potential returns from dollar cost averaging into Bitcoin. A strategy of dollar cost averaging in for a year, HODLing for a year, and then DCA-ing out would have been a winning strategy most of the time between 2013 to mid-2019 with a 68% chance of achieving a return higher than 200%. You can dollar cost average into Bitcoin on Independent Reserve.
Brave move
BAT-powered, privacy-focused Brave Browser came under fire this week after it was revealed that users who typed in 'Binance.com' had Brave's affiliate code automatically added to the link. In bullish news, monthly active users are up to 15.4 million in May, Brave Ads has attracted 1530 campaigns and click through rates are 9% compared with the 2 percent industry average. BAT increased 11.1% this week.
EOS gets social
Blockchain based social media platform Voice, from EOS creator Block.One, is launching on July 4. "We need to take social back from big tech NOW," said Chief Executive Officer Salah Zalatimo. Block.one has invested more than $250 million into the project so far.
The fees flippening
Over the weekend the ETH network's fee revenue surpassed the fee revenue of the Bitcoin network (the Ethereum mempool is currently clogged with more than 100K transactions pending). The average ETH fee is still below the average Bitcoin fee even after BTC fees fell by more than 84% from the peak after the halving.
100 million users can't be wrong
There are now more than 100 million unique Ethereum addresses. Around 105 million ETH is in the 120,000 addresses holding 32 ETH or more – which is the minimum required to stake on the forthcoming ETH 2.0. That figure has grown by 13% this year. Grayscale's Ether Trust has bought up about half of the mined ETH so far this year.
Industrial strength hopium
Coin Metrics has released a report suggesting that Bitcoin's trading volume could increase 100X in four years to exceed that of the US Stock Market. Timothy Peterson, CFA at Cane Island Alternative Advisor tweeted a chart on Monday showing the 2020 Bitcoin recovery has tracked the 2013 recovery "almost perfectly". "Are we weeks away from $75,000"? (A$107,000) he wondered. Bitcoin has also just printed three higher monthly closes in a row. The same signal appeared before exponential price increases in 2012, 2015 and 2019.
That's all from us. Until next week, happy trading!
Independent Reserve Trading Desk