Market Update 14th – 20th August 2019
Welcome back to another Australian crypto market update.
In Markets
After a rollercoaster week in which US/China trade tensions eased and share markets plunged over fears about "the inverted yield curve", Bitcoin dipped as low as $14,100. It's since staged a remarkable recovery thanks to Bakkt (see below) and is currently above $16,100; down 4.26% since this time last week. While the current trend is upwards, the top ten are all down on seven days ago: Ethereum (-4.4%), XRP (-6.4%), Bitcoin Cash (-2.5%), Litecoin (-10.2%), EOS (-9.6%). Stellar is down 4.7%.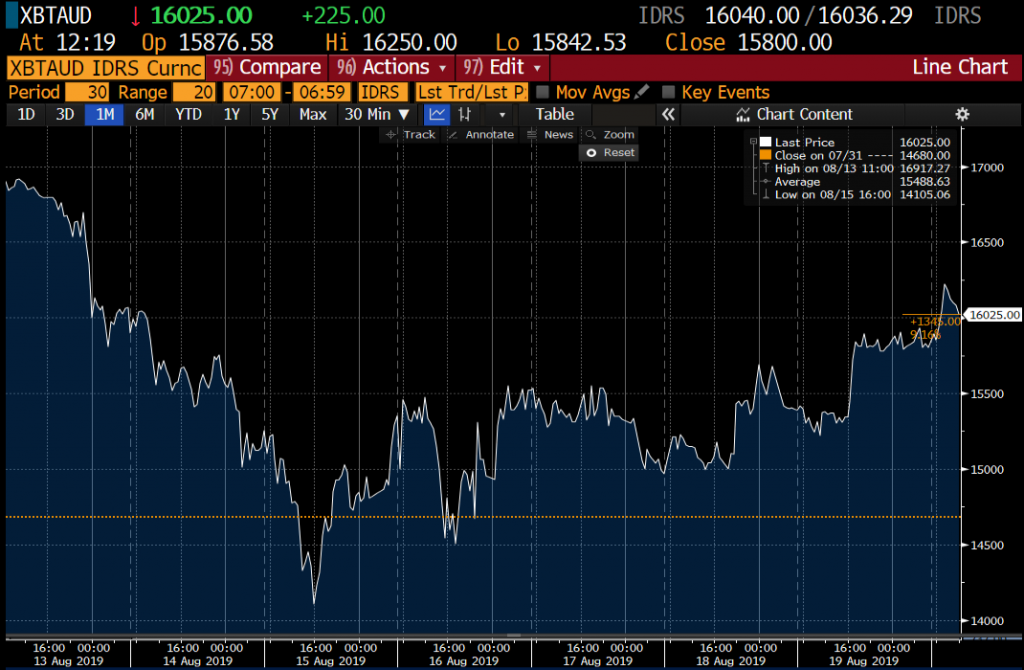 Source: Independent Reserve Bitcoin/AUD chart on Bloomberg
In Headlines
Institutional buying
The big news this week was that Intercontinental Exchange's Bakkt platform has finally been approved to launch physically delivered Bitcoin futures on September 23. Aimed at institutional investors, the contracts are paid out in actual Bitcoin, rather than the equivalent in fiat. There are hopes that better price discovery on a well-regulated platform could pave the way for the approval of Bitcoin ETFs. Coinbase CEO Brian Armstrong says institutions are pumping about $300 million to $600 million into Custody every week. Coinbase has just bought Xapo's custody infrastructure for $81 million, and now has more than $10.4 billion in crypto under management.
Fear and greed index
Bitcoin plunged 15% this week in the biggest weekly decline since late November and the Fear and Greed Index bottomed out at 11 ('extreme fear'). A recovery in recent days has seen the index up to 30, however that still indicates 'fear'. Negative sentiment can represent a good buying opportunity.
25 million US retail investors coming soon
Research from Nobl found that almost 25 million Americans have plans to buy cryptocurrency in the next 12 months. Nobl found the American crypto market has grown 48% over the past 12 months and women now make up 35% of crypto investors. Around 44% of crypto investors are older than 35.
Aussie cryptocurrency project collapses
Australian blockchain based voting platform Horizon State unexpectedly shut down on Monday, due to the prohibitive cost of fighting a mystery lawsuit. Despite the collapse, there are still buyers and the HST token is only down by 50%.
Is Litecoin worth it?
Can Litecoin justify its $7.2 billion market cap? That's the question being asked following revelations it essentially has one core dev and a couple of helpers, who mostly just merge in changes to Bitcoin's code. At the end of quarter one, it had $142,000 in the bank for operational expenses, the community was donating an average of just $1500 a month. 81% of all funds ever donated to the Litecoin Foundation came from founder Charlie Lee. The price has fallen 23% this month. However, Lee insists Litecoin is "doing fine".
Over Twitter hype?
Crypto social media analytics firm The Tie has created a new metric called 'Hype to Activity Ratio' that measures how many Tweets there are for every US$1 million in trading volume. It found the most overhyped coins are TokenPay, Electroneum and DragonChain. Other overhyped coins include Holochain, Tezos, Nano, Qant, ChainLink and Zilliqa. Of the major coins, Ripple has about four to six times more Tweets than the rest of the top ten.
Until next week, Happy Trading!