Market Update 30th October – 5th November 2019
Welcome back to another Australian crypto market update.
In Markets
Following last week's price spike, normal service has resumed with Bitcoin trading in the $13,000s this week. Currently trading at $13,650 at the time of writing, BTC is only a shade under where it was this time seven days ago. The fact there hasn't been a major dump since could be taken as a bullish sign. The winner this week was Stellar, jumping by 20% in an hour after an announcement (more below). XLM is now up over 25% for the week. XRP was marginally down (-0.8%) but everything else improved: EOS and Litecoin both spiked in the past 24 hours to bring them up to 4.1% and 5.5% respectively for the week, while Ethereum gained 1.94%, and Bitcoin Cash was up 7.8%.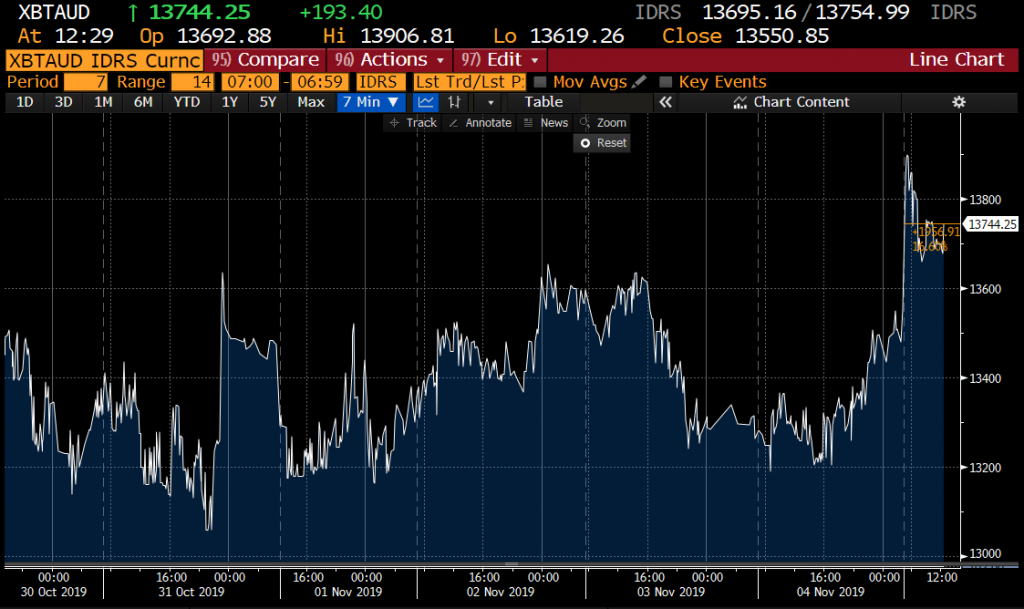 Source: Independent Reserve Bitcoin/AUD chart on Bloomberg
In Headlines
Bitcoin's birthday
The Bitcoin white paper was released to an unsuspecting world eleven years ago this week. Coinbase data shows that Bitcoin has outperformed the S&P 500 since 2013 and has recorded a 132% gain this year. It's worth remembering it's still early days: email was invented in 1972 but did''t take off for 25 years, while TV was invented in 1927 and wasn't even introduced to Australia until the mid-1950s.
Was a single whale responsible for the All Time High?
Researchers from the Universities of Texas and Ohio claim that a whale manipulating the Bitcoin price using Tether on Bitfinex was single handedly responsible for the All Time High. The researchers studied data from March 2017-2018 and concluded: "This pattern is only present in periods following printing of Tether, driven by a single large account holder, and not observed by other exchanges." The paper will be peer reviewed before being formally published. Bitfinex's own peer review calls the conclusion "foundationally flawed".
China to return to gold standard
RT's resident Bitcoin bull Max Keiser believes
China's forthcoming cryptocurrency will be backed by 20,000 tonnes of gold China has acquired and aims to undercut the US dollar. Gold bug Peter Schiff seized on the comments to argue the move is likely to be much more bullish for the gold price than for Bitcoin.
Early blockchain projects disappointing
Wired magazine reports that many companies are
disappointed with blockchain after the hype failed to match up with the reality. Some businesses say the current state of blockchain technology is too slow and expensive to live up to their grand plans.
Fat fingered intern strikes again
BitMEX accidentally released 23,000 of its customer's email addresses into the wild this week (in the CC address field of an email!), shortly before its Twitter account was hacked. If you have a BitMEX account and use the same email for any other crypto service, consider switching email accounts to avoid phishing attempts and/or add 2FA.
Does number of active users equal the price?
Researchers from Longhash came up with mixed results when they tried to find a link between the number of users transacting on a blockchain network on a particular day with the price of the related cryptocurrency.

Bitcoin, Litecoin, Chainlink and NEO showed a strong correlation, while Bitcoin SV, Stellar, Tron, Ethereum Classic, Maker, NEM and Basic Attention Token showed a weak correlation.
CME and Bakkt options
CME Group has published specifications for its forthcoming options on Bitcoin futures, due in the first quarter of next year. Bakkt will also offer options from December and Intercontinental Exchange (ICE) boss Jeffrey Sprecher said all types of institutions are talking to them about it. Bakkt is also pushing for adoption of BTC as means of payment and will launch a payments app next year. Bakkt's volume has held up this week, averaging $8.4 million a day (US$5.8 million).
Ethereum upgrade a month away
Ethereum's system wide upgrade 'Istanbul' is scheduled to arrive in the first week of December (unless things go pear shaped, in which case expect it in early January). The upgrade will increase security and network performance and help move Eth along the road towards Proof of Stake. In other news CasperLabs claims its 'Highway' is the first Casper Proof of Stake implementation that is both live and safe.
Stellar burns 55 billion XLM
Stellar's development foundation (SDF) has made the decision to burn approximately 55 billion lumens – 5 billion from their operating fund, and 50 billion from the remaining XLM earmarked for giveaway promotions. This accounts for approximately 50% of the entire Stellar lumens allocation in existence. The SDF decided that the two funds were too large for what they were trying to achieve for Stellar and the transformation of the global financial system. The market reacted positively to this, with the price spiking upwards 20%.
Until next week, Happy Trading!
Independent Reserve Trading Desk