Market Update 19th – 25th June 2019
Welcome back to another Australian crypto market update.
In Markets
Facebook's Libra coin announcement appears to have lit a fire under Bitcoin, with the cryptocurrency up almost 19% this week to $16,000, and attracting mainstream coverage on ABC and Bloomberg. The widely held belief in the crypto sector is that Libra will usher in millions of new crypto users over the coming years. The 24 hour crypto volume hit $123 billion on Sunday and the total crypto market cap peaked at $482 billion on Monday. BTC dominance is at 59.4%. Bitcoin's 170% gain so far this quarter is the best second quarter on record and the highest percentage gain since the ATH. However, alt-season doesn't seem to have arrived just yet – though most of the top ten increased this week. Ethereum was up 14%, XRP added 5.5%, Litecoin (2.3%), Bitcoin Cash (10.9%), EOS (2.3%). Stellar lost 1.1%, BAT lost 6.6% but OMG increased 11.3%.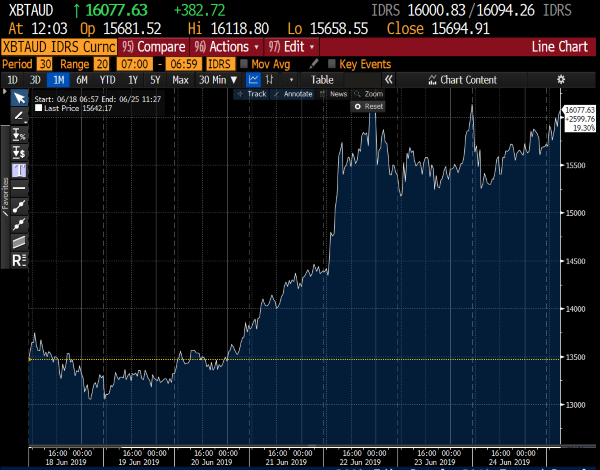 Source: Independent Reserve Bitcoin/AUD chart on Bloomberg
In Headlines
Bitcoin will hit $100,000
Veteran trader Peter Brandt – famous for calling the 2018 price crash – believes Bitcoin is headed to $100,000 in its current "fourth parabolic phase". But in the short term he says the "Obnoxious Twitter Millennial Index" is registering "extreme FOMO" so it might be a good time to take some profits. Morgan Creek Digital Assets founder Anthony Pompliano also thinks the BTC price will hit $100,000 by the end of 2021. "My current confidence level of this happening is around 70-75%," he says. But another analyst, Trace Mayer, believes the upswing has been "overextended" and the chance of hitting $40k in the coming months is a "very low probability".
Institutions, not retail investors, driving the surge
Google Trends data suggests the latest price spike isn't being driven by retail investors. Searches for "Bitcoin" and "Buy Bitcoin" remain around 90% down from the all-time high.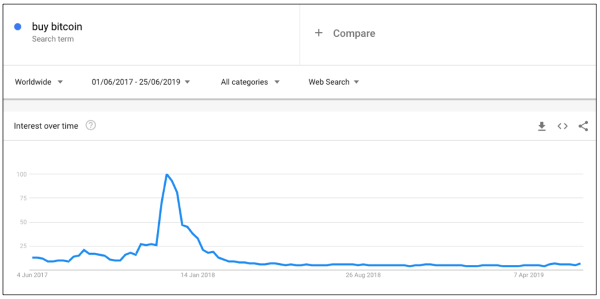 19% of people have purchased crypto (apparently)
Cybersecurity firm Kaspersky has released research from late 2018 revealing that 19% of people worldwide have purchased crypto (sounds high, but there you go). Only 14% of those who haven't purchased crypto said they were interested in doing so. Of those who have given up on crypto, 31% said it was too volatile and 19% blamed the threat of hacks. 10% of respondents courageously said they "fully understand how cryptocurrencies work".
Pulling a swifty on blockchain technology
SWIFT – the international banking money transfer system – intends to go all in on blockchain technology. The network has released a paper called "Payments: Looking into the Future" and says it will adopt blockchain pending a successful proof of concept on the R3 trade platform. The "Global Payments Innovation" project aims to provide instant, frictionless, global 24/7 payments from any bank account to any other.
市场资讯
脸书天秤币(Libra)的推出似乎为比特币 的升温又添了一把火,本周加密货币上涨 19%,达到16,000澳元,引发ABC和 彭博 社 等主流媒体关注。加密业界普遍认为, 天秤币将在未来几年里吸引数百万新的加 密用户。周日,加密货币交易额在24小时 内达到1230亿澳元,至周一时,加密市场 总市值达到4820亿澳元。比特币居龙头地 位,占到59.4%。比特币本季度迄今涨幅 170%,创下有记录以来最佳第二季度表现 ,也是自ATH(价格居高不下)以来的最 高涨幅。然而,尽管排名前十的币种本周 多数都有上涨,但"Altseason(代币季节 )"似乎尚未到来。以太坊上涨14%,瑞波 币上涨5.5%,莱特币上涨2.3%,比特币现 金上涨10.9%,柚子币上涨2.3%,恒星币 下跌1.1%,注意力币下跌6.6%,但嫩模币 上涨11.3%。
头条消息
比特币将达到100,000美元
资深交易员Peter Brandt (因曾正确预测比 特币在2018年的价格崩溃而闻名)认为比 特币正处于"第四次抛物线升势",将达到 10万美元。但他表示,短期内"讨人厌的推 特千禧指数(Twitter Millennial Index)"正 在引发"极端的错失恐惧情绪",所以现在 可能是获利的好时机。摩根溪数字资产公 司(Morgan Creek Digital Asset)创始人 Anthony Pompliano也认为,比特币价格 将在2021年底前突破10万美元:"目前我对 这件事的信心水平大约在70-75%。"但另一 位分析师Trace Mayer认为,涨势已经"补 涨过度",未来几个月达到4万美元的可能 性"非常低"。
Until next week, happy trading!
Independent Reserve Trading Desk
澳大利亚交易平台