Market Update 16th – 24th July 2019
In Markets
The markets remain volatile – earlier this morning Bitcoin was around $14,500 but has since plunged to around $13,950 at the time of writing. The top ten altcoins are all in the green this week, after a month in which they pulled back by around a third each. Ethereum is up 2.11%, Ripple (2.8%), Litecoin (11.3%), Bitcoin Cash (2%), EOS (11.25%) and Stellar (5.6%).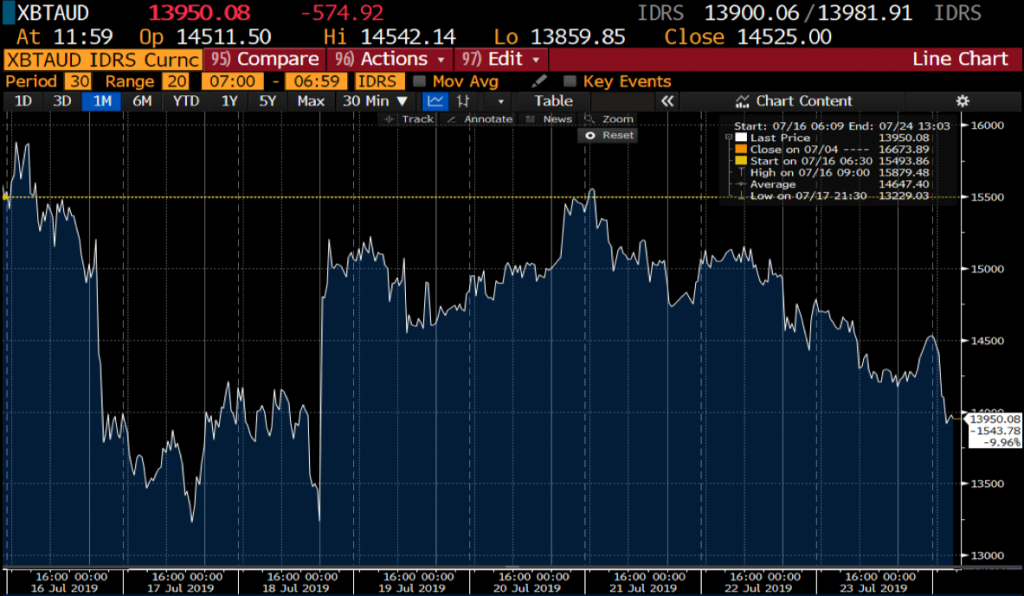 Source: Independent Reserve Bitcoin/AUD chart on Bloomberg
In Headlines
Independent Reserve is the Aussie Exchange of the Year
Independent Reserve won Digital Currency Exchange of the year at last night's Blockies awards. "It's a real privilege to stand alongside some of the incredible innovators in this year's Australian Blockchain Industry Awards," said IR Founder Adrian Przelozny.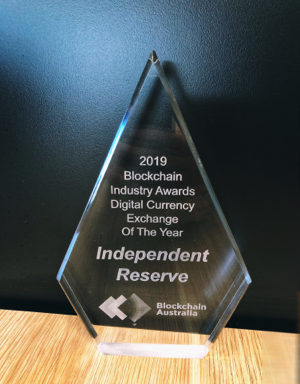 New all time highs
The Bitcoin hash rate hit a new all time high on July 20 at almost 80 EH/s. Mining difficulty is at record levels above 9.06 trillion and transaction outputs peaked at more than 6 million in a day. Coin Metrics data shows the amount of untouched Bitcoin – that hasn't moved from a wallet in at least 180 days – has also hit a new all time high of 21.6%. Either Bitcoin is fast becoming a store of value or a lot of people have lost their private keys.
Novogratz says Bitcoin is consolidating
Former hedge fund manager Michael Novogratz isn't worried about Bitcoin's recent price movements. In a tweet this week he said Bitcoin had already established itself as a store of value and "is consolidating before its next move higher".
Is the 'halving' price spike a myth?
Researchers from algorithmic trading software company Strix Leviathan analyzed the history of 32 halving events and concluded that the much anticipated halving price spike is a myth.
Ethereum 2.0 price spike, then?
Could the upcoming Ethereum 2 upgrade to Proof of Stake provide a boost to the market? It will reduce the supply of newly mined ETH from 6.3 million a year down to 500k a year. Around 10 million ETH will be staked in the new system, locking up about 10% of the current supply. Researchers Enroyd report social media sentiment on Ethereum is all over the place – 'very positive' earlier this week to 'very negative' today.
Just a reminder that Independent Reserve is helping you get prepared for tax season with our integrated tax tool co-developed with KPMG. Get a report of your tax exposure and transactions at the click of a button.
That's all from us. Until next week, happy trading!
Independent Reserve Trading Desk