Market Update 20th – 27th August 2019
Welcome back to another Australian crypto market update.
In Markets
Bitcoin is down 5% for the week to be trading around $15,100 at the time of writing. Over the weekend, Bitcoin's 30-day volatility dropped to its lowest point since June 25 and it's more than 50% down from its recent peak on July 19. Judging by the escalation in US/China trade hostilities though, the Trump volatility index remains high. Ethereum is losing ground fast, falling 7% this week to $280. XRP lost 4.4%, BCH (-3.8%), Litecoin (-3.8%), EOS (-3.6%) and Stellar (-2%)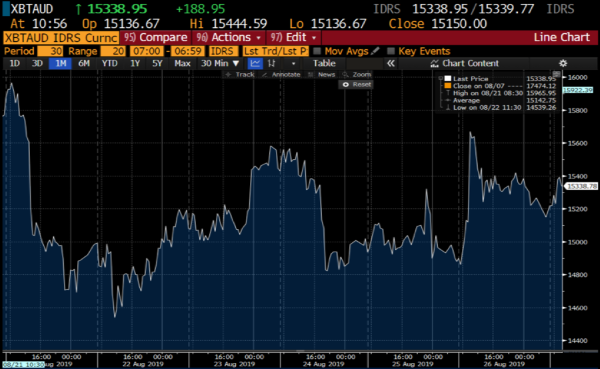 Source: Independent Reserve Bitcoin/AUD chart on Bloomberg
In Headlines
US$10k is the 'new normal'
Bitcoin's has established a "new normal bottom price" of US$10,000 (A$14,760) according to deVere Group CEO Nigel Green, who is tipping an imminent spike to $15,000 (A$22,141). Max Keiser, founder of Heisenberg Capital, believes a stock market dive could push Bitcoin to US$25,000 ($A36,900). But CNBC's resident crypto bull Brian Kelly pointed to a decline in active Bitcoin addresses to predict Bitcoin was headed lower in the short term. However, he thinks this presents a "generational" buying opportunity.
Bitcoin or gold as a 'safe haven'?
Tweets about Bitcoin becoming a 'safe haven' have risen dramatically recently. Digital Asset Data crunched the numbers and discovered that over the past three months, Bitcoin has moved in tandem with gold, and swung in inverse proportions to the share market. However, BTC's volatility works against it: an average 12.4% annualized 30-day volatility over the last five years, as compared to ~0.50% for treasury bonds and gold's 2.5%. Yesterday, gold's market cap grew $370 billion in 24 hours – which is more than BTC's entire market cap. But Bitcoin's 9.5% rise in the past 30 days, is much better than gold's 5.5% rise.
Bitcoin more dominant than we thought
Bitcoin's market dominance is officially hovering around 69% – but new research from Arcane Crypto suggests that's an underestimate and the real figure (with trading volume used to adjust relative market caps) is closer to 90%.
Wright way to lose $2.5 billion in BTC
Australia's "Satoshi" Craig Wright has reportedly been ordered to pay former partner David Kleiman's family 50% of the Bitcoin mined prior to his death. Technically (if Wright actually has access) this could mean up to 550,000 BTC hitting markets. If he doesn't have access to it, he may need to sell a lot of Bitcoin SV.
Lightning fails to strike
The Lightning Network grew 77% in the first three months of 2019 but since then growth has slowed and it's only managed to increase a further 15%. The incentives seem off: LNBIG, which runs 40% of the network, has revealed it makes just $20 in fees per month from $5 million locked up.
Ripple headed the wrong way
No.3 cryptocurrency Ripple (XRP) is the only coin in the top ten to post losses for 2019, dropping 23% so far. There's a petition urging Ripple to stop dumping tokens on the market. It sold more than a quarter of a billion dollars' worth last quarter. XRP fans remain optimistic though – this week 83% of 1456 respondents to a Twitter poll predicted XRP was the most likely coin to hit 2-5 trillion dollar market cap by 2020.
Until next week, Happy Trading!
Independent Reserve Trading Desk