In Markets
It was an insane week on the markets, with sudden pumps and dumps, worldwide media attention and general weirdness, like KISS bassist Gene Simmons buying XRP and DOGE. The Bitcoin price has traded between $40K and almost $50K and finishes the week 3.8% up around $44,100. Almost everything else was up including ETH (4.3%), XRP (35.5%), Chainlink (1.7%), Stellar (6%), EOS (14.1%), AAVE (22.1%), SNX (11.9%). Bitcoin Cash lost 5.2% and Litecoin was flat. The Crypto Fear and Greed Index is at 77 (Extreme Greed).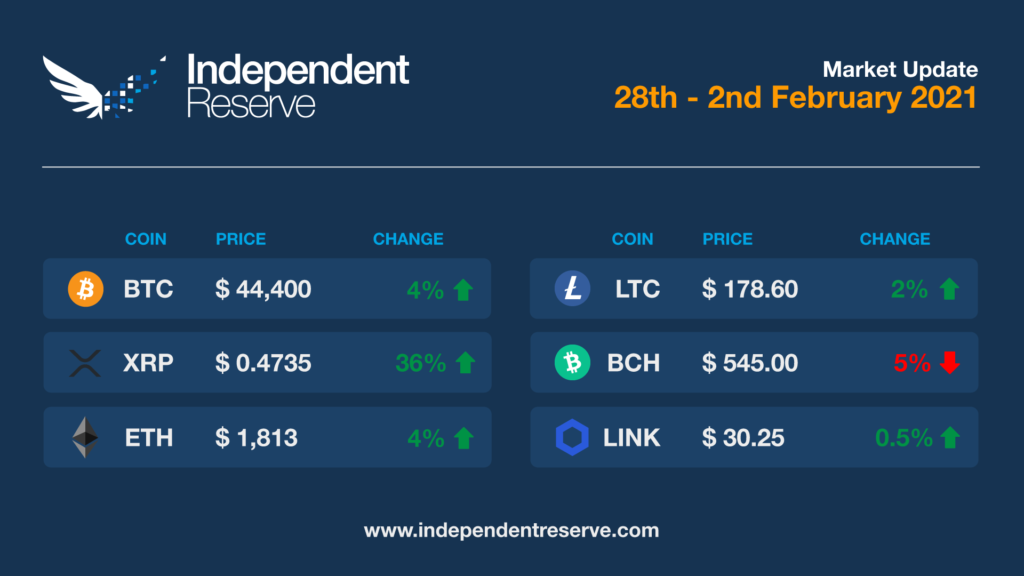 In Headlines
r/WallStreetLoses
The GameStop saga got wall to wall mainstream media coverage. If you've been living under a rock, a subreddit decided to take on hedge funds shorting a video game retailer, crowdsourced a short squeeze and the hedge funds got rekt. TD Ameritrade and Robinhood then suspended trading in GameStop, turning the whole incident into the best advertisement possible for decentralised, uncensorable finance. "Yes, Bitcoin could be the new GameStop" said CNBC as 200K new members flooded the r/Bitcoin subreddit. The whole saga is already being turned into a Hollywood movie with The Winklevoss twins as exec producers, based on a proposed book by the writer of The Social Network and Bitcoin Billionaires, Ben Mezrich.
IR in the media
CoinDesk reported on Independent Reserve's decision to delist BSV on March 28. CEO Adrian Przelozny explained Bitcoin and IR were both founded on the principles of openness and freedom. "The behaviour shown by the team behind BSV has been completely counter to these ideals, repeatedly spreading misinformation and making baseless threats against the community. Recent talk of legal action against developers working to improve the Bitcoin ecosystem proved to be the final straw. These are the actions of a bully and they must stop," he said.
XRP files its response.
The XRP pump started on the same day Ripple filed a fairly comprehensive response to the SEC's charges that claim it's an unlicensed security. The defence points out that in 2015 and again in 2020, the DOJ and FinCEN determined that XRP is lawfully used and traded as a virtual currency, which is consistent "with the economic reality that XRP functions as a store of value, a medium of exchange, and a unit of account – not a share in Ripple's profit." Ripple also tried to drag Ethereum into the mess.
Crypto crime more than halved in 2020
Good news from CipherTrace's annual report: hacks, theft and fraud dropped 57% last year. Unfortunately, 50% of the crime is now concentrated on DeFi protocols, with rug pulls accounting for 99% of major fraud in the latter half on the year.
Are hedge funds ready to pump Bitcoin?
Ray Dalio, the famed founder of the world's largest hedge fund Bridgewater, has come around to Bitcoin after famously writing it off for years in favour of gold. "I believe Bitcoin is one hell of an invention" he said in a note to clients, going on to discuss allocation sizes and concluding that bitcoin is "an option on a potential storehold of wealth"
Ether Trust reopens
In bullish news for Ether, the Grayscale Ethereum Trust, with more than $5B ETH under management has reopened to new investors after its suspension since December. "The Trust's private placement is offered on a periodic basis throughout the year and is now available to accredited investors for daily subscription," Grayscale noted. The Trust was buying up around $130M of ETH a week before the suspension and ETH devotees hope to see some pent up demand reflected in the price. In related news Grayscale is buying BTC 54% faster than it is mined so far in 2021.
DeFi Digest
A round up of the top news in Decentralised Finance
🥈 Tokenised silver sXAG is added to synthetix.exchange with over $7m traded in the first 24 hours.
🤝 Reddit has announced a partnership with the Ethereum Foundation.
💰 2x – 10x on-chain leverage longs or shorts on any assets listed on AAVE, Cream, Compound or Iron Bank are coming to Yearn Finance.
📈 An overview of DeFi protocols performance across different sectors in January.
Until next week, happy trading!