Market Update 5th – 11th November 2019
Welcome back to another Australian crypto market update.
In Markets
Despite the recent downtrend, sentiment seems to be stablising, with the Crypto Fear and Greed Index hovering around 32, which is 'Fear' rather than 'Extreme Fear'. Coindesk reports the weekly chart has also just seen a bullish 'Golden Cross' of the 50 and 100 period moving averages for the first time in three years. At the time of writing Bitcoin was up 1.1% on seven days ago and trading around $10,700. Ethereum and EOS held steady, while XRP gained 2.1% and BCH was up 2.5%. Stellar lost 2.6%. Tezos looks as if it may soon join the top 10 coins, after it surged 28% this week.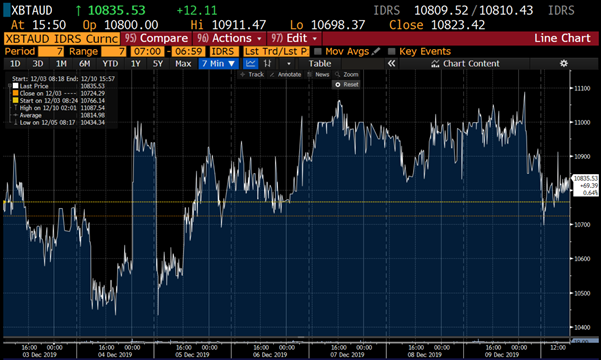 Source: Independent Reserve Bitcoin/AUD chart on Bloomberg
In Headlines
Bitcoin's yearly lows get ever higher
The Bitcoin price seems unlikely to hit a new all time high this year but the good news for hodlers, is that in every year (except 2015) Bitcoin has recorded higher yearly lows. The hash rate is also just under 100 million Th/s mark, which suggests that fears of Bitcoin miner capitulation due to the price are yet to eventuate.
Deutsche Bank predicts crypto could replace fiat
A new report from Deutsche Bank predicts that Bitcoin and other cryptocurrencies could replace the 'fragile' fiat currency system by 2030. 'Imagine 2030' suggests that for that to happen crypto will need to overcome regulatory hurdles and get key stakeholders onboard including Visa, Mastercard, Apple Pay, Google Pay and retailers like Amazon and Walmart.
3,000 transactions per second on Ethereum?
Ethereum's latest upgrade in 2019, Istanbul, has gone live. It's the eighth hard fork overall and co-founder Vitalik Buterin reckons it'll enable Visa-level throughput of up to 3000 transactions per second. The recently launched second layer solution called ZK Sync from Matter Labs promises to do just that. The upgrade was designed to make the network more resistant to Denial of Service Attacks, improve interoperability with equihash based proof of work coins like Zcash, and lower gas costs. Despite the promising outlook, the price didn't budge and Google searches for Ethereum are at lows last seen in 2016.
China loves EOS, Weiss downgrades it
Ethereum has also crept up the list of China's most favoured cryptocurrencies, coming in at number 2 on the CCID Global Public Blockchain Technology Assessment Index. It replaces TRON, which is now third. Bitcoin is back into the top 10 and EOS remains number one. However, in a separate report Weiss Ratings has downgraded EOS from a B to a C- due to concerns over it being too centralised.
Bitcoin sitting idle, could signal 'dramatic shift'
The Wall Street Journal reports that 9.1 million Bitcoins, representing about 51% of those outstanding, haven't changed hands in at least six months. About 3.7 million wallets hold 99% of all the Bitcoin in circulation (though some of those are exchange wallets holding Bitcoin for many other users). "A lot of people are sitting at the moment," said Eric Stone, the head of data science at Flipside. "It can be the precursor to dramatic shifts."
Bakkt joins the US Government, Millennials love Grayscale
Bakkt CEO Kelly Loeffler has become a US Senator-designate for Georgia in the same week that Bakkt launched Bitcoin Monthly Options and its Cash Settled Bitcoin Futures. The new products take prices from its physically settled BTC futures which the company claims helps avoid the sort of market manipulation widely believed to occur with CME. And according to Charles Schwab's SDBA Indicators Report, the Grayscale Bitcoin Trust is the fifth most popular equity holding for Millennials who prefer it to investing in Disney, Neflix or Microsoft.
Bitcoin set for take off?
Veteran analyst Peter Brandt believes Bitcoin is headed to US$100,000 ($146,000), and has mapped out two scenarios to get there. The bearish case sees the price bottoming out at US$5324 ($7800) in mid 2020, while the bullish scenario has BTC hitting new highs next year. Meanwhile, on chain analyst Willy Woo reckons that indicators tracking investor momentum mean the bottom is in and everything is 'go' in the run up to the halving. "I only tweet when I'm at high confidence, else it erodes my rep," he said.
That's all from us. Until next week, happy trading!
Independent Reserve Trading Desk