Market Update 27th November – 4th December 2019
Welcome back to another Australian crypto market update.
In Markets
There hasn't been a huge amount of movement with prices compared to this time a week ago, although Bitcoin is up 2% to trade around $10,800 at the time of writing. Bitcoin Cash (2.2%), EOS (4.7%) and Ether (1.4%) also made gains compared with seven days ago, while XRP (0.7%) and Litecoin (1%) held steady. Stellar lost 1.6%. Zooming out to the bigger picture, all of the top ten coins are down around 20% to 25% on a month ago.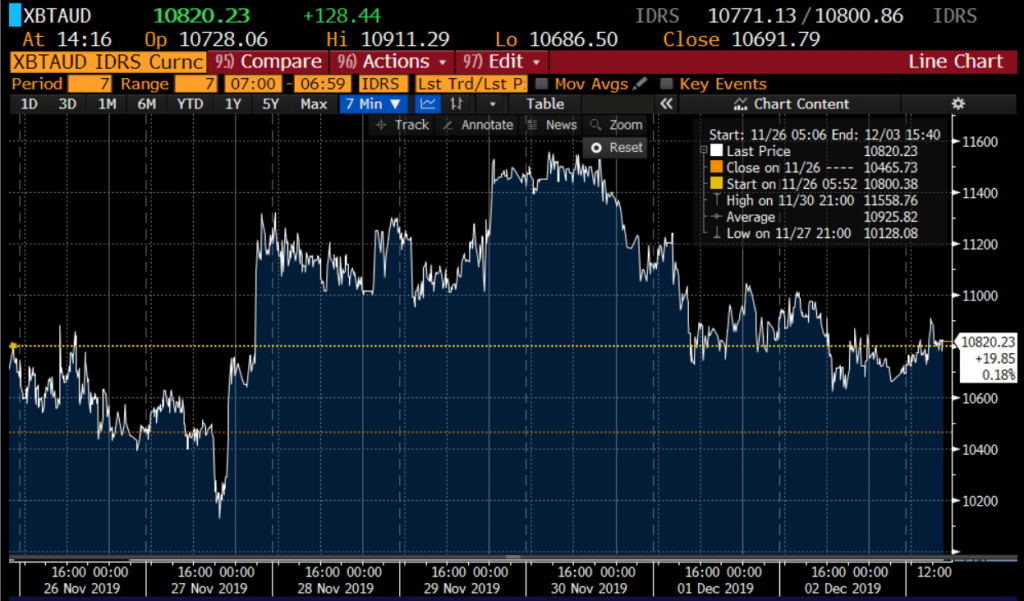 Source: Independent Reserve Bitcoin/AUD chart on Bloomberg
In Headlines
Lightning Network down
Public usage of Bitcoin's Lightning Network has dropped 50% since the middle of the year. The Lightning Network is supposed to provide fast and cheap transactions to enable Bitcoin payments to scale. However just $8.94 million worth of BTC is locked on the platform. Researchers from Hungary found that running a node on Lightning is 'economically irrational' and said fees needed to increase 10x to 20x to make running a node make sense.
Bitcoin has scaled however
BitMEX researchers this week concluded that the upgrades made to Bitcoin over the years have allowed it to scale significantly. "Even with the latest computer hardware, older versions of Bitcoin struggled to get past the pickup in transaction volume which occurred in the 2015 to 2016 period. Therefore we conclude that without the software enhancements, an initial synchronization today could be almost impossible."
Bankers will never use XRP – Coinmetrics
Ripple has partnerships with more than 200 regional and international banks around the globe with India's HDFC Bank, Pakistan's Faysal Bank and SendFriend the latest to join. But most aren't using the On Demand Liquidity product that utilizes XRP. Nic Carter, co-founder of Coinmetrics, this week said bankers hate being told they are going to use XRP. "They will never use it, there are structural reasons they cannot (does the Ripple army know about Basel III?) and even if they could, they wouldn't". The XRP army on Twitter strongly disagreed with his conclusion.
Ethereum inflation increasing
The new Ethereum supply has dropped 13% in the space of a month to its lowest level ever – but it will be increasing soon. The developers have just agreed to delay the 'difficulty bomb' which means inflation will increase by 2000 ETH a day to 13,600. Meanwhile, Ethereum developer Virgil Griffith has been arrested for allegedly providing the North Koreans with information about blockchain that could help them evade sanctions.
Germany allows banks to buy and hold crypto
In Australia banks have been none too friendly to those who trade in crypto. In Germany, they've just passed a law that allows German banks to both sell and store crypto from January 1.
Wash trading 'out of control'
Coinmarketcap's new liquidity measurement can't be introduced too soon. Crypto analyst Mati Greenspan said today that almost five times the amount of Tether in existence changed hands in the past 24 hours, along with 66% of EOS, and 93% of Litecoin. "I think this wash trading thing is getting a bit out of hand" he tweeted.
Hacks and frauds decrease in quarter three
Around 342,000 Ether was stolen from the hot wallet of South Korean exchange UpBit this week (the exchange will cover user's losses). While the rate of crypto theft and fraud decreased in quarter three, CipherTrace's Q3 2019 Crypto Anti-Money Laundering Report puts the annual total so far at $6.45 billion.
Will Bitcoin see a Santa Claus Rally?
Bitcoin has made a major 30% price move in December every year since 2015. Two Decembers saw a 35% gain, the price doubled in Dec 2017, and last year it went down 35% before recovering by a similar amount. Will the trend of big moves continue this month?
Until next week, happy trading!
Independent Reserve Trading Desk