Market Update 13th – 19th November 2019
Welcome back to another Australian crypto market update.
In Markets
It wasn't the greatest week on crypto markets, with the leading cryptocurrency falling 5.33% to $12,090 at the time of writing. Let's call it 'consolidation'. The BTC price is reversing the gains from October's Chinese blockchain announcement and is pretty much back where it was in late November 2017. That was of course around the same time it went on the bull run that led to the All Time High so fingers crossed. The entire top ten was down this week. Ethereum (-3.4%), XRP (-6.9%), Bitcoin Cash (-7.9%), Litecoin (-8.8%), EOS (-7.3%), Stellar (-15%). The Fear and Greed index is at 38, or "fear".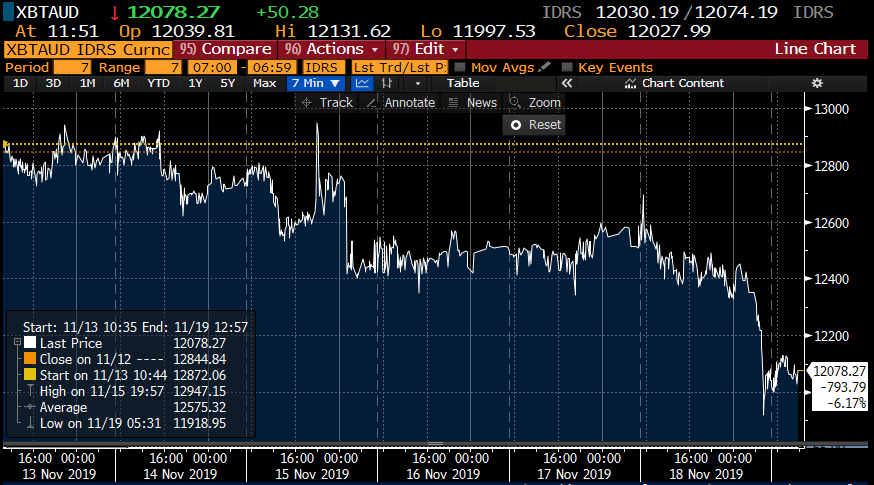 Source: Independent Reserve Bitcoin/AUD chart on Bloomberg
In Headlines
Privacy coins not so private
The privacy focused Mimblewinble blockchain protocol turns out not to be private at all, after a researcher spent about $60 on Amazon Web Services to uncover addresses of senders and recipients for 96% of transactions on the Grin network. Mimblewimble is also used for Beam and is being implemented on Litecoin.
Libra rises to the test
Facebook's Libra faces challenges on all sides, but the testnet for the new coin is humming along, according to a blog post from the Libra Association. The testnet has registered more than 51,000 transactions since September. There are 34 projects being developed on Libra's testnet including 10 wallets and 11 blockchain explorers. A replica mainnet also has seven nodes in operation and 14 more in progress.
Aussie project second in DeFi world, gains 3100%
Australian decentralized finance (defi) project Synthetix has overtaken Compound to hit second place on the DeFi Pulse leaderboard, with A$182 million worth of Ethereum locked up. It's now second only to Maker (the project behind stablecoin Dai), which has $511m locked up. By comparison Lightning has around $10.4m worth of BTC locked. Synthetix is actually the rebadged Havven, which was Australia's largest ever ICO. The SNX token has increased by 3100% from its low in January this year.
Are 'the institutions' investing in Grayscale?
Researchers from The Block looked at Grayscale's recently released quarter three report (which showed their assets under management fell by a fifth this quarter). They found that just 1.3% of Grayscale Bitcoin Trust assets are from US institutional investors with more than US$100 million AUM (A$147m). It would seem the really big guys in the US are hesitant when it comes to BTC (and none were in Grayscale's Ethereum Trust product at all). That said, about half of Grayscale's Q3 inflows came from offshore accounts, so the big guys may still be investing if they have set themselves up in offshore tax havens.
CoinMarketCap introduces new liquidity measure
The Coin Market Cap list of top exchanges is heading for a major shake up, with the company set to rank exchanges in future on a new liquidity metric, rather than on volume. The metric is sorely needed as around seven in 10 exchanges wash trade the majority of their volume to game the CMC rankings (among other reasons). You can see the results already for around 50 or exchanges, with the switch to ranking exchanges on liquidity expected in the coming months.
Snippets of Bitcoin hopium
News BTC reports that the 'Kumo' in the 'all in one' set of technical indicators known as 'Ichimoku Cloud' has flipped from red to green. The Kumo is used to detect reversals and implies the formation of a long term bull trend. Futures markets are also more than compensating for the decline in spot market volumes, with the combination 40% greater than during the all time high.
Bitcoin upgrades coming
Decentralisation is a wonderful thing until it comes time for everyone to agree on upgrades, as the Bitcoin forks attest. A new review group of almost 200 developers is currently spending two months reviewing and battle testing the 'Taproot' and 'Schnorr' Bitcoin Improvement Proposals. The upgrades aim to enhance privacy and scalability. The best known 'BIP' to be accepted thus far was Segregated Witness which paved the way for Lightning Network.
Until next week, happy trading!
Independent Reserve Trading Desk