Market Update 22nd – 28th January 2020
In Markets
Bitcoin is up 6.4% in the past 24 hours to trade above $13,450 at the time of writing. That's a 2.6% increase on the same time last week, and 22% for the month. With the exception of XRP (-1.4%) everything else in the top ten is also up on seven days ago: Ethereum (2.3%), Bitcoin Cash (4.5%), EOS (9%) and Litecoin (2.3%). Stellar, at No.12, lost 5.6% this week.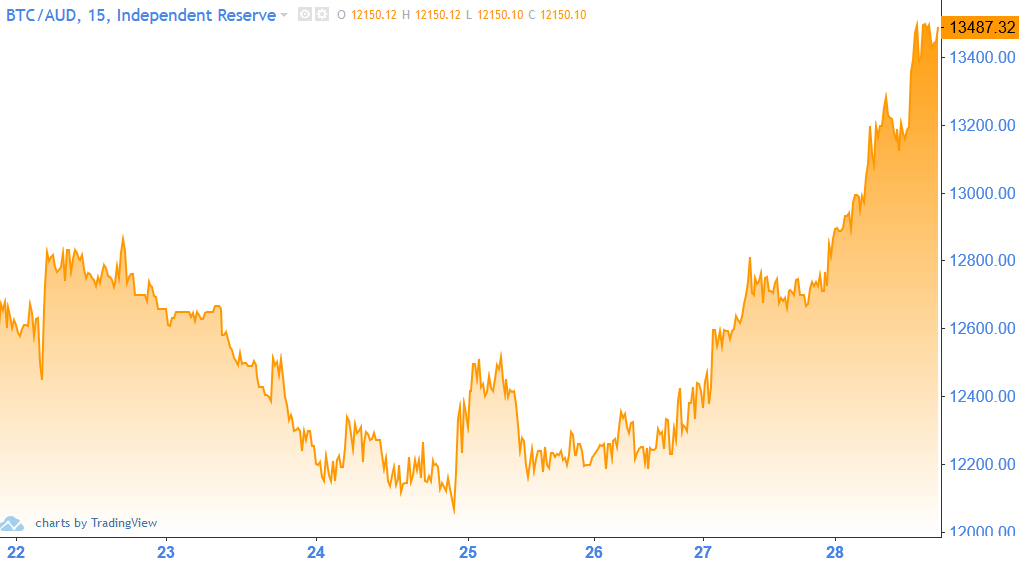 Source: Independent Reserve Bitcoin/AUD chart
In Headlines
Independent Reserve Singapore
Singapore based customers are now able to buy, trade and hold digital currencies through Independent Reserve's platform. Following a number of positive moves by Singaporean regulators, we felt the time was right to make this move. The response we've received so far from the Singapore market has been overwhelmingly positive.
Stealing their thunder
The Lightning Torch was a huge PR success a year ago and highlighted the network's ability to enable small value transactions with low fees, as each participant added 10,000 Satoshis to the chain. But the first anniversary Lightning Torch 2 hasn't been quite as successful from a sociology point of view. In the first eight days, it's already been stolen four times, and only resurrected by the previous link in the chain covering the cost ($176 currently) to keep the torch going.
BTC a safe haven?
Bloomberg has noticed Bitcoin's potential status as a 'safe haven' asset after BTC spiked at the same time that global stocks took a dive following news from China about the 'Coronavirus'. It doesn't appear to be Chinese citizens flocking to BTC though – China's Bitcoin trading volumes on LocalBitcoins has fallen to two year lows and BTC searches on Baidu have also dropped sharply.
Mega block unleashed on BSV
Bitcoin SV this week produced a 1 gigabyte block on the testnet containing 5.5 million transactions. After 240 massive blocks of that size, BSV's total blockchain size would be larger than Bitcoin's is after 11 years.
Bitcoin on Mars
The guys at Brave New Coin have this week been speculating on whether cryptocurrency could underpin the economy of Elon Musk's proposed Martian settlement. It's complicated by the fact the blockchain will be 22 minutes out of date and transactions are likely to take hours rather than minutes to confirm – though Lightning may be able to help.
Crypto growth mirrors internet growth
Deutsche Bank has published new research suggesting the growth in blockchain adoption mirrors that of the internet in its early years – just smaller by a factor of 10. The report says the internet had 500 million users after eight years of existence, while crypto adoption is currently around 50 million. But the report optimistically predicts "a near future in which cryptocurrencies gain broad acceptance."
Ethereum and the trillion dollar market cap
Lucas Campbell from DeFi Rate has laid out the path for the second most popular cryptocurrency to hit a trillion dollar market cap. Writing in Bankless, his scenario is predicated on the idea that Ether will be the reserve currency for the decentralised finance ecosystem.
Bitcoin Cash's controversial mining tax
Four of the leading Bitcoin Cash mining outfits (BTC.Top, Antpool, ViaBTC and Bitcoin.com) have banded together to direct 12.5% of block rewards over six months to "support Bitcoin Cash infrastructure" (a long running debate in BCH circles). Controversially, they're forcing other miners to pay the tax too. In response, some other miners have threatened a fork.
Ripple to launch an IPO?
Ripple CEO Brad Garlinghouse has predicted there will be a number of crypto/blockchain Initial Public Offerings in the next 12 months – and Ripple might be one of them. "We're not going to be the first and we're not going to be the last, but I expect us to be on the leading side… it's a natural evolution for our company," he said.
Until next week, happy trading!
Independent Reserve Trading Desk