Market Update 24th – 30th July 2019
In Markets
Bitcoin is down 7.4% over the past week (and 20% over the past month) to $13,665. As of Friday, 58% of traders on CME's futures market were betting the Bitcoin price will go down further. Interestingly, the whales are on the move today with 318,649 Bitcoin worth $4.3 billion, moved between wallets. What are they up to? The only bright spot in the top ten this week was EOS which gained 2.9%. Everything else was down. Ethereum (-2.2%), XRP (-3%), Litecoin (-3.8%), Bitcoin Cash (-0.5%). Stellar lost 5.5%.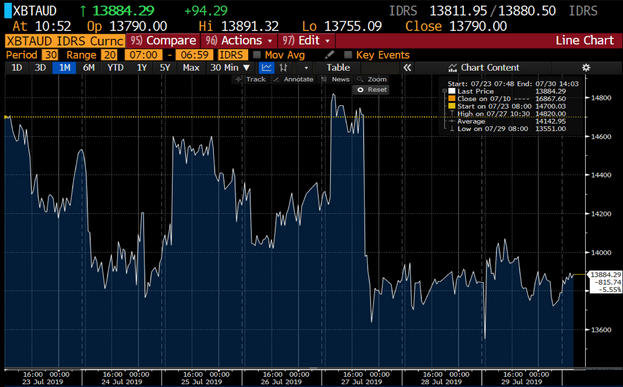 In Headlines
The big picture
New analysis by Brave New Coin found that Bitcoin has been the best performing asset – when compared with stocks, bonds, gold, silver and oil – over 1 year, 3 years and 5 years.
Five years of Ethereum
Ethereum is celebrating five years since its 2014 presale. It's processed 500 million transactions since then, with 130 million of them from this year. More developers work on Ethereum than any other blockchain – up almost a quarter this year. 42% of the top 50 finance dApps are built on Ethereum. However the hash rate is down by 42% since the all-time high, making the network less secure, at least until it moves to Proof of Stake next year.
21 million potential US investors
A survey of 1100 people found 36% of US investors are interested in Bitcoin – or around 21 million people. The profile of the average Bitcoin investor is almost identical to the average stockmarket investor, although there are more men (57%) than women (43%). Three quarters of those surveyed are attracted to Bitcoin as it is a finite asset and they believe scarcity creates value.
Libra may never launch
Facebook warned in its quarterly report that Libra may never launch, saying: "Market acceptance of such currency is subject to significant uncertainty". Apart from regulators, one big hurdle it faces is Facebook's terrible reputation on privacy. A survey of 2000 people in the US and UK found privacy concerns would deter all but 3% from using Libra. A separate survey of 1700 Americans from CivicScience found only 2% preferred Libra to Bitcoin.
Litecoin halving next week
The Litecoin block reward halving is now less than a week away on August 5. The block reward will decrease from 25 LTC to 12.5 LTC. Around three quarters of LTC's total supply has now been mined.
Bank of China promotes Bitcoin
In a possible sign that attitudes are softening towards Bitcoin in China, the state-owned Bank of China this week posted a Bitcoin explainer article and infographic on its website.
Could negative interest push Bitcoin to $100k?
That's Max Keiser's theory anyway, based on a Bloomberg article about the bond market where negative yields are destroying returns. Keiser believes central bankers will have to turn to Bitcoin to fulfill their need for hard money. "Central Banks will struggle to find enough gold to satisfy demand (even at $2,500 an ounce), so they will turn to Bitcoin to fulfill their need for Hard Money. Will this be the catalyst that drives BTC to Anthony Pompliano's $100k, 2021 target?" he tweeted.
Until next week, Happy Trading!
Independent Reserve Trading Desk