In Markets
Excitement has returned to crypto markets, but it's the bad kind, with the SEC suing Binance. Australia's CPI also rose to 6.8% and Deutsche Bank has forecast three more rate rises this year. There was some good news, in that the debt ceiling deal passed in the US, and will shave off "a few tenths of a percentage point" of the annual US deficit. Bitcoin plunged 5% in an hour on the Binance news, with analyst Marcel Pechman saying Bitcoin could test the US$25K resistance last seen in mid-March. At the time of writing Bitcoin was down 10% for the week to trade around A$38,918 and Ethereum was down 8% to trade around A$2,739. XRP was down 1% for the week, but Cardano fell 11%, Polygon lost 10%, and Solana lost 8% — all three were labelled securities by the SEC. Dogecoin was down 9.2% and the Crypto Fear and Greed Index is at 53 or Neutral, but expect that to fall.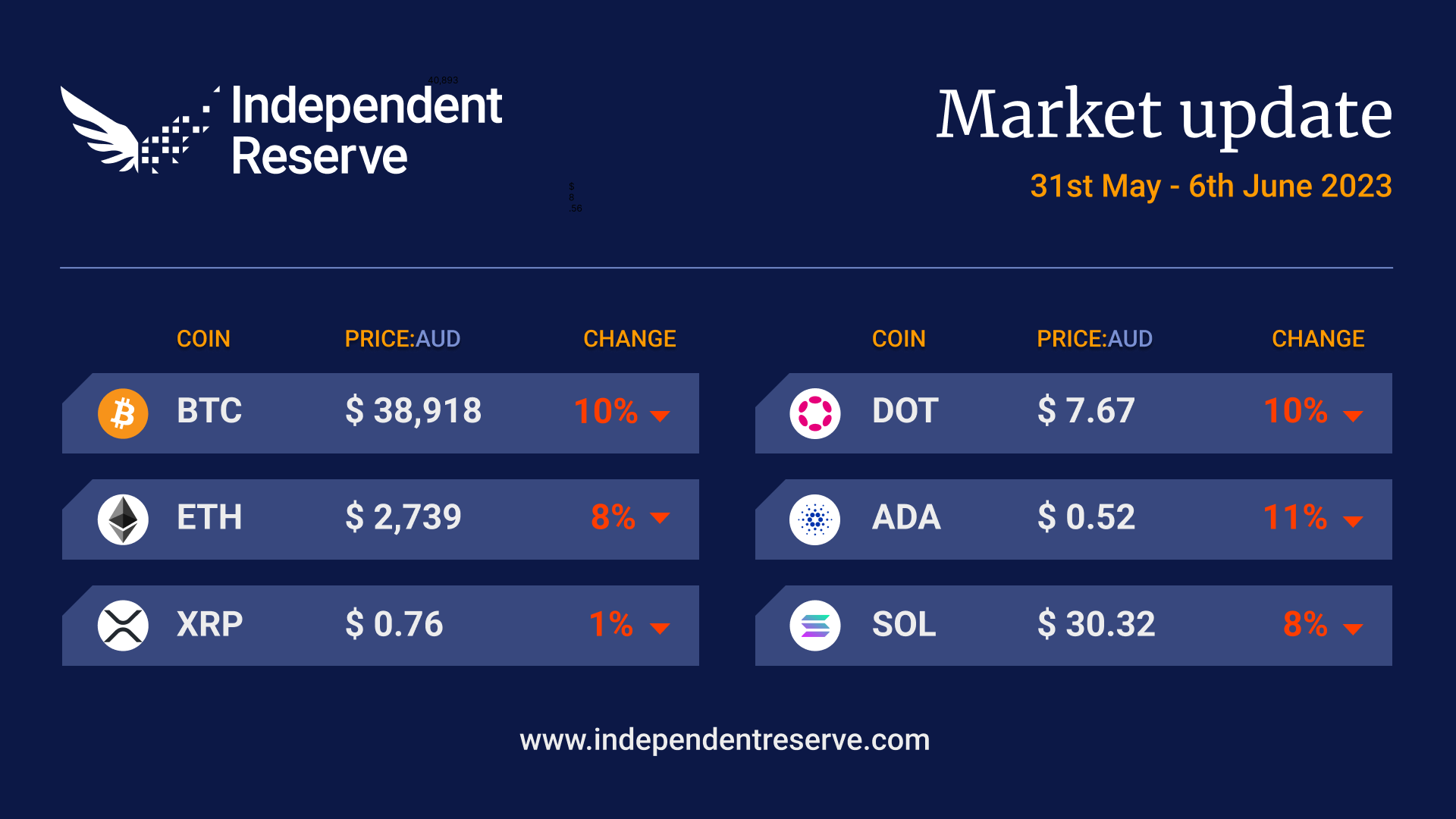 From the IR OTC Desk
The correlation between cryptocurrencies and global equities has continued to break down. This is not related to the macroeconomy, but quite specifically to regulation. In history, however, divergence usually creates an investment opportunity. While it remains too early to speculate on how the opportunity may present in this case, being patient should prove to be of virtue.
In the US, equity markets have remained buoyant, with the Nasdaq Composite closing more than 1% higher over the week. The USD dollar index (as represented by the DXY), saw a slight devaluation (-0.33%) to currently trade at 103.96. US 2yr notes remain well supported at 4.50%. The US employment data, received last Friday, was mixed. On the headline, it was reported that an additional 339k jobs were created for the month of May. Counterintuitively, this also corresponded with the unemployment rate moving from 3.5% in April up to 3.7% in May – all while maintaining a labour force participation rate of 62.6% (unchanged).
Critical to the US labour market release was the Average Hourly Earning's report, which fell from 4.4% (YoY) in April to 4.3% (YoY) in May. With JOLTs Job Openings rebounding to be back above10 million – an historically high level – next Thursday's Federal Open Market Committee (FOMC) meeting will likely remain comfortable in the strength of the US labour market. The market is currently pricing a 25% chance of a 25bp hike on the 14th of June FOMC meeting.
This week delivers US inflation data for May. Scheduled for Tuesday, core inflation is forecast to moderate to 5.4% (May) from 5.5% in June. A softening would be welcomed by the FOMC and would most likely see a reduction in the probability of an additional rate increase. Asset markets will remain cautious if inflation doesn't moderate.
"Some further tightening of monetary policy may be required to ensure that inflation returns to target in a reasonable timeframe, but that will depend upon how the economy and inflation evolve."
On the OTC desk, stable coin flow has finally slowed. While this seems only temporary, and is most likely FX translation related, there has been a noticeable increase in BTC, ETH and alt pricing this week. This is positive for the broader depth of the wholesale market and has highlighted that an underlying patient buyer remains. Historically, we have highlighted that USDT can often be a good leading indicator for alt activity, particularly when USDT is trading above 1:1 USD. Over the course of the week, we have seen USDT/USD edge higher, to now trade slightly above this level. While the macro environment may not be conducive to alt buying, this remains an important indicator to monitor.
For any further information, please feel free to reach out.
In Headlines
SEC sues Binance
The Securities and Exchange Commission has sued the world's largest crypto exchange Binance alleging it misused customer funds and operated an illegal trading platform in the US. The SEC announcement highlights how Binance's chief compliance officer told a colleague that, "[w]e are operating as a fking unlicensed securities exchange in the USA bro." The complaint names founder Changpeng Zhao as a defendant and alleges he and Binance diverted customer funds to a trading firm named Sigma Chain that engaged in manipulative trading to inflate Binance's volume. The SEC also says Binance commingled billions of customer assets and sent them to another third-party called Merit Peak, owned by Zhao. BNB, BUSD, SOL, ADA, MATIC, FIL, ATOM, SAND, MANA, ALGO, AXS and COTI are all named as securities in the complaint, though ETH, XRP and layer 2 tokens notably got a pass. "The result will likely be billions of dollars in fines and Binance no longer serving US customers," Crypto Titans author Markus Thielen said today.
Draft crypto bill focuses on decentralisation
In some positive news, a draft bill from senior House Republicans maps out a clear path for crypto tokens to move from being securities to commodities. The discussion draft, cooked up by the House Financial Services Committee Chair Patrick McHenry, R-N.C., and House Agriculture Committee Chair Glenn 'G.T.' Thompson, clearly defines what a decentralised blockchain network is and exempts related tokens and payment related stablecoins from securities laws. The word is this is a serious attempt to negotiate with Democrats on crypto regulations, but it will need the support of 50-100 Democratic House members which is a tall order.
Return of the Metaverse delayed
There was excited speculation in some quarters that the announcement of Apple's long awaited Apple Vision Pro augmented reality headset would put a rocket under the moribund Metaverse tokens. But at an eye watering price of US$3,499, no mention of 'metaverse' in the presentation, and no obvious killer features, that isn't looking likely today. In a curious coincidence three of the metaverse tokens expected to benefit, The Sandbox (SAND), Axie Infinity (AXS) and Decentraland (MANA) were named as securities in the SEC lawsuit against Binance.
The return of Tether
At the start of the year USDT issuer Tether was looking as if it may be overtaken by USDC, issued by Circle. Then Silicon Valley Bank collapsed, knocking USDC off its peg (it held US$3.3B of USDC's reserves). Tether has now hit its highest ever market cap of US$83 billion, while USDC's market cap plunged from US$55.8 billion last year to just US$28.8 billion today.
Meanwhile, in El Salvador…
The national Bitcoin office of El Salvador has appointed Dr Saifedean Ammous, author of "The Bitcoin Standard," as a consultant on economic policies. Ammous recently visited the country and met with President Nayib Bukele to talk about adopting the Bitcoin standard. The newly resurgent Tether is also one of the lead investors in a US$1 billion funding round to finance the country's Volcano Energy mining park that will be monetized by mining Bitcoin. Tether has also just announced it will start a Bitcoin mining operation in Uruguay, a country 94% powered by renewable energy.
ETH staked last month hits ATH
The amount of Ethereum staked in the network reached a new monthly high of 2.96M in May 2023, which is more than double the previous record of 1.3M staked back in February last year. That means almost 18% of the total amount of Ether in the network was staked last month. The surge comes off the back of the Shapella upgrade, which enabled withdrawals, as well as the fight over the debt ceiling and worries over bank solvency in the US. The current APY is 5.4% which is a better rate of return than most bank accounts.
Bitcoin ATMs also surged in May
The number of Bitcoin and crypto ATMs plummeted by 5,850 in the first four months of 2023, but recorded a surprise turnaround in May, increasing by 1,400. Australia, Poland and Spain increased crypto ATM installations, while numbers declined in the US. The US however has 85% of the world's crypto ATMs, so they still have plenty.
Bits and pieces
Bitcoin Cash proponent Roger Ver believes Ethereum is driving the space forward. "Even though Ethereum doesn't have the biggest market cap compared to Bitcoin, I think Ethereum is the front-runner in terms of driving worldwide adoption," he said. Central banks in Hong Kong and the UAE have agreed to collaborate on cryptocurrency regulations and financial technology development. And you can now talk directly to Satoshi Nakamoto, via a ChatGPT like AI called Talk2Satoshi, that's been trained on his writings.
Until next week, happy trading!