Market Update 12th – 17th November 2019
Welcome back to another Australian crypto market update.
In Markets
The Bitcoin price ground lower this week, from around $10,800 to $10,300, before it took the express elevator earlier this morning straight down to $10,000. At the time of writing Bitcoin had edged up slightly to $10,080 to be 6.6% down for the week. Everything else was down significantly: Ethereum (-10.2%), XRP (-8%), Bitcoin Cash (-6%), Litecoin (-7.9%), EOS (-11%) and Stellar (-9.6%). New top 10 entrant Tezos was the only top coin to gain ground, up 7.8%.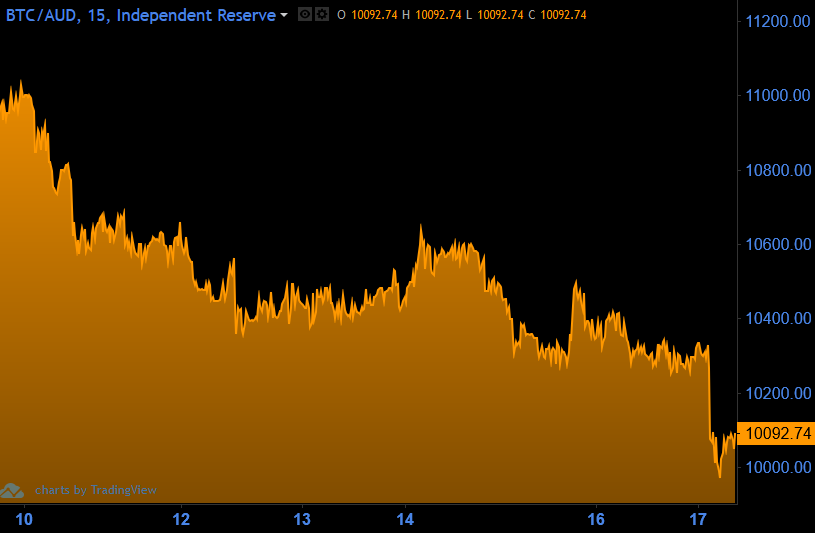 Source: Independent Reserve Bitcoin/AUD chart on Bloomberg
In Headlines
Bitcoin searches fall
Although Bitcoin is still up 80% this year and remains the top performing asset of 2019, retail interest is flagging along with the price which is down 19% in the past 30 days (apparently not helped by the ongoing PlusToken sell off). Google searches for Bitcoin peaked in June at a figure of 100, but have fallen today to 24, which is only slightly above the depths of the crypto winter in March when it bottomed at 20. SimilarWeb shows a corresponding decline in internet traffic to crypto Bible CoinMarketCap which fell from 67 million visitors in June to 33 million visitors last month.
Twitter.io
Twitter could be moving to the blockchain in the future with CEO Jack Dorsey funding a five member team to work on an open, decentralised standard for social media called Bluesky. There's not a lot of details yet – they may work on an existing project like Steem or create something from scratch.
Chinese miners control two thirds of hash rate
Chinese miners control as much as 66% of the global Bitcoin hash rate according to a new study by London digital asset manager CoinShares. Sichuan Province alone accounts for more than half the global hash rate. The Chinese share is at the highest rate since Coinshares began monitoring it in 2017 and has surged since June when it was at 60%. The report attributes the increase to more advanced mining hardware.
Billionaire backs Bitcoin
The latest billionaire to back Bitcoin is philanthropist Bill Pulte (from PulteGroup) who announced he's bought 11 BTC. His main interest in crypto is not speculation, but its capability to help the poor. "Cryptocurrency can help the world's poorest…especially those who are 'unbanked' … as a philanthropist, I, therefore, want to promote adoption," he tweeted. Maybe he'll talk it up to Bitcoin skeptics Warren Buffett or Mark Cuban, next time the billionaires get together.
March of the institutions
Today's volatility has seen 2116 BTC futures contracts already traded on Bakkt, with half the day left to go. Institutional investors also seem to still be interested in the Grayscale Bitcoin Investment Trust – it currently costs 24% more to buy Bitcoin through the Trust than on the spot market. Grayscale's assets under management have risen back above $2.9 billion.
Blockchain genius Vitalik Buterin is also a financial wiz
Ethereum co-founder Vitalik Buterin revealed this week he'd convinced the Ethereum Foundation to sell 70,000 ETH at the All Time High, which would have netted around $145 million. Ethereum is currently worth about 10% as much as it was then – and is currently changing hands for $193, the exact same price it began the year at.
Lightning Network to be upgraded
Samson Mow, Chief Strategy Officer at Blockstream, has revealed the Lightning Network will soon be upgraded to enable larger payments to be made more easily. They're enabling multipath payments which means "large payments can be split into smaller ones to route successfully". This solves a big barrier to adoption – earlier this year Diar noted that transactions above a couple of dollars were failing a third of the time.
The big picture: Bitcoin beat everything this decade
Zerohedge has taken a look over the past decade and came up with some fascinating figures (in US dollars). In 2010 there was $0 of negative yielding debt – now there's $17 trillion of it. $1 invested in the US equity market in 2010 would now be worth $3.46 (the world's best performance), but if you'd invested it in the Turkish stock market you'd only have 7 cents left. Gold was the best performing commodity of the decade: $1 invested in 2010 would be worth $1.34 now. But Bitcoin left everything else in the dust. $1 invested in BTC in 2010 would be worth $90,026 today.
Until next week, happy trading!
Independent Reserve Trading Desk