Market Update 4th – 10th March 2020
In Markets
Despite great crypto related news coming out of India and South Korea, Bitcoin has not proven immune to the coronavirus induced share market panic or a sharp drop in the oil price – down 30% in a day. Bitcoin dropped 13% over the past few days, but has recovered slightly to trade around $12,100 at the time of writing. Bitcoin is currently up almost 18% for the year – which is a lot better than the almost 14% fall in the ASX 200 over the same period. Everything is down on a week ago of course: Ethereum (-11.8%), XRP (-12%), Bitcoin Cash (-18.6%), Bitcoin SV (-21%), Litecoin (-17.3%), EOS (-16.9%) and Stellar (-11.9%).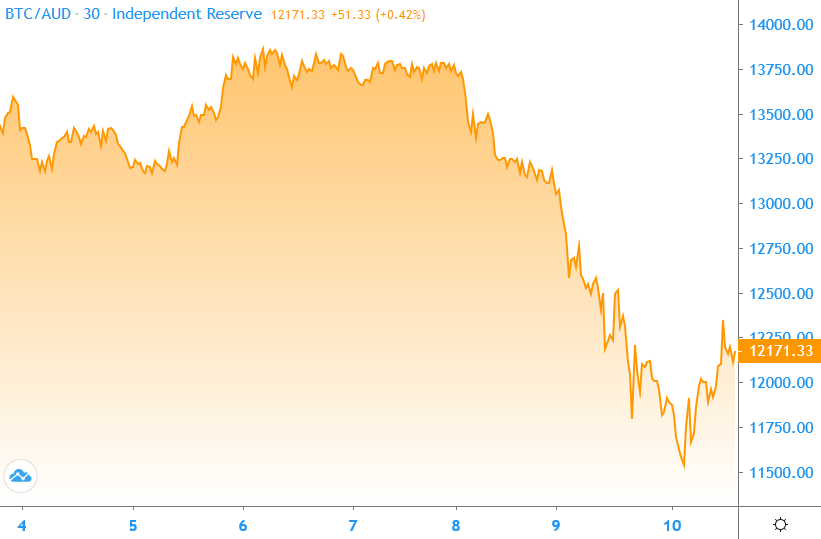 Source: Independent Reserve Bitcoin/AUD chart
In Headlines
What the …?
The sharp pullback in the Bitcoin price has some big names scratching their heads. Veteran trader John Bollinger tweeted his surprise earlier today: "I truly did not see that coming, I thought it might act as a safe haven asset," he said. Coinbase CEO Brian Armstrong has also been taken aback: "Surprised we're seeing the Bitcoin price fall in this environment, would have expected the opposite," he said. But Ari Paul, managing partner at BlockTower Capital said he "always predicted [Bitcoin] would decline with a big equity sell off. Frankly I'm very surprised by how well it's held up … darn good performance for a risky asset."
Reasons for the sell off
Nobody ever knows for certain what causes a Bitcoin crash or spike but there are always plenty of theories. General fear, uncertainty and doubt surrounding most markets is the most obvious. Analysts have also suggested the sudden crash was due to another giant sell-off from the PlusToken pyramid scheme. A number of other commentators have suggested Bitcoin investors are being forced to sell to cover losses or margin calls in other markets. Joe Weisenthal from Bloomberg TV tweeted: "You really can't expect it to behave in an uncorrelated fashion once 'institutional money' owns it, since at that point it's just another thing to sell to raise cash."
Social media sentiment plunges
According to social media analytics firm The Tie, social media sentiment on Bitcoin hit a year to date low yesterday. The crypto Fear and Greed Index is currently at 17 or 'extreme fear'. 'Bitcoin coronavirus' is now a more popular search term on Google than 'Bitcoin halving'. Analytics firm Santiment says that its Emerging Trends platform shows that every time social media discussion of coronavirus goes up, the Bitcoin price goes down.
Could a financial crisis be good for Bitcoin?
Max Keiser, host of RT's The Keiser Report believes we're seeing "part two of the Global Financial Crisis" which he predicts will see Bitcoin hit US$100,000 before year's end. Ryan Sean Adams from Bankless also believes a financial crisis will be good for Bitcoin. He says that with interest rates at record lows governments will have no other option than to start printing money which bolsters the case for Bitcoin.
Be greedy when others are fearful?
It's impossible to say how crypto will perform in the face of a financial crisis. However some are cautiously optimistic. Santiment points out that when crypto sentiment bottoms out "a price bounce generally follows historically". Scott Melker of Texas West Capital says based on Fibonacci ratios he's started buying heavily around US$7,931 (A$12,038). Crypto trader Cold Blooded Shiller says Bitcoin's Renko chart suggests the crypto is on the cusp of bullish movement and Cointelegraph's Keith Wareing also believes we could be near a "monstrous bullish rise" similar to October 2019's 40% spike. One possible catalyst is that mining difficulty is set to increase by 8% this week – the most in six months. He says that so far this year a price rise has followed each increase in mining difficulty.
Great news for crypto from India and South Korea
The sell off comes in a week when the crypto markets received some very bullish news. India's supreme court struck down the Reserve Bank of India's controversial ban on banks dealing with crypto-related companies. Local exchanges resumed deposits and withdrawals that same day and US exchange Kraken has announced it'll expand on the sub-continent. (A bill to ban crypto entirely remains live however so they're not out of the woods yet). And the South Korean National Assembly has unanimously voted in favour of a bill to legalise and regulate crypto exchanges. South Korea led the world in the crypto craze of 2017 – with one in three workers buying into the market. The Government then banned ICOs and cracked down hard on exchanges. So the establishment of a properly regulated and legal market there is a very positive sign.
Until next week, happy trading!
Independent Reserve Trading Desk